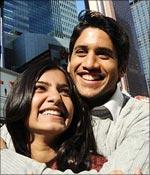 Love stories are aplenty on celluloid. But director Gautham Vasudev Menon still manages to make Ye Maya Chesave refreshing, thanks to a realistic screenplay.
A simple premise -- boy meets girl and is pulled into the magic world of love -- is stretched into a full-fledged Telugu film by Gautham Menon, resulting in a breezy and lyrical movie thanks to A R Rahman's brilliant music and background score.
Gautham has chosen beautiful locales to shoot the love story with good camera work by Manoj Paramahamsa. As a result Ye Maya Chesaave is a veritable feast for the eyes.
Karthik (Naga Chaitanya) is at a stage of his life where he has finished his engineering and his parents want him to take up a job. But he wants to be a film director. It's at this time that Jessie (Samantha) walks into his life. She lives in a flat above Karthik's parents. A smitten Karthik tries to woo her. The only hitch is she's a Malayalee Christian and two years older than him.
The film has a feel-good effect. It's yet another film which shows that love transcends religious boundaries, and here age too. The fact that the heroine is older is quite reflective of the times today.
Gautham Menon has woven a fairly good screenplay which holds the film and arrests the attention of the viewer. He does bring out the emotions and expressions well in the artists. His script plus direction are the main strong points of the film.
Rahman's poetic and romantic touch also helps. In fact, the background score which is mellifluous and symphonic in many parts accentuates the romantic feel of the film.
Technically, the film is brilliant too. M Paramahamsa's camera work captures Alapuzha (Alleppey) very beautifully. Some of the frames are almost picture-perfect postcards. Anthony's editing and Rajeevan art direction are also commendable.
Naga Chaitanya and Samantha are believable in their roles. Chaitanya's Telugu diction is good. Working with an experienced director like Gautham Menon has certainly helped Naga in his second outing.
Samantha, who makes her debut in Telugu with this film, is convincing in her role though her characterisation is a bit befuddling at times. A girl who is 24-years-old and working does not have clarity in her thoughts?
The other characters barring Krishnudu (who is okay) have hardly lengthy roles to play to warrant a mention. Silambarasan and Trisha appear in cameos.
The film tends to slow down here and there. Some dialogues in Malayalam don't even have sub-titles. So it will be difficult for non-Malayalam speaking people to understand them.
That said, this feel-good film is a must watch especially for those fond of love stories.
Rediff Rating: