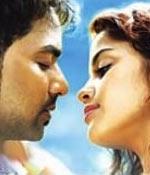 "With our music, I dare say that the Venkat-Yuvan combination can readily spin some magic! This album is a glimpse of the kind of adventure we have in store for you. So pack your bags and be ready. The real holiday will begin!" enthusiastically shouts out the director on the CD's cover.
Producer Soundarya Rajnikanth, helming Ocher Studios, endorses the sentiment: "A fun-filled film created with a lot of pomp and aplomb!"
Essentially, the cast and crew of Venkat Prabhu's previous hits like Chennai 28 and Saroja have come together this time around for Goa, the Tamil movie which Yuvan Shankar Raja has tuned the music for. Premgi Amaren and Gangai Amaren are part of the lyrics and music set-up. Vaali too, shares credit. Having raised enormous expectations, here's a look at how the album has shaped up:
A whole gang of singers: Karthik Raja, Venkat Prabhu, Bhavadharini, Premgi Amaren and Yuvan Shankar Raja himself begin this extremely folksy number: which makes Yelelu Thalaimuraikkum a wholly family enterprise, complete with nadaswaram, women doing the kulavai, and rapping ethnic beats. His uncle's and father's ease with instrumental arrangement shows in Yuvan and Premgi Amaren as well. On the other hand, you've heard songs like these by the dozen in the times of Chinna Thambi, Chinna Gounder, et al. Still, it brings a rush of nostalgia, perhaps that was the intention.
Ilaiyaraja begins Ooru Nalla Ooru with a mournful lament that describes, in Vaali's soulful words, the tragedy of a happy, joyful family torn apart, aided by the petty jealousies of their neighbours. The flute interlude is appealing; the words and tune by themselves are simplistic. On the other hand, it's a short track; not particularly earth-shattering.
Adida Nayandiya is yet another folk number with snappy beats and ethnic instrumental arrangement. This time, S P Charan and Yugendran take up the vocal reins to Vaali's lyrics. Seemingly pretty much an extension of the previous number, this one seems to be an optimistic take on the coming together of people (as against the families torn asunder) of estranged family members.
And we've moved beyond the rural beats to Yuvan's home-ground, and by the same token, the movie's theme song, Goa: synthesized music-driven, rap phrases scattered courtesy of Chynk Showtime and Pav Bundy with vocals rendered by Krish, Ranjith, Tanvi and Suchitra. Already showing signs of becoming the new catch-phrase for life's enthusiasts, this one's all about Goa's many charms: the women, the bikinis and general joie de vivre of the intoxicating variety. It might not set your heart on fire, but the refrain is certainly catchy enough and sets you jiving. The remixed version right at the end is identical except that it's crammed with more synthesized music and, as its title helpfully mentions, meant for pubs, strobe lights and much flailing of limbs.
Andrea clears her throat, before humming softly towards Idhu Varai, a romantic number penned by Gangai Amaren that clutches your heart at the appropriate moments. Certainly her vocal range keeps things interesting, not to mention the guitar strings and percussion which attain a faintly Hawaiian tang later on. Ajeesh provides accompaniment even as a flute interlude inexplicably takes over but the charanam brings back the song into perspective, and a melodious experience it is.
Almost as though the youngsters ganged up to get yesteryear greats singing, Vaalibha Vaa Vaa has artists like Ilaiyaraja, S P Balasubramaniyam and Chitra singing to glory (the latter pitches in, especially, with a classical Alapana in her clear voice, accompanied by a flute), while Gangai Amaren once again contributes the lyrics. Chock-full of synthesized music, keyboard arrangements and snazzy club-beats which morphs into Carnatic for a few moments before returning to a sort of fusion music, this one's more for the lyrics and weirdly catchy refrain.
Kaadhal Endral returns to Yuvan's familiar ground: the half mournful, half angsty and yet uplifting melodies that characterized Manmadhan. Except that this one's another version of the earlier Idhu Varai and though very short, manages to garner more attention than the previous numbers.
Starting with a burst of thumping rhythms and a peppy, almost fast-forwarded pace is Idai Vazhi, sung by Benny Dayal and Mamta Mohandas. The veena makes an unexpected appearance; the lyrics are oddly sensual one moment, but mostly erotic later, which might explain the odd mixture of classical and western music. The vocals certainly move at breakneck speed (signifying, you suspect, a certain act), but it's not really melodious. It all seems too chop-change to sink yourself into.
Yuvan Shankar Raja usually reserves the best of his work for certain directors and so far, Venkat Prabhu has been one of them. This time around, though, either he's run out of inspiration, or has been under strict orders not to exert himself too much. Aside from a few moments, you can't really sense his presence anywhere. There are a lot of fireworks, much rapping and clash of percussion instruments, but his signature tunes are hard to find. Being Yuvan, he doesn't really mess up but you'll just have to resign yourself to enjoying what little of originality there is.
Rediff Rating: