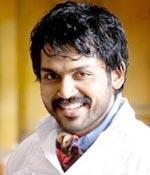 Pavithra Srinivasan reviews the Tamil album Naan Mahaan Alla.
Director Suseendran and actor Karthi have plenty of reasons to celebrate as the former has earned respect and admiration after his debut, Vennila Kabaddi Kuzhu, while the latter is on a high after the success of Paiyya.
Together, the two have raised expectations even more in Studio Green's Naan Mahaan Alla (I am No Saint -- the name is from a yesteryear Rajnikanth blockbuster), a city-centric story that's all about problems in urban life.
Yuvan Shankar Raja has taken the reigns again for the music, while Na Muthukumar and Yugabharathy share writing credits for the songs. Here's what the album has to offer.
Rahul Nambiyar kicks off Va Va Nilava Pudichi, humming enthusiastically, with a harmonium in accompaniment, as steady beats fill your ears. The flute interlude sounds as if they're straight of an Ilaiayaraja composition from the eighties but it has its own charm. The charanam doesn't sound very inspired but the lyrics make up for that, with its energetic words. Barring certain moments, a nice listen.
Iragai Pole is a number that has been described as the one that sent Yuvan "tripping for days," by his own admission on Twitter. And we can see when the composer begins singing in his signature voice, with a low beat that gains in strength. Tanvisha chips in as well. Despite its low-key start, the music eventually captures you with its own unique style. It's the charanam that seems to inspire a sense of deja vu. There's a lot going for this song, particularly in the beginning and the end, which are infinitely the best parts. Possibly the pick of the collection.
Javed Ali's voice is pretty distinct as he warbles his way, beginning Oru Maalai Neram, with Shilpa Rao in tow. The instrumental arrangement is distinct from the previous efforts. The charanam flips from the familiar to unfamiliar territory, and even if it doesn't really touch you, it's interesting -- strongly western, with the piano adding depth to it. It's enthusiastic, and though it never does rise to Yuvan's heights, it still does make a pleasant listen.
A flute warbles in ominous fashion, touching the entire spectrum of grief, anger and mourning, and Madhu Balakrishnan's deep voice, laced with regret plunges through, equal to the challenge of Theivam Illai. It's a long, slow lament, and there are no ifs and buts: this one's pure sorrow.
Taken together, there are many moments when Yuvan slips into "template" mode, when he simply flips out an older tune to suit newer purposes. But there are also moments when he shows his creative side, and those make the entire song light up -- Iragai Pole is an example. Worth a listen.
Rediff Rating: