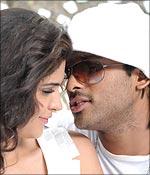 Vedam, directed by Radhakrishna (Krish) is quite a path-breaking film as far as Telugu cinema is concerned. It's broken a few stereotypes like the fact that it is a multi-starrer, wherein two young heroes and a heroine have come together for a film, which is quite a phenomenon in the Telugu film industry.
There's also the fact that one can make films from life around you and need not necessarily be filled with commercial formulaic ingredients to attract the audience.
The image of the Telugu cinema hero as in hero can be dealt with in a different way as compared to what is done normally. It has certainly dispelled certain ways and notions of films and film-making in the industry. Vedam is inspired by life, a visual treat to watch.
Five stories of five different individuals from different backgrounds coalesce in the climax. As a format, we have seen three stories 'triptych' in films like the Spanish film Amores Perres and later the Hindi-Tamil bi-lingual Yuva. But Krish goes a step further by introducing five characters whose destiny gets intertwined in the climax.
There's Ananda Raju (Allu Arjun) known as Cable Raju because of his profession, Vivek Chakravarthy (Manoj Manchu) a budding rockstar, Saroja (Anushka) a prostitute, Rahimuddin Qureishi (Manoj Bajpai), a Muslim who faces the wrath on account of his religious background, and Ramulu (Nagayya), a poor weaver who is forced to leave his village and come to the city with his daughter-in-law Padma (Saranya) in order to find money to clear his debts and make his grandson study.
Cable Raju loves Pooja (Deeksha Seth), a rich girl and is willing to do anything to please her. Vivek has a band whose keyboard player is Lasya (Lekha Washington) and aspires to be a great singer.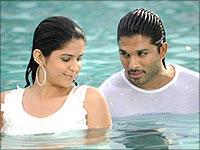 Saroja is tired of working in a brothel (in a small town) under a madam and comes to the city to be on her own with her eunuch friend.
Rahim is falsely implicated while Nagayya and Padma are lured to the city due to a kidney racket.
The first half an hour or so is a bit confusing as each of the stories unfold by themselves and seem a bit disjointed. But, later, the underlying thread gets strong and as the movie veers to the climax, it has incited enough curiosity for us to to sit through the second half.
And the second half is spectacular in terms of writing and filming. The five stories coalesce seamlessly in the climax. The second half is the strength of the movie. It has its touching and heart-warming moments. It is a slice of life in the true sense. Krish has skilfully scripted (written dialogues too) Vedam with emphasis on human relationships and filmed it well. Vedam is a beautiful confluence of writing and technical aspects. It has set a benchmark in Telugu cinema.
Listening to M M Keeravani's music which is in sync with the picturisation makes you realise how versatile the music composer is. The fusion (particularly in the songs which he has sung Malli Puttani and Ee chikati cherani) is mellifluous and touches the heart. Here, meaningful lyrics tug at the heartstrings. The background score too enhances the mood.
Visually Vedam is stunning. Some of the frames are really good. Gnanasekhar has done a great job with the camera.  Rajeev Nair (who also has a cameo), the art director, has not just chosen the right locales but also made a difference in terms of the right colour schemes for the background of the whole film. Editing by Shravan is just right and slick.
Moving on to the actors, one should first compliment them for doing a multi-starrer. All three -- Arjun, Manoj Manchu and Anushka -- have given good performances and are very believable in their characters. Anushka looks sensuous, without being vulgar -- a hard balance to strike.
For Manoj Bajpai such roles are like child's play -- he's does so with felicity. Nagayya, the old man, who actually makes his debut in the film is very natural. He lives his real life role in reel life. Saranya is also extremely natural in her performance. The girls Siya Gautham (who plays Manoj Bajpai's wife), Lekha Washington and Deeksha Seth lend adequate support. Overall, Krish has been able to extract fine performances from the cast.
Vedam is a must-watch for its story, screenplay, direction and technicalities. It offers a hope to the audience interested in good and sensible cinema that such a film can be made in Telugu.  Kudos to producers Prasad Devineni and Shobu Yarlagadda for backing such a project.
Gamyam provided a peek into Krish's talent while Vedam has catapulted him several notches higher as an auteur. An exceptional film!
Rediff Rating: