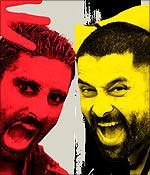 Saisuresh Sivaswamy reviews both Raavan and its Tamil version, Raavanan.
Ever since Roja, Mani Ratnam has wanted to go pan-Indian. And I am not talking only in terms of the plot, but the audience too.
Few, if any, directors have consistently bridged the north-south divide in sensibilities. The seasoned Mani Sir knows that ultimately it's the story and the telling. Roja took in its sweep both the tumultuous north and the placid south, but it can't happen every time with every film. But you can't blame Mani Sir for trying.
He has been trying since then. With Bombay. Dil Se/Uyire. Guru. After some time he must have realised that dubbing a Tamil film into Hindi doesn't make you a Hindi director. With Aytha Ezhuthu/Yuva he tried a new tack -- making the same film in two languages, with a different cast.
You can take a Tamil director out of Tamil Nadu, but you can't take Tamil Nadu out of him. To me Mani Sir's films have always been about the native idiom which, in a vast, diverse culture as ours doesn't translate easily -- the reason why he must have decided to make two films at one go.
Still, I've always found his films appealed more in Tamil than in Hindi -- surprisingly, even the all-new Yuva was not as good as its Tamil counterpart, a viewpoint shared by many of my bilingual friends.
Naturally, then, the wait was to see Raavanan and Raavan to decide if I was being biased in favour of his Tamil work. Having just emerged from a marathon session of film-watching, let me say this: I would never watch the same film in different languages one after the other for anyone except Mani Sir.
Like the Mahabharat, the Ramayan is an amazing epic, containing within it every emotion possible apart from telling you that goodness and evil are not black and white concepts. Ram is the hero, divinity personified, but he still killed Vali unfairly.
Raavan is the villain, yes, but he was not one till he lost his heart to a married woman and kidnapped her. Was Ram right in asking the virtuous Sita to undergo an agni-pariksha? You can debate the two epics endlessly, which accounts for their timelessness.
This, however, is not Mani Sir's first nod at our ancient epics. My alltime favourite film of his, Thalapathy, was a takeoff on Karna's story set in modern times. Just as Raavanan/Raavan is.
The premise is tantalising. The wife is kidnapped by a powerful leader to settle scores and kept in captivity. What if the two end up liking each other? Only Mani Sir could have the vision to see the epic in such terms. Can the modern Sita played by Aishwarya Rai go back to her husband? Does he suspect her? Do they separate? A brilliant premise, except the last few minutes.
So, there is little to differentiate between the two films in terms of treatment. In the Tamil, Vikram, superstar down south, plays Veera (the role essayed by Abhishek in Hindi), Prithviraj plays Dev the cop (Vikram plays it in Hindi), and Aishwarya plays Ragini in both. Aside from the rest of the cast, there is really nothing to differentiate the two films barring a few frames.
Vikram told our Patcy Nair that Aishwarya was the real hero of the film -- after seeing both versions I can understand why. This to me must be the most physically challenging role she has played in her career, and every time she stumbles through the river, jungle, or jumps off the waterfall, one needs to remember she had to shoot the scene twice, once in Tamil and once in Hindi. Incredible!
There was never any question of the so-called Bollywood top brigade of heroines coming anywhere close to her, and with Raavanan/Raavan she has simply put herself in a different league. The Kareenas and Katrinas and Priyankas can contend among themselves, but Aishwarya Rai Bachchan is beyond them. A combination of ethereal beauty and mind-blowing talent like her will not be seen again in my time, I am sure.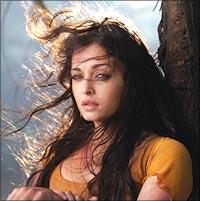 Which brings us to the male performers. I did say there was little in terms of treatment between the two films, but there is a mountain of a difference in the performances.
Veera/Beera needed to be menacing, edgy and playful at the same time, and yet come across as credible when he loses his heart in the blink of an eye. To me, Raavanan soars because of Vikram. Abhishek's Beera, on the other hand, makes the right expressions and sounds, but doesn't go beyond them. I am not saying Bachchan Jr is not good, just that Vikram in the same role is better.
Vikram, too, gets only a conditional vote. I am not a cineaste, so I am not aware of other actors having played the main role in one version and the counterpart in another, the way he has played Raavanan in Tamil and Dev in Hindi.
Unintentional, yes, but Mani Sir's decision to have him do this (Abhishek the Raavan, approached to play Dev in Tamil, refused) reinforces that good and bad are only relative, what is good in one setting need not be good in another.
It must challenge any actor to don the greasepaint and play one role, remove it, don another makeup and play another role in the same frame. Vikram does Dev well in Hindi, but I must admit that Prithviraj, perhaps because he was unburdened by the challenge of playing two roles, does a better Dev in Tamil.
And may I add that A R Rahman's music appealed to me better in Tamil before the film's release, and this has only been reinforced after seeing its picturisation. Kattu Sirukki sounds better to my ear than Ranjha Ranjha; ditto, Keda Keda Kari Aduppula over Kata Kata; and Kodu Potta over Thok de Killi. It's Vairamuthu's lyrics in Tamil and Gulzar's in Hindi – so you know it's not about the lyrics.
With Raavanan/Raavan, Mani Sir returns to familiar territory, abduction of a spouse, which earned him a nationwide following with Roja. But Roja was not just an abduction tale -- through the human interplay it also took in the political hot potato of the time, the Kashmir insurgency.
In his latest, he seems more interested in the human interplay and treats the issue of tribals' fight for rights as a mere backdrop, referenced by a comment here, a barb there. Catching it by the scruff of its neck is what one would've expected of Mani Sir.
Rediff Rating: Raavanan:

Raavan:

Read our Raavan reviews: Raja Sen gives it 2 stars.
New Yorker Aseem Chhabra gives it 4!