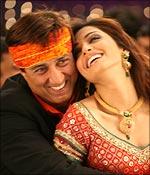 It's an age old theme. What's correct and what's not. Don't criticise people till you have walked miles in their shoes.
Though the simplicity of the plot doesn't offer us anything brilliantly original it still makes for an engrossing thriller.
Neerraj Pathak may not be a veteran director. But despite being just one film old he manages to get one thing right (pun intended). The script does not meander in twenty different directions but stays sharply focused. 
The film opens with a terse action sequence where we see that Sunny Deol (Ajay Shridhar) and Irrfan Khan (Vinay Patnaik) as two honest cops who interact with notorious and hardened criminals on a daily basis.
Here itself the director successfully establishes their personalities. Irrfan is the more rigid of the two, prefers to go by the rulebook, and believes his duties end once the bad guys have been rounded up. Sunny is older, more compassionate and believes people deserve a second chance.
Sunny is married to Anshita (Eesha Koppikar) who has her own agenda. Seemingly a small happy family. But shortly after there is a drastic change in the situation. Can people stick to their beliefs even under the most sordid circumstances? Apparently not!
The first half of the film is tightly edited and the narrative moves effortlessly as we see the human side of cops and how they balance their demanding professional lives with routine occasions such as birthdays, anniversaries and promises to kids.
The second half of the film is a bit loose. Certain flashbacks are repeated a little too often and it could have been shorter by at least 15 minutes or so. But there's no boredom as you're constantly wondering what comes next.
There are some very obvious loopholes in the screenplay. Like why does the entire police department go off on a wild goose chase without even verifying the authenticity of their source? Or Eesha Koppikar does not even look the role of a middle-class police officer's wife. Her coloured styled-to-perfection wardrobe strikes a jarring note. Right at the beginning, the audience realises there is something fishy about her.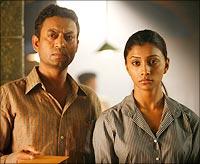 And that little portion where Sunny Deol is contemplating suicide but his wheel chair gets entangled with his son's picture. That is so Bollywood of the '70s. Or the courtroom scenes have a little too much melodrama. But despite these flaws the film manages to flow.
Sunny Deol hasn't had a hit in a while but seems to be going the Dev Anand way sporting tees with collars and keeping them (collars) high to hide his age. But he seems to draw more attention to his jawline in the process. Luckily there are no really dramatic scenes or lengthy dialogues (which are often his undoing) for him. All he has to do is sit in a wheel chair, look like a zombie and act like one. So it's a case of "The perfect casting".
And then there's Irrfan Khan. What is about him that he can have the audience eating out-of-his hand with a twitch of the eyebrow or the most mundane gesture?  Konkona Sen Sharma doesn't really have much of a role but this film went on the floors more than three years ago. Today Konkana Sen Sharma would probably refuse this role as she's a star in her own right.
Right Yaaa Wrong tries to raise issues about duty versus loyalty. Although the movie preaches a little bit it does keep you entertained and engrossed. Try not to miss it. The impact just wouldn't be the same on DVD.
Rediff Rating: