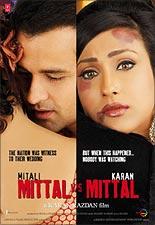 No, it certainly isn't Kramer Versus Kramer. Neither is this film about divorce. It's about marital rape and a woman's right to her own body.
One would have thought the director deserves acclaim for building his script around a controversial topic. Simply because most of us aren't aware that a woman can accuse her husband of rape! 
So why would a woman who ostensibly has a perfect marriage accuse her husband of heinous acts? There you have the premise for Mittal Vs Mittal.
Rituparna Sengupta (Mitali) is the middle-class gal who doesn't hesitate to flaunt her body on the ramp but turns coy and virtuous the minute she steps off it. In this scenario enters Rohit Roy (Karan Mittal) who tries to charm her from their first meeting.  Rituparna is confused but she succumbs to Rohit's charms. She's convinced she's met the man of her dreams then wakes up in a stupor.
But the first half of the film isn't simply a bad dream for Rituparna. It's a nightmare for the audience as well. Apart from Rituparno and Rohit even the entire supporting cast (Reema Lagoo, Anjan Shrivastav Mitali's parents) appear to be caricatures rather than real-life, down-to-earth, middle-class grounded parents.
Just about every character is mouthing their lines and going through the motions. Even the romance scenes seem fake and contrived. It's almost as if the director was thinking let's get the first half over and done with so that I can come to the 'real' part of the film.
The film suddenly jumps into flashback mode with a jolt which is bound to leave the viewer confused. A flashback with proper transitions helps to build the pace but when used incorrectly they spell disaster.
So we know Mitali has moved out of the fancy Mittal bungalow and hopes to take her precious ex-husband to court. But she needs a bit of convincing. Her friend decides to take her to a women's organisation. All the women with problems are in the audience. And three women counselors sit behind a table listening to their tales of degradation and humiliation. Unreal and bizarre, but the producers probably hoped a few whackos in the audience might get their cheap thrills.
Then off course the film shifts to the obligatory courtroom scene which forms about one-third of the film. Considering the way law and legal procedures are still depicted in our movies it's a wonder students' still opt to study law.
There is the usual gavel banging, sustained, overruled, people lunging for each other's throats and the general tamasha which makes the court look more like a college canteen.
The only reason why the audience will not exit the theatre in the courtroom scene are the two lawyers. Suchitra Krishnamoorthy (Karuna) plays Rituparno's lawyer and returns to the big screen after a hiatus. She has a mature demeanour, is fairly subdued and thankfully underplays rather than overacts.
Matching her tempo is Gulshan Grover (Harish) who plays Rohit's lawyer. Although the few English words he mouths in heavily accented Punjabi vailance instead of violence tend to grate on your nerves, he delivers an effective and convincing performance.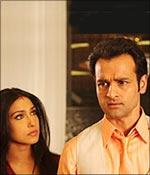 We don't know who the script advisor was but it's certain that they didn't do their homework about the legal system and the way it functions. Why else would the litigants and their lawyers appear on a TV show to sort out their differences especially when the case is already being heard by a judge.
There have been many films made on rape and sexual violence. Most of them hope that depiction of violence will help to titillate the audience. Mittal Vs Mittal also sets out with this objective but the audience is more likely to get repulsed than titillated. Rohit Roy appears more like a buffoon rather than looking lecherous.
Try as she might Rituparno Sengupta does not look like a 25-year old. Despite clever camera angles, mood lighting and intense hard work by the cinematographer she still looks middle-aged. And why on earth does she sport this blood-red velvet night gown?
The film ends on a predictable note but do not expect it to register with the audience. Most people will be happy to exit the auditorium. The film also has an obligatory 'item' song. But even this song fails to make an impact. Do miss this film unless... Sorry, whatever the personal circumstances this film is best avoided.
Rediff Rating: