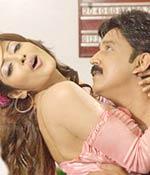 American romantic comedy You've Got Mail comes to Kannada audience as Preeti Inda Ramesh this weekend.
The film directed by Gunakumar stars Ramesh Arvind and Ramanitu Chaudhary.
Preeti (Ramanitu), like in the original, owns a small book shop whose existence is threatened by the opening of a swanky looking AC book mall started by Arvind (Ramesh Arvind) in Joe Fox ( the name of the character of Tom Hanks who played the lead in You'v Got Mail) style.
Even a media campaign and a protest staged by Preeti, her fiance Kiran (Kiran Srinivas) and loyal customers fail to save the 40-year-old shop that she has inherited from her mother. Will her e-mail friend, the sole solace during these testing times, succeed in helping her resist the impact of the opening of the mall?
Preeti Inda Ramesh captures the onslaught of global giants on your neighbourhood corner shops and the need to create interest in younger generation about Kannada books in particular. The film through this plot seeks to know if it is the showcase in which the books are placed that is important or the books themselves.
The film falls under Ramesh's comfort zone. He is okay in the first half but puts up a convincing performance in the second part. Ramanitu churns out a mediocre performance while Kiran who debuted with
Haage Sumane
needs to brush up on her acting skills. Sadashiva Bramhavar makes for a good supporting actor. Suma Guha, a Mumbai import, plays second fiddle to the hero. She provides for ample skin show and has little to do but that.
Songs in the film fail to impress the romantic in you. Dialogues are also not all that great and only a few invoke laughter from your side. 
This being a film about new age love story, the approach could have been more presentable. Cinematography, animation and the special effect bits don't contribute much either.
Preeti Inda Ramesh was the name of a hugely popular celebrity chat show hosted by Ramesh for a TV channel. But its namesake film fails to wield the same charm.
Rediff Rating: