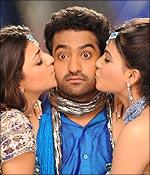 Radhika Rajamani reviews the Telugu film Brindavanam.

Love triangles are dime a dozen and has been done to death in the last few decades alone. New films revolving around love triangles have to be crafted well with new elements in order to sustain viewer's interest.

Brindavanam falls into the stereotypical depiction within the formulaic pattern. It seems to be stuck in a time warp with a storyline rehashed from many films of that genre. With a cliched theme, there is hardly anything new or worthwhile about it despite the presence of NTR Jr and two pretty girls -- Kajal Agarwal and Samantha.

The story is about how Indu (Samantha) who is in love with Krishna (NTR Jr) convinces him to become Bhumi's (Kajal Agarwal) boyfriend. The reason why she does so is because Bhumi's autocratic father (Prakash Raj) wants his daughter to marry his nephew played by Ajay.

So NTR becomes the bakra as he arrives in a household where the family lives in fear of Prakash Raj. Another added element is the strained relationship between the brothers (Prakash Raj and Srihari). In situation like this, one can easily guess the outcome when the boy is with two girls.

Despite a young cast there's nothing crackling in the film. Perhaps director Vamsi Paidipally thought it would be best to tread a safe path with a story as 'mothballish' and lackustre as this one. The story is so predictable that after a point ennui sets in though humour occasionally makes one sit up.

A film starring NTR is often enough to light up the screen. Somehow he is very subdued in Brindavanam and unenergetic as compared to his earlier films. Despite the action sequences which are orchestrated with special effects, NTR is very restrained. Normally he's full of josh leading to magic on the screen. Sadly, the same magic is missing from this film.

Kajal plays a bimbo, a role which must have been difficult for her to play, as she is a smart girl. As for Samantha, her role in this film is quite a fall from that of Jessie in Ye Maaya Chesaave. She has very little to do here. Still, both the girls look pretty in glamorous outfits as they romance NTR. Perhaps that was the main trigger to sign this film -- to star with NTR.

Everything about the film is formulaic which may appeal to family audiences. Music by Thaman S is just about okay. Brindavanam starts off with an old melody Brindavanamadi ... (with the late NTR and Jamuna from the film Missamma) which is pleasing to hear. But after the yesteryear melody, the new Brindavanam dips into familiar terrain.

On the whole Brindavanam makes for a dull watch. 
Rediff Rating: