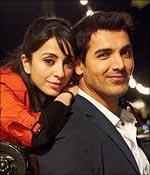 Sukanya Verma reviews Jhootha Hi Sahi.

Betraying the heroine by acquiring someone else's identity or concealing one's own in order to win her heart is old hat as far as Bollywood formulas go. Professor, Saajan, Aur Pyaar Ho Gaya, Chachi 420, Ghajini, anyone? Except by setting this romantic script around a telephone helpline number, filmmaker Abbas Tyrewala and story-writer Pakhi make the proceedings a tad more interesting.

The latter, also Tyrewala's significant other, is the leading lady of this jointly collaborated rom-com, Jhootha Hi Sahi. Not exactly a bright casting judgment from the otherwise incisive, versatile creative who appointed the missus to assemble actors for his critically and commercially-acclaimed directorial debut, Jaane Tu...Yaa Jaane Na.

Pakhi previously played a college teacher in Hansal Mehta's Yeh Kya Ho Raha Hai but failed to grab eyeballs. While Jhootha Hi Sahi is a decidedly extensive platform to display her acting chops, the lady's complete lack of screen presence makes it an unlikely feat. Nonetheless, most of the supporting cast is adept at communicating Tyrewala's blend of crisp, zany humour and the ensuing implausibility with heartening simplicity.

Even so it's John Abraham who steals the show with little help from his Clark Kent glasses, barely-there stubble and snug khaki pants. But mostly it's the untapped guy-next-door appeal and soothing texture of his gentle voice (stutter included) that does the trick. It's commendable for an enduring sex symbol to make the viewer forget he's one and see him in an entirely new, earnest light. He's genuinely notable and not just sincere, which, frankly is a polite way of saying 'lousy actor, tremendous effort.'

JA plays Siddharth, a National Geographic-obsessed nerdy owner of an Indian book store in London, which he runs in partnership with his Notting Hill/Friends-inspired circle of friends -- caustic Omar (Raghu Ram makes an effortless transition from ruthless to real and fun) and fumbling Amit (Omar Khan is hilarious with the creepy Did you knows?). His hoity-toity girlfriend, Krutika/Kuttika (Manasi Scott is convincingly bullheaded), Omar's short-tempered pregnant sister Aliya (Alishka Varde, sweet face, terrible dialogue delivery), her besotted boyfriend Nick (a harmless George Young), Amit's secret crush Uday (Prashant Chawla underplays the homosexual cliche) extend the narrative with their definitive quirks and preferences.

A mix-up of telephone numbers results in Sid volunteering to calm down suicidal folk calling for help followed by SOS voice cameos of Imran Khan, Ritesh Deshmukh and Abhishek Bachchan. It's a droll gimmick and works well.

One such phone call introduces him and us to Miskha 'from the video store' (Pakhi) who can be best summed up with a slightly altered Pedro Almodovar movie title -- Woman on the Verge of a Nervous Breakdown. Her reasons too, like that of Priyanka Chopra in the recently released Anjaana Anjaani, involve boyfriend trouble. Read that as R Madhavan (in a rare overdone performance) reduced to a Raj Kiran brand of conceited and condescending character.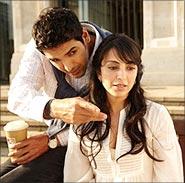 For a script so hopelessly dependent on conversation, Jhootha Hi Sahi is one spark-free one on one. Sad, considering Tyrewala's mastery of words, genre no bar, makes him one of the best screenwriters in the business. Instead the screenplay resorts to the oldest and convenient-most trick in the trade of substituting verbal interaction for tame song sequences.
At the same time, dialogues go out of their way to emphasise on its heroine's implied good looks. Only Pakhi, with her hard expressions, and a warmth-exuding John share zero chemistry. That, plus her needy, indecisive and clingy Mishka dissuade you from making any connect; forget rooting for a happily ever-after.

Disapproval aside, Pakhi ensures she gifts herself a rather elaborate, filmi climax around the majestic Tower Bridge, which is almost in the same over-the-top vein if not as endearing as the one in Jaane Tu...Yaa Jaane Na.

The first-film hangover is evident every now and then. Similar to Jaane Tu's opening titles featuring A R Rahman's jazz-coated Tu bole played out against a blurred out montage of Mumbai, Jhootha Hi Sahi too sets off scanning a sky high view of Central London in tandem with Vijay Yesudas's soulful serenade, I'll be waiting.
And while Manoj Lobo's vibrant cinematography delivers a handsome visual package of the grand city, Jhootha Hi Sahi, save for the odd 'B' word or Indo-Pak camaraderie, doesn't really have an English bone in its body. Nor a romantic one.
Rediff Rating: