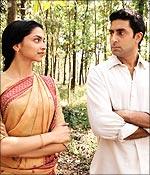 Telling stories about extraordinary idealism is filmmaker Ashutosh Gowariker's favoured forte. And it's singularly responsible for catapulting him in the league of greats.  

After the glorious reception to Lagaan, Swades and Jodhaa Akbar preceding the 'not quite' comedy What's Your Raashee?, Gowariker flips through pages of history to depict what led to the 1930 Chittagong Uprising at the hands of 64 courageous revolutionaries in British India.

A big screen adaptation of Do and Die: The Chittagong Uprising 1930-34 by Manini Chatterjee, Khelein Hum Jee Jaan Sey features Abhishek Bachchan, Deepika Padukone, Sikander Kher and a host of supporting actors in key roles.

A tale of faith, fortitude and sacrifice, it's only expected that the soundtrack by Sohail Sen resonate this collective spirit, which he delivers too. At the same time, one cannot help thinking how A R Rahman would have treated the situation, considering the prevailing influences and his flawless understanding of Gowariker's scrupulous approach to all things creative. Nevertheless, Sen is remarkably earnest and the honest simplicity of his Bangla-flavoured tunes takes a life of its own.
Here's how. The composer wields the microphone to articulate the reflective, philosophical state of an eager patriot through the nature-inspired parallels of Javed Akhtar's poetry in Yeh des hai mera. The lyrical quality of this easygoing composition, with a fleeting presence of Vande Materam (somewhat akin to Raajneeti's Dhan dhan dharti) grows on you almost instantaneously.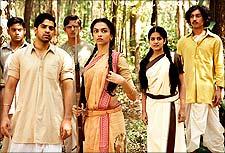 Pamela Jain and Ranjini Jose indulge in a light banter of secret loves and budding romances against the mirthful notes of Naiyn tere. Golden warmth is replaced by an aura of doom in its sad version.  
There's no escaping gooseflesh from cropping up again and again as the booming chorus, courtesy Suresh Wadkar Ajivasan Music Academy's bright young voices take centre stage to deliver the hard-hitting clarion call, Khelein hum jee jaan sey. Defiant and determined, Sen's use of thumping beats blend with the unflinching attitude of its charged singing group making this one a ready reckoner.
Following the high-pitched drama of KHJJS, Sen shifts the tempo to produce the syrupy and woefully sluggish Sapne saloney featuring him along with Pamela Jain to express his quandary over devotion for motherland over matters of the heart.
Akhtar delivers an enthralling Sanskrit-to-Hindi translation of Vande Mataram in its revised edition. The awe-inducing clout of Bankimchandra Chattopadhyay's legendary poem is employed here to bolster the nationalistic sentiments of Khelein Hum Jee Jaan Sey's protagonists through the medium of Cine Singers Association Chorus Group. And it works too.  

From this point, the soundtrack features instrumental pieces of the film's core sequences. (Wish Gowariker had done the same for Swades too.)
Coming back to KHJJS, the spunky ardour and heavy flute notes of Long Live Chittagong leads to a mystical play of whistle, accordion, flute and sitar in The Teenager's Whistle.
Cheer swaps places with sombre to convey Surjya's Sorrow, a Rahmanesque melancholy that is both touching and heartbreaking. 

The thrill of tension and chase is evident in the forceful steps of The Escape while Revolutionary Comrades conveys the arrival of an inevitably glorious albeit tragic fate for the men in mission.
Listening to the soundtrack of Khelein Hum Jee Jaan Sey, with its brimming sentimentality and fearless fervour, lends an inexplicable satisfaction that comes from seeing a movie; it's already established a connect. Hopefully the real thing will too.
Rediff Rating: