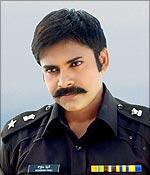 Radhika Rajamani reviews Komaram Puli

The cop-don nexus with the angle of terrorism thrown in is a more or less done-to-death theme in cinema.

Director SJ Suryah explores this again in his film Komaram Puli, which finally released this Friday.

In his attempt to go with the image of Pawan Kalyan, Suryah delivers a flick with high-voltage action, slick orchestration of fights and songs, punchy dialogues which are more repetitive rhetoric with a touch of jingoism and baffling to a large extent, stylish in terms of technique and camera work.

Yet the film is in the same vein as others in that genre -- old wine in a new bottle.
Suryah tries to portray Komaram Puli (Pawan Kalyan) as a super cop, who is born in adverse circumstances and whose mother raises him to be a cop (as his father was one dutiful cop who was killed in the course of duty), as she doesn't want other women to go through what she did.

So Suryah sets about creating this larger-than-life image of Komaram Puli who does death-defying stunts wherein he saves the prime minister (Girish Karnad in a cameo) of the country, who shows no fear even when the enemy is upfront, who is so dedicated to his profession that he tries to remove the tarnished reputation of the police force by talking and talking about what the police should do along with his deeds.

In the course of all this he runs into AlSaleem (Manoj Bajpai), a dreaded don and in the process also discovers a Nixon he has to finish.

The romantic angle is introduced with debutante Nikesha Patel with the mandatory songs and a few dishum-dishum scenes as well.     

There is no doubt that Suryah has gone 'ballistic' with etching Pawan's role as the super cop and 'messiah' given the Power Star's image. A song Power Star is full proof of that.

The film oscillates between the two enemies -- known (AlSaleem) and unknown (Nixon). It is here that Suryah, in a way, is circumscribed by the image of the star. So Pawan is there in almost every frame, which would be a huge delight to his fans.

In the process, Suryah takes the much-walked path with nothing new except use all the necessary staples to prop up Pawan's role including an item number Dochey... by Shriya Saran who scorches the screen but there's much about the dance to talk about.

Given the fact that Pawan Kalyan has tons of time as the movie has in the making for a while he looks fine like a cop and has put in a sincere performance. He does a good job in his monologues reeling the dialogues like a bullet train leaving the viewer flummoxed as a lot of concentration is needed to understand them. Some of these of course are repetitive.

As he is trained in martial arts, he has a lithe body -- a plus point in the action sequences, which are aplenty. His action sequences are stylish boosted by special effects. So you don't really have a power-packed performance over all by him.
Nikesha Patel, a NRI from London, ups the glamour quotient with a lot of skin show.

The role as such was not too substantial and she delivers the necessary oomph required of her. Saranya steals the show with some good scenes and acting.

For a versatile actor like Manoj Bajpai such roles are a cakewalk. Nasser is convincing as the cop.

The film moves at such a fast pace sometimes that one can't keep track of the countries it was shot in. Binod Pradhan's camera is as swift as the movement and the well-known director of photography captures the film well -- more since so much of special effects are involved.

AR Rahman's music is not great except the song Maaralante which seems touching, fairly powerful and reverberates in the mind even after the film is over.
Komaram Puli is high on style and low on content. Suryah and Pawan certainly did not repeat the magic of their earlier Khushi.  So it's just khushi for Pawan's fans who must be relieved and happy to see their hero on screen after a gap of more than two and a half years!

Rediff Rating: