'It takes guts to date 16 men onscreen'
Last updated on: August 04, 2009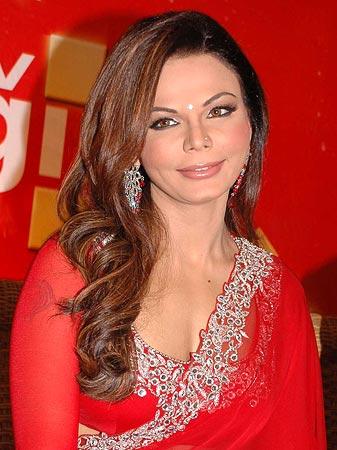 Rakhi Sawant is all set to enter another phase in her life, thanks to her highly publicised engagement to Canada-based NRI Elesh Parujanwala last weekend.
The sexy item girl spoke to Rajul Hegde about her impending wedding and more.
You said you want to spend time with Elesh Parujanwala, hence the delay in the wedding. Where do you plan to take him?
I have not decided yet. This is just our second day together but I definitely want to meet Elesh again and again. I have only met him during the swayamvar when the cameras were on. Now I want to know him personally. During the shooting, there were other men around too. Now we will get time off. His sister is to get married and he will be leaving for Toronto in a few days.
Do you want to Toronto for his sister's wedding?
Yes. Vrinda has become a very good friend of mine. I want to be there to dress her up for her wedding. I have a show in New York and I have promised Elesh that I will attend his sister's wedding after that.

'If my dulha wants time, I should not rush things'
Last updated on: August 04, 2009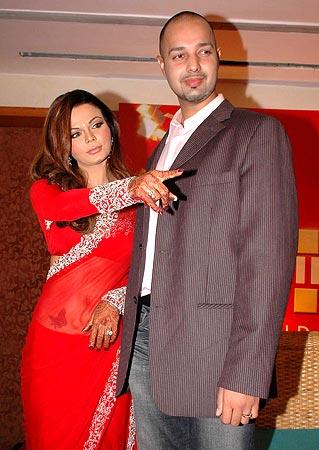 Why did choose a televised swayamvar to get married?
It is my wish (laughs). As I have told you, I got all my fame from television. I wanted to make history. I have seen the media being treated badly at celebrity weddings and I did not like that.
Whatever I have done till date, I have done it in front of my fans and media. I have been saying from the start that whenever I get married, the media will come to know first.
Your mother is upset that you did not call her for your engagement. Don't you want to introduce Elesh to mother?
No comments.
Who will do your kanyadaan?
First, let Elesh be prepared for the wedding. But to answer your question, mere maaykewale hain na, NDTV Imagine.
Why are you not getting married?
It takes guts to hold a swayamvara and date 16 men onscreen. I was very nervous when I had to choose one amongst three men on Sunday.
Elesh has a lot of qualities that any Indian woman would want in her man. I was ready to get married on Sunday but we decided that we needed some time. It is better to given Elesh some time than to get married in a hurry and divorce in six months. If my dulha wants time, I should not rush things. I will wait till he says he wants to marry me.

'Elesh has gifted me a solitaire with all his love'
Last updated on: August 04, 2009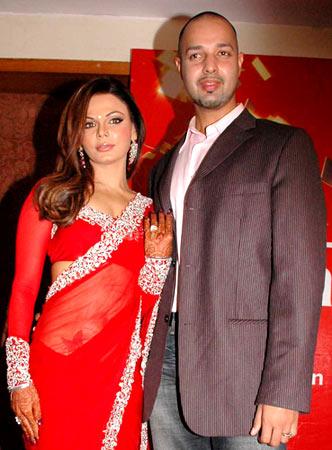 What are those qualities that you see and like in him?
His respect for women. This was very important for me. I asked Elesh if he would be able to face the media because he would be asked a lot of questions. He said he was confidant and would handle it.
I took the decision on Sunday because the media always says that all that Rakhi does is for publicity. But let me tell you that Rakhi is not that weak that she will run away. This is my own decision and I like Elesh with all my heart. So many people do so many things, why am I always targeted?
We heard that some of the eliminated contestants were not allowed to meet you yesterday.
Frankly, I did not know what was happening. It was only later in the night that I came to know that some eliminated dulhas were not allowed inside. But if they had come in and created a scene, everyone would have blamed me for stirring up drama.
I saw a clip where a guy had scribbled my name on his chest and someone was tearing his shirt. So you tell me, should I have bothered about my wedding or those men? 
How much did the ring cost?
If I tell you the price, you will fall from your seat!
So how many crores did it cost?
Crores? Listen, I'm not Shilpa Shetty (laughs)!
The price does not matter. What matters is that it is a solitaire and he has gifted it to me with all his love.
'I have gotten engaged, and you still think it is natak'
Last updated on: August 04, 2009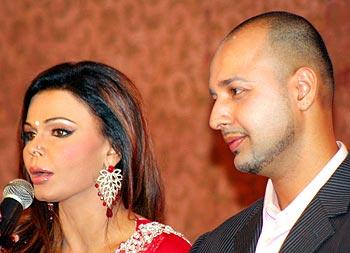 Elesh had revealed to you that he had seven girlfriends. Are you okay with that?
All the dulhas have lied during the show. Elesh had the guts to say the truth about his girlfriends. Who does not have affairs before marriage? Even I had. Even if he had 100 girlfriends, I would have accepted him.
When did you fall in love with Elesh?
I did not fall in love with him during the course of the swayamvar. It was when we came to Mumbai and spoke to each other that I started liking him. Now, this is just the beginning of the love. Since I did not know whom I would choose ultimately, I did not want to fall in love. Kal raat se pyaar shuru ho chuka hai.
Some people say the show was just a drama, that you will not actually get married.
You people will not stop till I die! I have gotten engaged, and you still think it is natak.
Will you go to Toronto to live with Elesh's family?
I will go there and come back because I'm a workaholic. I'm from Mumbai and cannot leave Mumbai.
'I had told Elesh that he cannot stop me from working'
Last updated on: August 04, 2009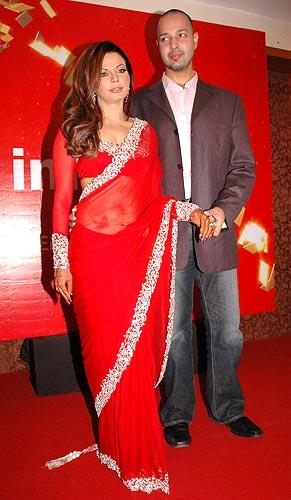 So you will not live with your in-laws?
Ma (Elesh's mother) is still working. I will keep working too. I had told Elesh that he cannot stop me from working.
Will you be Rakhi Sawant Parujanwala or Rakhi Parujanwala?
(After a long pause) Rakhi Parunjanwala.
Do you think Elesh should learn Hindi?
I want Elesh to learn Hindi because if we ever quarrel, it will be because of his English (laughs). At times he speaks so fast in English that I cannot understand him.
A guy called Yaseer Khan claims that you are his wife.
No comments.
Will you be friends with your 15 suitors?
Yes, there is no harm in that. I have spent some time with them and so do not want to ignore them. I would meet them if they want to.
How is your career looking?
My Yash Raj film Dil Bole Hadippa is releasing soon. Then there are other films too. Yeh mat sochaiye ki shadi ho jayegi toh kaam nahi karungi. I have struggled a lot and am not going to leave you people so soon.