What Quick Gun Murugun has in common with OSO
Last updated on: August 31, 2009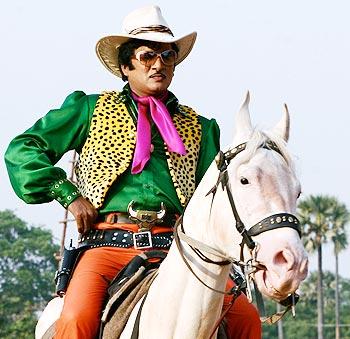 In cinema, a spoof is basically a parody, a send-up of a popular film, a scene, a character. And while Bollywood often borrows from itself -- and from popular world cinema -- it hasn't really forayed into spoofs as such.

Still, here's a look at the different kinds of spoofing we have actually indulged in:

Quick Gun Murugun

He provoked many a belly laugh when he burst onto Channel [V] screens back in the day, and now Shashank Ghosh's iconic cow-preserving cowboy brings his funky swagger to the big screen. Initial buzz is very warm for the film, and even if it doesn't manage to hit all the right notes, this highly-promoted spoof is definitely a Bollywood milestone.

Ram Gopal Varma Ki Aag
Last updated on: August 31, 2009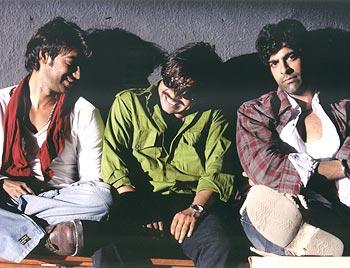 The maker might not have intented this one to be a spoof, but that is the only way one can consume this bizarre take on Sholay, with an Osama-invoking Babban Singh for villain and a caricatured heroe called, well, Hero. Unintentional yes, but funny for sure.

Tashan
Last updated on: August 31, 2009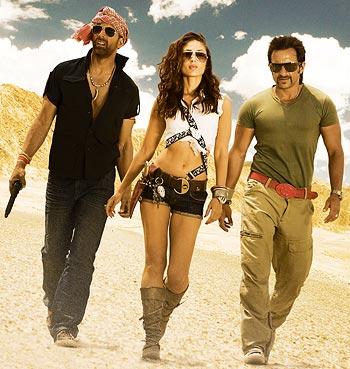 An unfairly underrated ride, this film cocks a snook at that most deplorable of Bollywood decades, the Eighties.
All is larger than life in this Vijay Krishna Acharya film, as a gangster learns hindi, a femme fatale scissors her denims and a hitman looks on -- even as the main lead looks cluelessly at it all.
The fight scenes are a bit too long, though, but overall this film is definitely worth a mention.

Om Shanti Om
Last updated on: August 31, 2009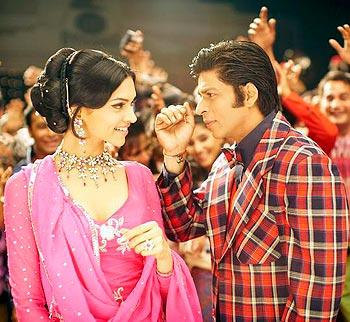 Trust Farah Khan to have a ball making a film about films. Her OSO parodies it all, from a young Sooraj Barjatya getting dialogue inspiration from real-life bluster to Manoj Kumar's driving license with his hand classically over his face.
Shah Rukh Khan has a Quick Gun moment, while Akshay Kumar takes the wind out of his own action hero image -- even as Farah spoofs Bollywood itself by saying you have to be born a Kapoor to be a superstar.

Ramgarh Ke Sholay
Last updated on: August 31, 2009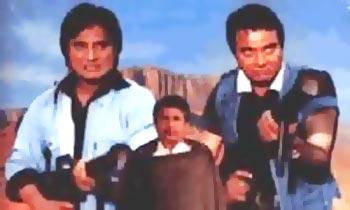 Not a good -- or even a watchable -- film by any yardstick, this one clambers onto the list simply because it was the first true spoof made with a no-name cast of lookalikes and mimicry artists trying to piggyback on the greatest Hindi hit of all time. A pioneer, even if it was an awful one.

Baadshah
Last updated on: August 31, 2009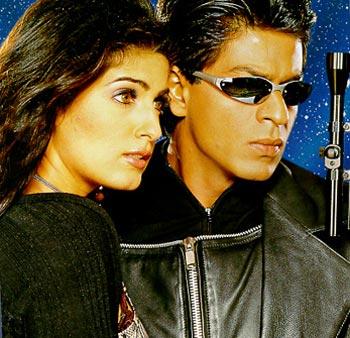 Shah Rukh Khan went all Inspector Gadget in this ludicrous but generally enjoyable farce featuring a super-equipped car, shoes that stuck to walls, and a patently contrived plot that takes the mickey out of conventional Bollywood masala. Good fun, albeit more than a trifle loud.

Hrithik Roshan in Luck By Chance
Last updated on: August 31, 2009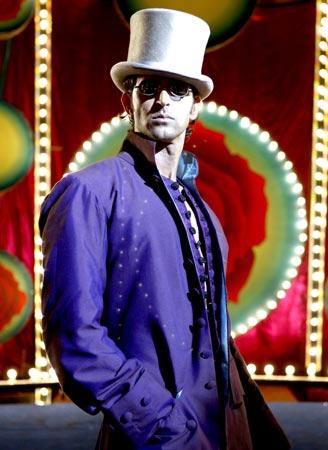 Zoya Akhtar's debut feature was a clever and affectionate take on all things Bollywood, even though it might have seemed cruel to the outsider.
And while fat producers and star moms have been lampooned to death, Hrithik Roshan did very well to mock his own image as he played a foppish superstar obsessed with himself.

Andaz Apna Apna
Last updated on: August 31, 2009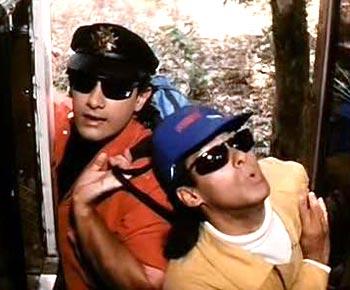 Raj Kumar Santoshi's slapstick masterpiece takes a bunch of Bollywood cliches -- twin brothers, villains plotting to kill heiresses, amnesia, supervillains, bungling henchmen, even the munim's daughter being prettier than the heiress -- and turns them all on their head as they collide in an unforgettable slapstick splat.

Ghoom
Last updated on: August 31, 2009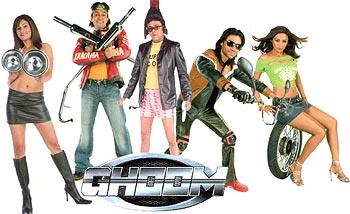 Again, like Ramgarh Ke Sholay, there's nothing to recommend about this MTV production save for the fact that it actually happened.
A full-length parody of one hit film was a format that hadn't happened before, and this one went the full Gadhvi, songs and all.