Hindi cinema's immortal rain moments
Last updated on: July 9, 2009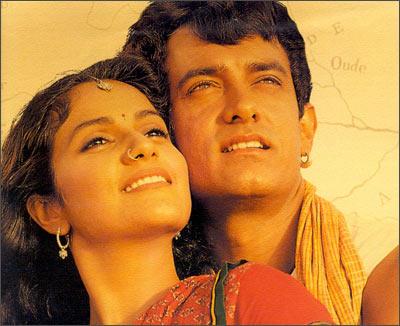 The wet season has officially begun in India, and as the storm clouds gather gloriously over our hot nation, here's a look at some films -- not just songs, but situations -- where the story and the narrative have hinged crucially on rain itself.
Lagaan
Ashutosh Gowariker's finest film starred Aamir Khan and a ragtag cricket team, sure, but it was about a drought-affected village that was crying for rain -- which is what led to the whole tax-doubling cricket bet. In the end, the rain clouds are what bring joy to the village, not just the exemption-carrying sixer.
The 224-minute blockbuster was India's entry to the Oscars and won a nomination for Best Foreign Film, losing on the night to No Man's Land.
Satyam Shivam Sundaram
Last updated on: July 9, 2009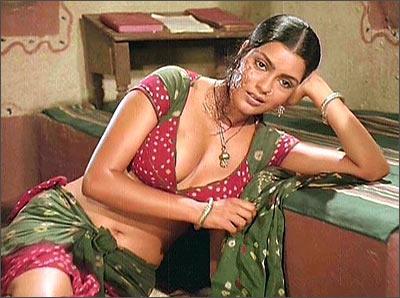 Raj Kapoor's film stars Zeenat Aman as a girl born on Janmashtami, during a night of a heavy downpour, as her mother passes away during this very childbirth. The rainy night is considered to have put a curse on this girl, who is later burnt and disfigured.
The film was about looking beyond the superficial but Kapoor ended up making certain song sequences so scandalous that he ran into trouble with the censors and, to this day, the film is discussed only because of the steamy songs.
Chalti Ka Naam Gaadi
Last updated on: July 9, 2009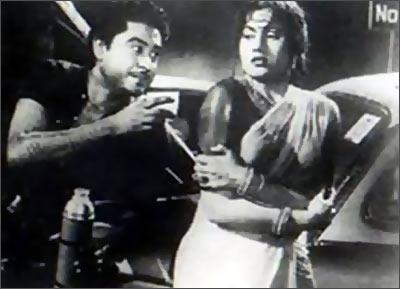 A young garage mechanic toils on cars late through the night when a rainstorm causes a truly luscious beauty to walk in for some shelter. We have the unforgettable Ek ladki bheegi bhaagi si as Kishore Kumar falls instantly in love with Madhubala and the rest is hilarious history.
SD Burman composed the music of the 1958 film with lyrics by Majrooh Sultanpuri, and Kishore obviously sang most of the soundtrack, to wonderful effect.
Chameli
Last updated on: July 9, 2009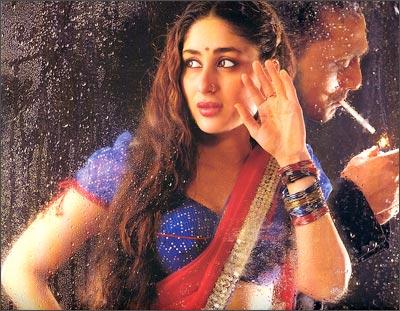 Rain is an integral part of this Sudhir Mishra film as Rahul Bose plays a widowed banker who lost his wife on a rainy night. And it is another wet night which leads to a chance encounter with Kareena Kapoor, playing a sassy prostitute.
Sudhir Mishra's lightest film, this fable looks at rain and relationships amid an unlikely -- yet rather plausible -- Mumbai night that changes everything.
Barsaat Ki Raat
Last updated on: July 9, 2009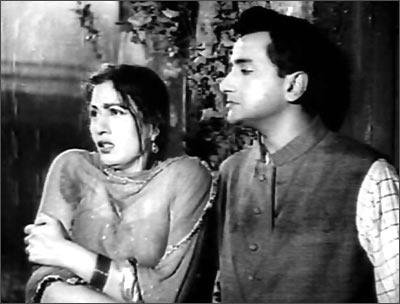 This PL Santoshi classic is all about rain and lightning, as it opens with the lovely Garajta barasta saavan aayo re, and it is during a downpour that Bharat Bhushan meets the stunning Madhubala and is justifiably smitten forever. A fantastic rain-themed soundtrack continues, with some great qawwalis.
The film's music is by Roshan with words by none other than Sahir Ludhianvi, and the film itself uses the songs beautifully within the narrative.

Daag: A Poem Of Love
Last updated on: July 9, 2009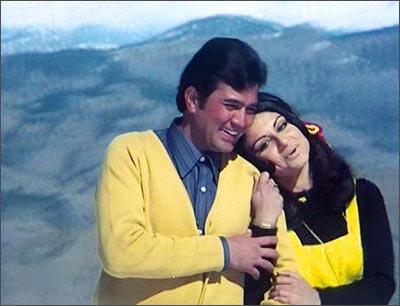 The entire high drama madness that leads to much emotional turmoil and melodrama in this film happens because of one chaotic night, wherein Rajesh Khanna and Sharmila Tagore get separated and Rakhee's father dies. Thus it's rain that causes all the commotion in this poem of love.
This film marked the very heights of the Rajesh Khanna hysteria in the nation and was a massive success, later being remade into Telugu as Vichitra Jeevitham.
Mashaal
Last updated on: July 9, 2009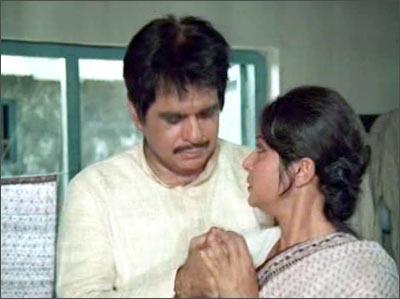 In Yash Chopra's melodramatic hit, things come to a head when the law abiding Dilip Kumar, on a night affected by torrential rain, can't find a rickshaw to take his dying wife to the hospital. It is a scene much spoofed now, but one on which this film pivots.
One of Javed Akhtar's solo scripts, the plot for this film was based on the classic Marathi play, Vasant Kanetkar's Ashroonchi Zhali Phule.
Thodasa Roomani Ho Jaye
Last updated on: July 9, 2009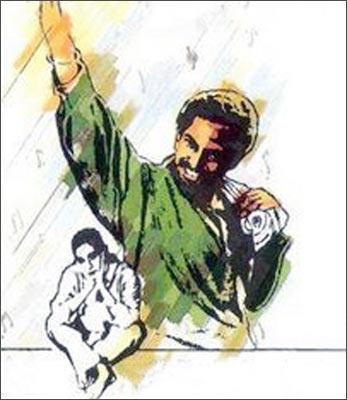 Amol Palekar's delightfully lyrical take on the classic tale of The Rainmaker featured Nana Patekar as an outlandish merchant of dreams, breezily convincing a townful of cynics that he can bring rain to their small town.
Richard Nash's The Rainmaker was a 50s play that ended up being translated into over 40 languages. The 1956 film adaptation starred Burt Lancaster and Katharine Hepburn.
Blue Umbrella
Last updated on: July 9, 2009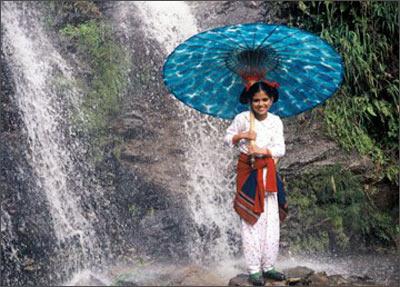 Vishal Bhardwaj's film hinges upon a surly shopkeeper accused to stealing the titular bright blue umbrella when he emerged with a red one. It is left to the rain to wash away Pankaj Kapur's credibility as the scarlet wears off in the shower and the blue underneath emerges.
Vishal finished Blue Umbrella long before he started working on his Othello adaptation, Omkara, but the film ended up releasing over a year after Omkara. It is widely considered one of Pankaj Kapoor's finest performances.
Barsaat Ki Ek Raat
Last updated on: July 9, 2009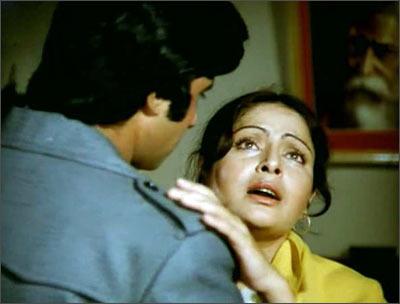 This Shakti Samanta film actually features two important Barsaat Ki Raats, one where Amjad Khan's Kaaliram tries to molest Rakhi, and another one later in the film where he lures Amitabh Bachchan away and attacks Rakhi again, leading to the death of her unborn child.
The Bengali version of this film, Anusandhan, was the highest grossing Bengali film for a number of years and marked the peak of Bachchan's popularity in Bengal.