Vikram Gokhale debuts in Telugu cinema
Last updated on: July 13, 2009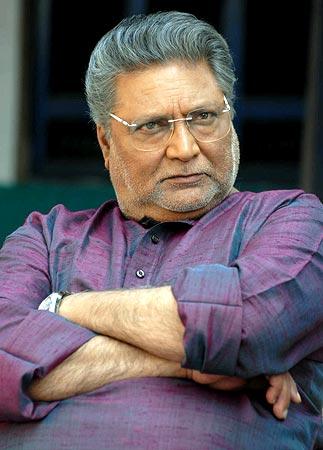 Film, theatre and television actor Vikram Gokhale has made his presence felt in whatever role he does. He also puts to use his acting experience gained over the decades by teaching acting in Mumbai. Even though his father Chandrakant Gokhale was an actor, Vikram rose to fame the hard way. 
Gokhale is an avid photographer and writer too. He finds time to be a realtor also.
He is now doing a full-fledged role in a Telugu film called Kalavaramaye Madilo, produced by Mohan Vadapatla and directed by K Satish, who won a National Award for his first film Hope.
Gokhale talks to Radhika Rajamani about the Telugu film and his interests.
'It's my debut on a large scale'
Last updated on: July 13, 2009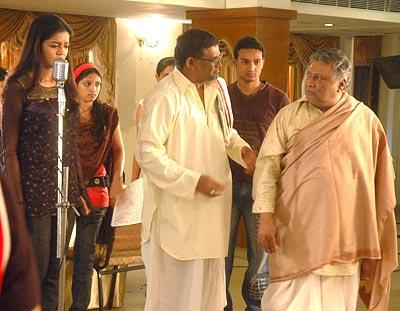 What made you sign Kalavaramaye Madilo? Isn't it the first Telugu film you are doing?
Yes, it's my first Telugu film. I have done bi-linguals before so you can say it's my debut on a large scale. The producer Mohan Vadapatla and director Satish pursued me and told me how important it is for me to sign the film. The director described the role, and I signed the film.
What is it that appealed to you about the script? Was it the fact that music formed the backdrop or that it was a love story based on a subtle emotional quotient?
It is not the love story or the music but the content which is good. There are some important points with regard to life in the film. The film has human elements and is full of subtleties.
'I want to learn Telugu'
Last updated on: July 13, 2009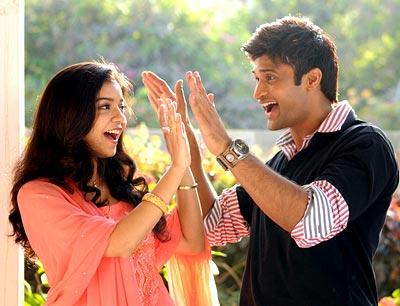 This film stars veterans like Tanikella Bharani as well as young artistes like Swati and Kamal Kamaraju. Would you like to say anything about them?
Bharani garu and I have become close friends. He has done more than 700 films, and is a star. Yet, he is so co-operative. He writes lovely meaningful poetry, full of depth. He is a good actor, writer and poet -- he's a creative person. He knows about international films and theatre, and so do I.
Swati is a young girl, who does her best. Kamal Kamaraju is a soft-spoken, nice young man. He came and met me, and we had lovely interactions even though we did not work together much in the film.
How is it working in the film? How is the film industry in Hyderabad?
Bharani garu boosted my confidence. The producer and director had faith in me as an actor, and co-operated with me in such a way I could deliver the lines and give the shots. I want to learn Telugu. I have become member of Movies Artistes Association. The technical crew and the creative people are good here.
'It's a pleasure working with Satish'
Last updated on: July 13, 2009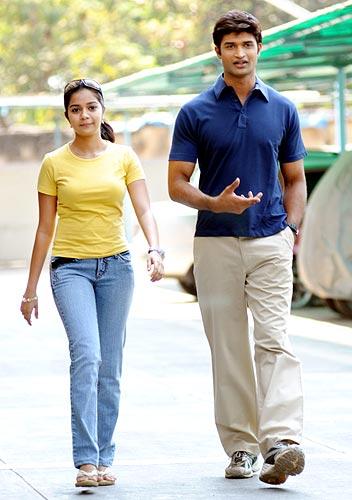 How did you tackle the language barrier?
I wrote in Marathi/English. I understood the meaning and learnt the correct pronunciation.
How was it working with Satish? Did you see his award-winning film Hope?
I had not seen his film. It's a pleasure working with him. He makes actors understand what exactly he wants. He understands the importance of subtleties in the film.
Would you like to do more Telugu films?
Yes, I hope so.
'The era in which Udaan was made is different from the era we live in'
Last updated on: July 13, 2009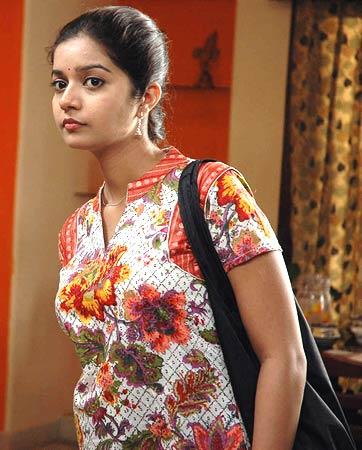 You did Udaan -- a path-breaking serial on television years ago. What do you think of television now?
The era in which Udaan was made is different from the era we live in. Those days are gone. Since then, Indian television has gone to corporates. Indian TV is ruled by the channels. Everything is determined by them. It runs on a huge scale. The money involved is huge. It's better not to talk about content (barring a few serials like Balika Vadhu which raise issues).
You are actively involved in theatre as well. Are you doing any play now?
I am doing a Marathi play Jaawai Maajha Bhalaa, directed by Advait. I helped the director with my inputs with due respect to his own capacity.
Besides acting, what are you interested in?
I am interested in photography, and have a collection of them shot all over. I have also a collection of films and about 2,000 books on theatre and films.