'I don't believe in luck'
Last updated on: July 15, 2009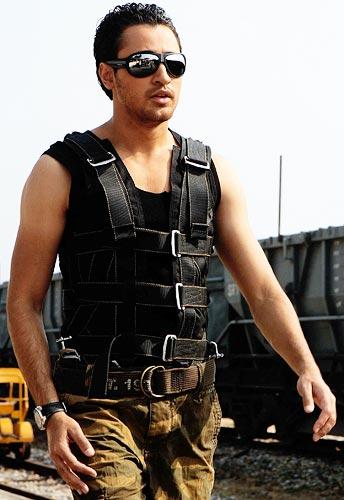 He never wanted to be an actor. That's why he had taken up a course in filmmaking. But the success of Jaane Tu... Ya Jaane Na changed all that.
Imran Khan soon became one of the rising stars of Bollywood.
He followed it up with a disaster called Kidnap but hopes to change his luck in his new film. Directed by Soham Shah, Luck also stars Shruti Haasan, Sanjay Dutt, Mithun Chakraborty, Danny Denzongpa, Chitrasi Rawat and Ravi Kissen.

He talks to Patcy N about how he burnt his eyelashes while doing action scenes in the film, and what we should expect from it.

Why did you take up another action film after the flop Kidnap?
I only take up films whose scripts I like. I hear the narration and ask myself if I would buy a ticket to watch this film. I don't decide films based on their genres. It should be a film that I would want to watch as an audience.
What inspired you take up Luck?
I would say the action in the film inspired me. Plus, it is a full on commercial entertainer. This film is made on an unusual concept which we have not seen before -- human betting.
'Luck has a very cool concept'
Last updated on: July 15, 2009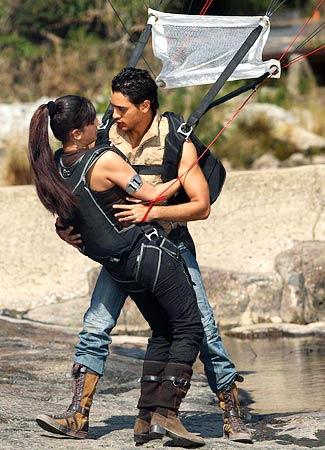 what can we expect from Luck?
Luck has a very cool concept. We have not seen a film like it in India yet. Luck is treated as a commodity -- it is about human gambling and betting with people's lives. I think people would be interested in something like this. Plus, Soham has given it an entertaining and commercial treatment. He has treated it as a thriller with good action and stunt sequences.
Tell us about your character Ram.
Ram is an average middle-class guy, who works in a bank in Mumbai. He is a simple guy with nothing remarkable or unusual about him. He finds himself in a situation where he owes a lot of money through no fault of his own. He is stuck in a bad situation and is looking for a way out.
'She is a far better singer'
Last updated on: July 15, 2009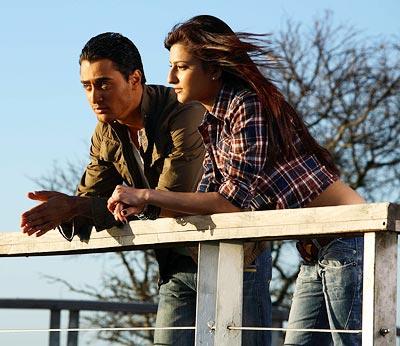 Tell us about your co-star Shruti. You have known her for 15 years?
Shruti has surprised me in this film. When you are doing your first film as an actor, there is always a certain sense of hesitation or uncertainty. But Shruti surprised me with her confidence. Honestly, when I saw the final cut of the film, I was really impressed. She is far better than I had imagined.
Shruti the singer, or Shruti the actress?
It is really unfair to measure, as she is been singing since she was a baby. She has got more than 20 years of singing experience so at this point, she is a far better singer. But who knows what will happen later!
'Danny likes to be called Dan Dan'
Last updated on: July 15, 2009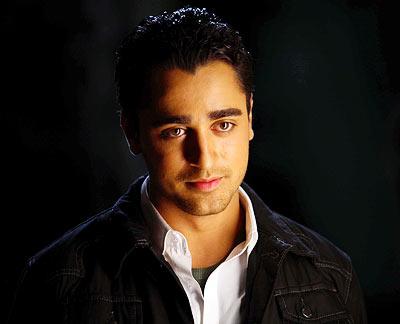 There are actors from different generations acting in the film -- from Mithun and Danny to Sanjay Dutt to Shruti. How was the experience?
I think you get a good experience if you get actors from different generations because each generation brings in something. Danny doesn't like to be called 'sir' because he says it makes him seem old. He likes to be called Dan Dan. He has got so much experience that he exactly knows where the camera will be set up, the camera angles and lights. So he comes with that kind of experience.
Then we have Baba (Sanjay Dutt), with whom I had worked in my last film [Kidnap], and he is simply great. I am working with newer and younger actors like Shruti and Chitrashi. We are all young guys and are always excited and bouncing around, thinking of new ways to do things. But the older guys tell us to chill because they have been through all. So it's an  interesting mix.
'I burnt my eyelashes while shooting the climax'
Last updated on: July 15, 2009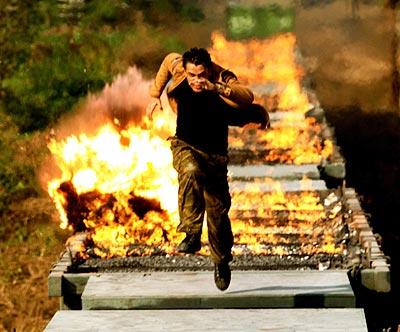 You have done a lot of stunts in the film. How did you prepare for them?
For me, it's not about mental preparation. It's a part of a scene. As an actor, I am playing a character and am doing something in character. So it is done in a flow -- the stunt is only a part of it.
When you are doing action film, injuries become a part and parcel of it. You take safety precautions and plan everything as far as possible to limit risk. But there is a small element which is uncertain, where you know you are going to get hurt -- like you may twist your ankle or get bruised. Such things happen.
I don't get afraid before or during the stunt. I feel scared afterwards. Like in the climax sequence, I had to run on top of a train, which was on fire. The night after I did the stunt, I started thinking what if I had fallen, I would have fallen either on the fire or off the train. That was when I felt scared.
While shooting Luck, an explosion went wrong in the climax scene and I burnt my eyelashes. But it wasn't serious or permanent.
'I am sure someone will make Shruti and me an item'
Last updated on: July 15, 2009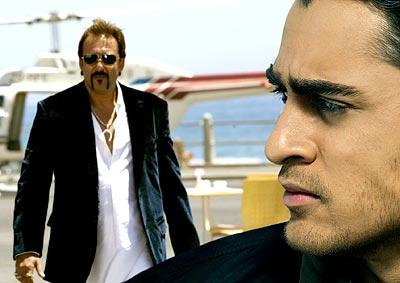 What is the strongest memory you have of the film?
It's the smell of burning hair. Seriously, I spent 10 days running through fire. Even the hair on my hands got burnt!
 
Which is your favourite song in Luck?
Sanju's track in Luck Aazma is really cool and rocking. But there is another song called Khudaya Ve, which has beautiful lyrics and melody. I like that as well.
Is it true that there is fallout between Sanjay Dutt and you?
There is absolutely no truth to that. At the time of the film's release, these rumours and stories float around. Everyone likes a good controversy and that seems to promote the film somehow. I am sure someone will make Shruti and me an item. But it is all crap.
'I have no image'
Last updated on: July 15, 2009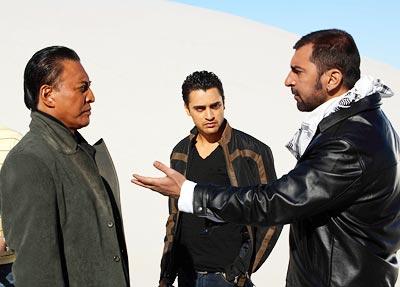 Do you believe in luck? Have you ever gambled in life?
I believe in practical things, I am a very rational and logical person. That's why I don't believe in luck.
 
I have played cards a few times but I have very bad luck [at gambling]. I don't understand it. I have lost too many times, that's why I don't bet.
When a film doesn't work, do you think it is bad luck?
No, I think the audiences did not like my film. Films are very subjective. I may like something but the audience may not like it. But the bottomline is that if a film is not successful, it means the majority of people have not liked it and who is to say they are wrong?
What kind of image would you prefer a chocolate boy image or a macho image?
I have no idea what kind of image people would like to see me in. I have no image. I don't like people telling me I have a chocolate boy image.