New Harry Potter film is about old secrets, young love
Last updated on: July 14, 2009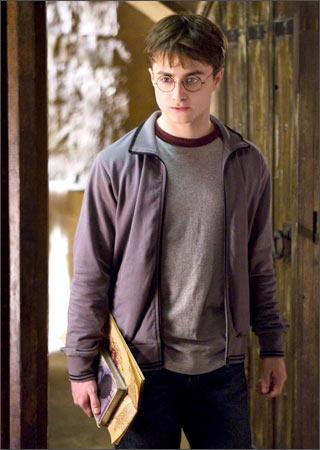 H
arry Potter and the Half-Blood Prince
is about bravery, sacrifice, and the risks taken to unearth deep secrets and fight pure evil.
But the most awaited film this summer is also about young love and the uncertainty that often accompanies it.
Director David Yates points out that in
Harry Potter and the Order of the Phoenix
, Harry (Daniel Radcliffe) famously had his first kiss -- with Cho Chang, the pretty Quidditch player from the house of Ravenclaw.
In
Half-Blood Prince
, we see the famous boy wizard begin a new relationship with an old friend, as he discovers that his best buddy Ron Weasley's (Rupert Grint) 'baby' sister Ginny (Bonnie Wright) is now an alluring young woman. In fact, romance plays a much bigger role in the new film than spectacular action.
The new movie, which cost over $200 million -- making it one of 2009's most expensive films -- is based on the sixth book in the series by J K Rowling. It opens worldwide on July 15, and in India on July 16.
Warner Bros is also releasing it in a few IMAX theatres worldwide this week, including in Los Angeles, New York and Chicago. Over 5,000 traditional theatres across the world will be showing the film by the coming weekend. More IMAX theatres will be added at the end of the month.
Arguably the most successful series released by Warner Bros, the five movies in the series have grossed over $4.5 billion in theaters worldwide, in addition to some $3 billion from ancillary sales including DVDs and other merchandise. The new film is expected to gross close to $1 billion.
The Potter-Ginny romance begins
Last updated on: July 14, 2009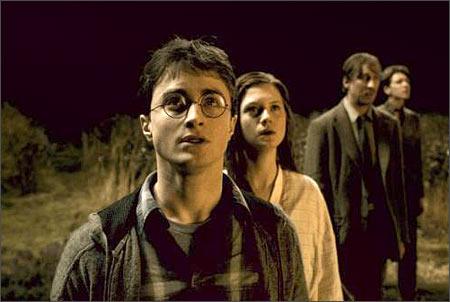 Each novel in the franchise has created a sensation across the world.
'I loved the sixth book,' says Yates, who also directed the previous Potter film. 'It is hugely entertaining, bringing more romance to Hogwarts [
the wizard school Harry goes to
] than we've ever seen before combined with an intriguing uncovering of Voldemort's past that has huge implications for the rest of the series.'
Romance, loss of innocence and tragedies are the main elements in the new film.
Bonnie Wright says her character's attraction to Harry is a natural process.
'As a little girl, Ginny fancied her big brother Ron's best friend Harry. She never believed anything would come of it because he is her brother's best friend,' she muses in the press notes for the film. 'Over the years, they developed a connection; she understands the responsibility Harry has to the rest of the wizarding world and that he is seen as the Chosen One. But what she doesn't realise is that he has begun to like her, too. That does come as a surprise to her and I guess to him, as well.'
At the two previews held in New York this week, the sweet and chaste romance -- which is a bit complicated, too -- was a big part of the conversation in the theatre lobbies. The complications arise partly because Harry is also concerned over Ron.
'Harry is starting to feel incredibly strongly about Ginny,' Radcliffe notes, 'but her brother is his best mate and he doesn't want to jeopardize that. At the same time, he really does want to kiss Ginny so it's a bit of a dilemma. I think it's good fun and quite sweet.'
Ron Weasley's Lavender gaffe
Last updated on: July 14, 2009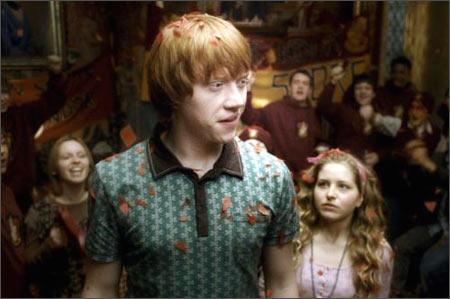 Young love also fills the new movie with comic relief. Ron is intrigued by an attractive Lavender Brown (Jessie Cave).

'Ron finally gets a girlfriend in this film,' Grint says. 'At the start, he thinks he's quite the man. But after a while he finds her a bit overwhelming because Lavender is sort of over the top; she's starting to scare him. She calls him 'Won-Won' and gives him jewellery, and Ron doesn't know how to handle it. She's driving him crazy.'

Yates says the new film shows an unseen facet of Grint.

'Rupert is such a natural comedian,' Yates notes. 'He was always coming up with surprising little things that made us all laugh. So it was a real thrill to direct him in the comedy scenes, which is something I didn't really have an opportunity to do on Order of the Phoenix.'

Yates also points out that Lavender gives Ron his first kiss, but it is a far cry from the very private lip-lock shared by Harry and Cho in the last film. Ron and Lavender are in the middle of a cheering crowd when she starts necking him and goes for a bold kiss.

'It was sort of embarrassing because our first kiss was in a room full of people. We were both nervous,' Grint says, 'but once we got through a few takes, it was cool.'

Meanwhile, Harry's other best friend Hermione Granger (Emma Watson) is heartbroken seeing Lavender with Ron.

'Ron and Hermione may not seem to be a natural couple in many ways,' Yates muses, 'because she is so bright and organised and serious and he appears to be none of those things. But there is something else going on that draws them together.'

There are all kinds of rivalries in the film. Young Draco Malfoy (Tim Felton), who has been called upon by Lord Voldemort himself to carry out a dangerous mission, accepts the task hoping it will bring him the recognition he craves -- and punish his archrival Harry. But the gravity of his mission begins to shake the core of Draco's soul.

'He is not quite the man he thinks he is,' Felton notes. 'In previous years, he's come off as confident and cocky, but now we see that he's much weaker than he ever let on. I loved showing a more vulnerable side to him.'
A new professor, and a mysterious Prince
Last updated on: July 14, 2009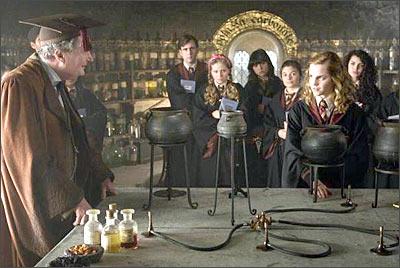 H
alf-Blood Prince
sees the introduction of a new character, Professor Horace Slughorn (Oscar-nominated actor Jim Broadbent), the latest addition to the Hogwarts faculty. He is a sort of networking giant, and has the uncanny ability of picking out students with a bright future and connecting them through tea parties he throws for his select few.
Quite a bit of the film is also about Harry trying to figure out who the Half-Blood Prince is. All he knows is that Prince was the previous owner of an old potions textbook. Harry inherited it when he enrolled in Professor Slughorn's potions class.
'The book says it is the 'Property of the Half-Blood Prince', but there is no name and no other record of him, so his identity is an enigma,' Yates says. 'But whoever he was, he was obviously very smart; he was capable of taking the conventional recipes for certain potions and spells and making them significantly better. He was an original thinker but also quite a dark thinker. The things he came up with eventually lead Harry into some very intense territory.'
Voldemort's terrible secret revealed
Last updated on: July 14, 2009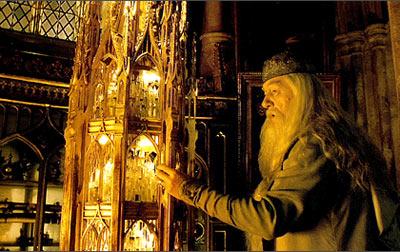 Harry's moral compass, defender and Hogwarts headmaster Professor Albus Dumbledore (Michael Gambon) has a weighty challenge on his mind. He wants Harry to ferret a secret from Professor Slughorn about Tom Riddle, the young Hogwarts student who metamorphosed into the Lord Voldemort years ago.
Dumbledore is convinced that the key to Voldemort's defeat lies in his past; and it is connected with how Riddle becomes Voldemort.
The headmaster takes Harry along on his journey into discovering the full extent of Voldemort's powers and shows Harry just what is needed to defeat the most evil wizard that ever lived. At one point on their perilous journey, Harry is forced to take control. 
'When Dumbledore takes Harry on this mission, it is sort of a rite of passage,' Radcliffe says. 'He is initiating Harry into what he is ultimately going to have to do. This is the beginning of the story of defeating Voldemort, and Harry would never shirk that responsibility.'
Gambon says the relationship between Harry and Dumbledore in this film goes beyond headmaster and student.
'As Harry has grown from a schoolboy into an intelligent young man, their relationship has grown into more of a close friendship,' Gambon notes.
Loss of innocence
Last updated on: July 14, 2009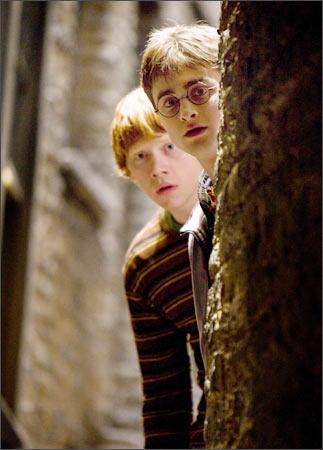 But how far is Dumbledore able to take Harry along? What exactly is Professor Severus Snape's role in the scheme of things? Why is Dumbledore convinced Snape is on the side of good? Is trust Dumbledore's Achilles' Heel? What is the price Harry must pay to destroy Voldemort?
Watch the film to find some of the answers.
In
Order of the Phoenix
, Harry was tormented by dreams -- which were actually him gaining access to Voldemort's visions. In the new film, he faces a new set of issues and responsibilities.
'For me, the films have always been about a loss of innocence,' says Radcliffe. 'When Harry came into this world, it was all just amazing and brilliant and kind of pure. But as the films have gone on, that's totally disintegrated, and he's realising that the wizarding world has just as many, if not more, challenges than the world he grew up in before.'