From Aamir to shocking TV truths
Last updated on: July 15, 2009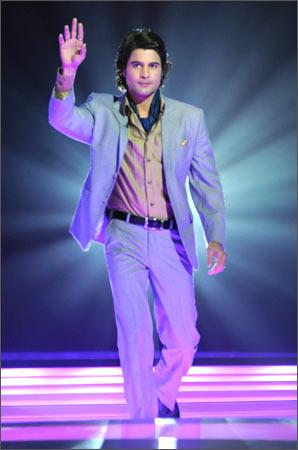 Rajeev Khandelwal, who featured in the critically lauded film Aamir, returns to the small screen with Sach Ka Saamna.  He spoke to Rajul Hegde about his show.
The show, to be broadcast on Star Plus every Monday to Friday at 10:30 pm, is an adaptation of the American game show Moment of Truth, where contestants reveal their deepest secrets on national television.
What made you decide to return to television?
I am not returning to television. I look at it as moving ahead. When Siddharth Basu approached me for the show, I was not sure whether I would manage it with my film schedule. But Siddharth insisted that I should watch the CD that he had brought along before taking my decision. The moment I saw the CD that had some episodes of Moment of Truth, I decided that I have to be a part of this.
I accepted this show only because it is simple concept and gives a chance to common people to come out of the guilt of their life, as they will speak about untold truths to their family and close ones.
But why as a TV host?
I got many offers for different shows on TV but nothing was interesting. I always like to do something that's challenging and excites me. I believe in following my heart and doing what inspires me.
Keeping the sensibilities of the Indian audience in mind, to what extent will the format of Sach Ka Saamna be modified?
Most things stay true to the original show. Of course, the questions have been framed keeping in mind the fact that we are dealing with the Indian audience here. But some of the questions are going to be very shocking.
'I was taught the art of asking shocking personal questions'
Last updated on: July 15, 2009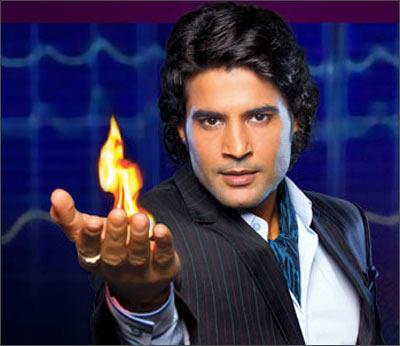 Is it difficult to stay emotionally detached as a host?
At times it is difficult. I want the contestants to do well. And if there's one thing that I have learnt from this show it is to be non-judgmental. What a person may be divulging may be shocking, but what one needs to appreciate the guts to reveal something that's absolutely personal. Facing the truth can be very difficult.
Given a chance, would you like to be on the hot seat?
The day I decide to shun my public life, I would be on the hot seat. We try to guard our personal lives so carefully. That's the reason I salute the contestants who aren't scared of revealing their secrets on television.
So how many times have you lied in you life?
I am a normal human being like anyone. I have lied just as many times you or anyone has. I don't lie to myself about anything.
How comfortable are you asking participants personal questions?
I had to work very hard to get comfortable. Again a lot of credit for this has to go to Siddharth Basu, who groomed me for the show in a lot of ways. I was taught the art of asking shocking personal questions without getting judgmental. Along the way, I also realised that the questions may be contestant-specific, but all of us can identify with these questions.
'Celebrities spend half their lives trying to guard their privacy'
Last updated on: July 15, 2009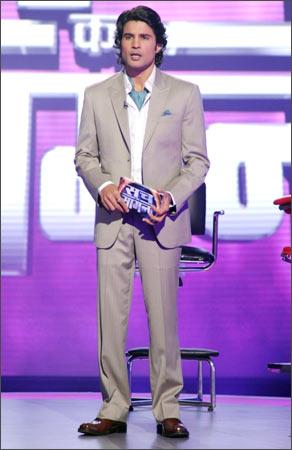 It was reported that a number of celebrities refused to be a part of the show.
Yes, there were many who didn't want to face the Sach on Sach Ka Saamna. But then that's pretty understandable. Celebrities spend half of their lives trying to guard their privacy and their personal lives. So why should they just bare it all on a television show? We did approach a lot of well-known faces for Sach Ka Saamna, but when they declined to be part of the show, we respected their need for privacy. There were some who were courageous enough to lay bare their lives on television and these are the people who are there in Sach Ka Saamna.
How are you planning to balance your film career with Sach Ka Saamna?
Sach Ka Saamna doesn't take up too much of my time. We shoot for 10 days and then have a 20- to 25-day break. I am free to schedule my film shoots at that time.
Were there any contractual obligations from the makers of your film on your visibility on television before the film's release?
Yes. Initially the makers of Peter Gaya Kaam Se didn't want my look to come out but after watching the DVD (of an episode) they said I should do the show. I still have five days work left for my film, so I am sporting the same look but obviously not the wild look that I have in the film. The hairstyle remains the same but I sport a formal look in this show.
After sporting an absolutely casual look in Peter, I am enjoying this too.
I have some interesting films in my kitty and they all did ask me about the content of the show but all of them unanimously asked me to go ahead with the show.
'The day I want to bare it all, I will'
Last updated on: July 15, 2009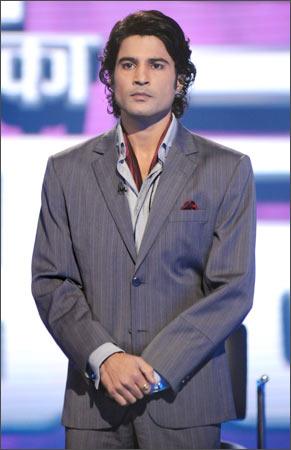 Are you planning to do more television shows?
After Sach Ka Saamna, it's back to films. I am not going to be doing any soaps or reality shows.
Your ex-girlfriend Aamna Sharif was invited on your show Deal Ya No Deal. Will you invite her on this show?
(Smiles) Why are you all still stuck with that? I never denied about her, but now I just don't want to say anything as I haven't met her for the last two years. Just because I had one link-up in my life I think I am going to answer for this in my whole life. Right now I am in a relationship and feeling good about it. Even I do plan to get married and settle down. About Aamna all I can say is that she has her own life and I have my own.
Can you talk more about your present girlfriend?
Let that remain personal. The day I want to bare it all, I will. Till then, let the skeletons lie in my closet.
You have signed Sanjay Leela Bhansali's next film, Chenab Gandhi?
Yes I have signed his film but it will take some time to start. Sanjay Leela Bhansali's mother recommended me for his film because she has watched me on television (Kahin To Hoga). Hope I get more films with her blessings. I will start shooting for my third film Return Gift in October.