'Achamundu will be close to my heart'
Last updated on: July 15, 2009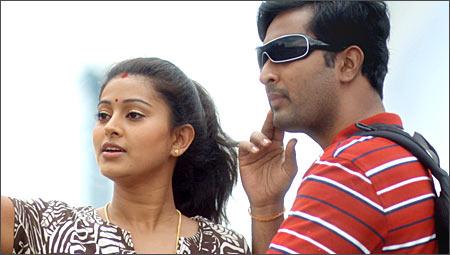 Talented young Tamil actor Prasanna is always experimenting with his roles. No actor of his age would have dared to do a negative role so early in his career like he did in Mysskin's Anjathe.
His new film Achamundu Achamundu -- directed by Arun Vaidyanathan and shot completely in the US -- releases on July 17 worldwide. The film has already enjoyed a successful round at various international levels.
In this interview, Prasanna, who acts as a software professional settled in the US, talks to Shobha Warrier about his role.
When Arun Vaidyanathan offered you the role in Achamundu, Achamundu, what made you accept it?
I liked the concept of making a Tamil film for the global audience. It was exciting to act in a film that has no songs and regular commercial ingredients. I would say that though Sneha and I converse in Tamil, the film is not made in any one language. It can be understood by anyone in the world.
'Working with an American crew was very exciting'
Last updated on: July 15, 2009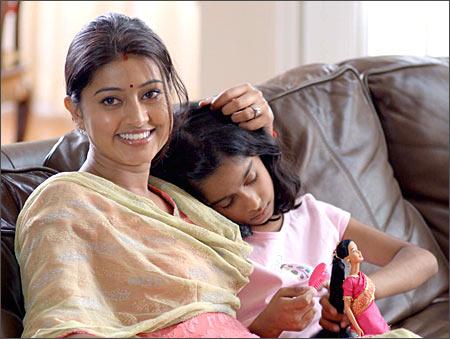 Once you started shooting, was it as exciting as you expected it to be?
Yes. It was also a very different experience shooting for the film. What we do here is, we listen to a script, and if we find it okay, we confirm and then go for the shoot. Some actors do their own homework. Otherwise, we get to know only on the sets what we are going to perform.
But in the case of Achamundu, all the actors and technicians sat across a table and discussed everything. First, we had reading sessions with all the leading actors and technicians. We then went to the locations, rehearsed and choreographed all the scenes. So before the real shoot started itself, we had a good idea about what we are supposed to do and how the film would be.
Also, working with an American crew was very exciting. I am sure any Indian actor would love to work in such an atmosphere.
How different was it working with an American crew? You had co-actors like John Shea and technicians from Hollywood working for Achamundu.
As we had rehearsed, we understood how they would respond to a situation in advance. For example, working with John Shea. I came to know how he would perform in a scene. And that gave me a lot of space to think about how I should improvise and improve.
Working with an American technical crew was excellent because it was completely different from how we shoot a film here. Every single person was sure of what was expected of him, so there was absolutely no confusion or shouting on the sets.
Then of course, we shot the film in Red One camera. It was sync sound and a first experience for both Sneha and me. So, we had to concentrate a lot on our pronunciation. It was not only Tamil pronunciation but we had to have a slight American accent too while talking in English. After all, we were living in America for a few years, and at least we should make ourselves understood in an American accent when we talk to Americans.
'I didn't have to change myself physically'
Last updated on: July 15, 2009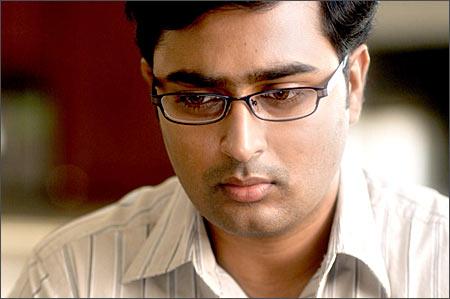 How did you learn the American accent? Did you speak Tamil also differently?
We shot the whole film in New Jersey. It was like a mini-India. Every second person we bumped into was either a Tamilian or a Telugu. We were very comfortable staying there.
We had two-three weeks rehearsing time before we started the real shoot. That was the time we worked on our accent too. But most of the Indians we met there do not have the typical American accent. Only the kids who are born there have that. Those who have migrated generally talk like we all do. Yet I got tips from those who have been staying there for quite some time.
How did you change physically to look like the character?
I didn't have to change myself physically to look like a software professional but I had to put on some weight to look like the father of a six year old girl. It was good fun to be a 34 year old father when you were 26! But it was tough to have the body language of a father in the scenes with the kid. I found it a bit weird initially because I couldn't exactly feel like a father. It took some time for me but with rehearsals and as the shooting progressed, I was comfortable.
This guy is a nerd and he comes from institutions like IIT, IIM etc. As he was from such institutions, he had to look intelligent. I wore spectacles and had a full shaven look. These are the physical changes I had for the character.
'It was an unforgettable experience'
Last updated on: July 15, 2009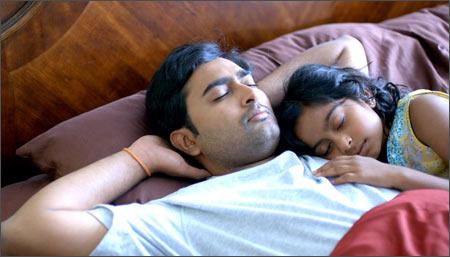 Any interesting experience which you can share with us?
I don't know whether you can call it interesting but it was unforgettable. While we were shooting a fighting scene between John Shea and me, the blow he gave me really hit me and hit me hard on my head. There was no bleeding or anything like that but I couldn't move for half an hour, and I had a swelling and headache for the whole day. After 45 minutes, we continued with the shooting.
How did the blow land on your head?
However cautious you are, in the fight sequences, the timing can go wrong. It was as simple as the timing going wrong and the blow landing on my head.
John Shea did not think such a thing would happen. Both of us were shocked. I was on the floor for a few minutes. But Arun, who was watching it on the monitor thought, 'wow, the shot has come so realistic'. He was happy with the shot, not realising that I was hit and was in pain.
'I feel proud that people like Danny Boyle watched me on screen'
Last updated on: July 15, 2009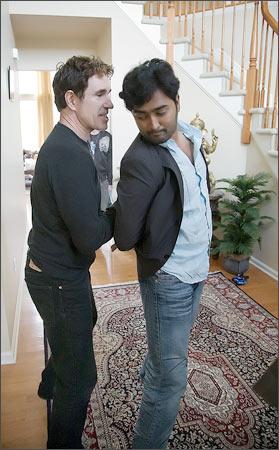 As all of you had been together for quite some time rehearsing and then shooting, how did you feel once the shooting was over?
It was quite painful. We made a lot of friends there in the few months we were together. We got so close to each other that I taught them some Tamil words like Vanakkam. They used to call me Macha... and say Vanakkam Macha.
All of us felt so bad when the shoot got over. It was a real touching moment. Even today, we are in touch on Facebook.
It must have been a long wait to see the film reach the theatres...
It was going to many festivals and making waves. So, I didn't feel that it was a long wait. I feel proud that people like Danny Boyle watched me on screen!
'It will be close to my heart'
Last updated on: July 15, 2009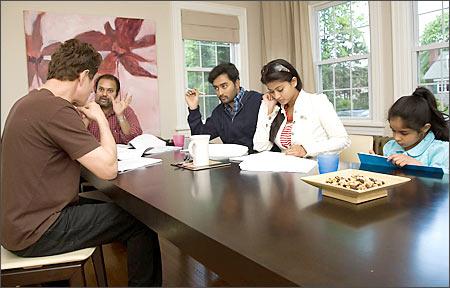 Will Achamundu... be a special film in your career?
It will be close to my heart though I don't know how it will help me as a commercial actor. I know very well that this film is made for a niche audience. I wish it does well. Achamundu... Achamundu will be the first Tamil film that will be released across America.
Unlike many other young actors, you experiment with your roles. Would you like to experiment later on in your career also?
I always want to do different kinds of films but I am seriously thinking of remaining safe. The industry doesn't care about the kind of roles you do and how versatile you are; they only look at the box office collections of your film. Your film may be crap but if it collects the maximum, it is labelled as the best film! Similarly, your film may be of world class but if it doesn't collect, for the industry, it is crap. It is very sad.
If I have to survive in the industry, I have to do commercially viable films though the films that I like are different. So I am forced to do films for survival. It hurts sometimes when people don't give credit for what you deserve. But you can't help it as it is a part of this profession.