'I saw death very closely in Luck'
Last updated on: July 16, 2009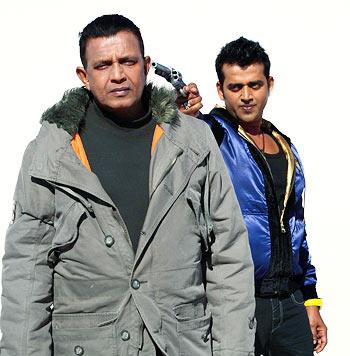 One of the leading stars in Bhojpuri cinema, Ravi Kissen crossed over to Hindi movies after his stint in Bigg Boss. He will be seen in Soham Shah's Luck, also starring Sanjay Dutt, Imran Khan, Shruti Haasan, Mithun Chakraborty, Danny Denzongpa and Chitrashi Rawat.
He talks to Patcy N about how luck held during his journey from Jaunpur in Uttar Pradesh, to Mumbai.
This is your second innings in Bollywood.
I came to Mumbai in 1990 to try my luck in films. But I did not get any success. My work was appreciated in Tere Naam but nothing happened. So I moved to Bhojpuri cinema. Now, I have got a chance to work in Bollywood again.
I did not think I would get to work in Luck and Mani Ratnam's Raavan. After Shyam Benegal's Welcome to Sajjanpur, I got another film with him, Abba Ka Kuan. I am not only getting to work with big filmmakers but am also getting better roles.
What do you think went wrong the first time?
When I came from my village, I was not very smart. I thought it was more important to survive. But if you sign one wrong film, you go back five years in life. Besides, I did not have a godfather or any help from anyone. So it's natural to make mistakes and fumble. But I have learnt because of this failure. My dreams are coming true now.
I have done 140 films in total -- 100 Bhojpuri and 40 Hindi films. Before I would work in 13-14 films a year but now I plan to do four to six films a year.
'There is a good blend of seniors and juniors working together'
Last updated on: July 16, 2009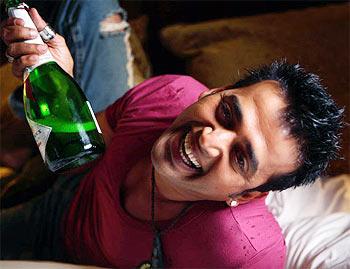 What new things will we see in Luck?
It has a new story. For the first time, this human betting concept is being tried in India. It will have a lot of adventures. We have done some difficult stunts and risky shots. We have actors of the 1970s and 1990s along with newcomers. So there is a good blend of seniors and juniors working together. All of us were in South Africa for two and a half months.
How did you get this role?
Soham saw me in Bigg Boss, and liked me. After that, we met at the Mauritius airport -- we were in the same flight. He told me that he wanted to work with me. After four months, he called me and said that he wanted to narrate a story to me. Once I heard the script, I was in.
'My character is a bit of a psycho'
Last updated on: July 16, 2009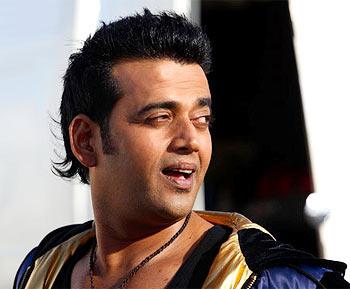 How did you prepare for your character Raghav?
My character is a bit of a psycho. His moods change frequently and you never know when it will change next. To get into this character, I watched a lot of Discovery channel to learn the characteristics of animals. Raghav is sometimes like a panther, sometimes like a hyena, or a leopard or a snake. I was very excited to play such a character.
Whom did you get along with the most among the cast?
I got along the most with Mithunda. I think we have a connection from our past life. We gelled well. He would cook for us. He would make non vegetarian food. But since I am a vegetarian, he would make dal and baigan ka bharta and bhindi ki sabzi. He would make me sit and feed me like a child. If I did not eat, he would fire me.
I had done Army with Danny before, so we were friends from the beginning. We would party a lot and even go out for walks in the jungles at night.
I made good friends with Sanju in the Bangkok schedule. He calls me his younger brother.
'I saw a shark's tail touching Imran's face'
Last updated on: July 16, 2009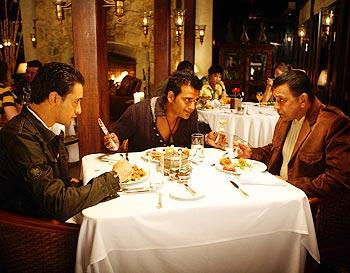 What was the most unique thing you did in Luck?
I may not get an opportunity to jump from 1000 feet again, or hang in the middle of a valley on wires, or be surrounded by sharks underwater.
Tell us about these stunts.
I saw death very closely when I did the underwater sequence in Durban. We were sailing in a ship, and the crew started throwing small fish into the water to attract sharks. Suddenly I saw a shark approaching us, and in no time, I saw a shark family. Everyone else had taken underwater training but I had missed that.
Imran was already underwater, and we had to follow him. I saw a shark's tail touching Imran's face. Seeing so many sharks around, I was very scared. They took me 10 feet deep, and then I had to come up so that the shot could be canned. But I was surrounded by sharks and scared to death. I think nothing can be more difficult than that.
'I know Rakhi will be a good wife'
Last updated on: July 16, 2009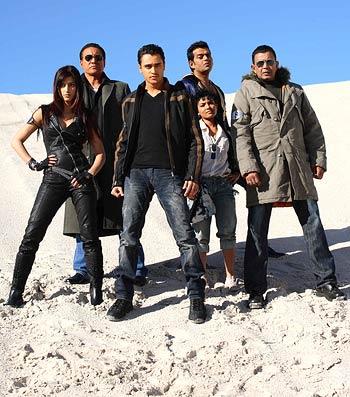 How was it working with Mani Ratnam in Raavan?
It was great. I have shot four months with him. I will go for the second schedule to shoot the climax. He is a genius.
You are helping Rakhi Sawant in finding a good husband in her show Rakhi Ka Swayamwar. What kind of boy are you looking for?
I am looking for a boy who has the qualities of a wife -- someone who will take care of her, do her chores, remove her makeup, cook well, massage her legs... If someone teases Rakhi at a party, he should beat him up.
Will Rakhi be a good wife?
I have known Rakhi from 1994. We are good friends. Plus, we stayed with each other in Bigg Boss. So I know she will be a good wife.