Hindi cinema's sexiest raindancers
Last updated on: July 20, 2009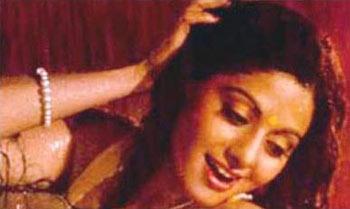 Look out the window and stare at the rain.  
The monsoons are here and Mumbai, the city that houses Bollywood is good and drenched. Here's a quick look at some heroines at their wettest best. 
Sridevi - Chalbaaz
Pankaj Parashar's energetic take on
Seeta Aur Geeta
saw Sri in top form, and she was at her voluptuous, spritely best as she got drenched in a white top and suspenders alongside Sunny Deol in
Kisi ke haath na aayegi yeh ladki
.
Madhuri Dixit - Dil Toh Pagal Hai
Last updated on: July 20, 2009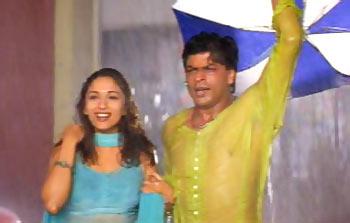 Dixit was the older danseuse in this Yash Chopra film, but after Karisma Kapoor was conveniently bunged into a wheelchair, the stage was set for Mads and Shah Rukh Khan to welcome the rain with the oh-so-catchy
Koi ladki hai
.
Aishwarya Rai Bachchan - Shakti
Last updated on: July 20, 2009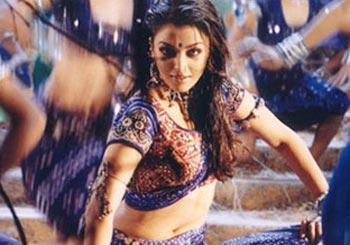 Rai made quite a splash in this excessively raunchy item song featuring herself and SRK, both stars heaving as hard as they could through haystacks, khatiyas and rain. Ishq kameena, the song went, and boy o boy did Ash look jawdroppingly sexy.
Manisha Koirala - 1942: A Love Story
Last updated on: July 20, 2009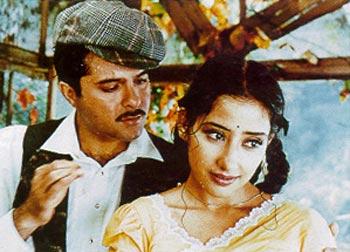 Vidhu Vinod Chopra's period film benefited from having Rahul Dev Burman's final soundtrack, and each song was a gem, including the lovely
Rimjhim rimjhim
featuring a sparkling Manisha splashing water onto a hapless, smitten Anil Kapoor.
Kajol - Dilwale Dulhaniye Le Jaayenge
Last updated on: July 20, 2009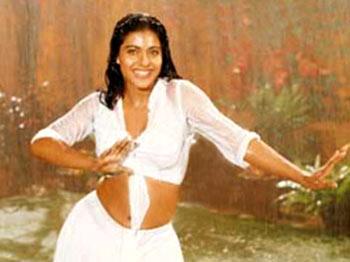 Kajol flashed an awful amount of leg as she frolicked in her rainy backyard, and with Aditya Chopra getting every note right in his debut film,
Mere khwabon mein jo aaye
was spot-on. The actress looked playful and capricious and overall, irresistible.
Kareena - Chameli
Last updated on: July 20, 2009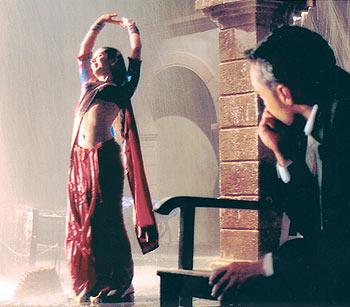 Sudhir Mishra's film marked a departure for the serious filmmaker as he walked into the world of fable, and Kareena looked fabulous in her sari tied low as she swayed dreamily to the beats of
Bhaage Re Mann
. Rahul Bose has never seemed as enviable.
Urmila - Satya
Last updated on: July 20, 2009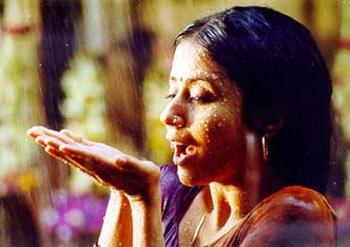 Ram Gopal Varma's film might have been all frantic shots of the Mumbai underbelly, but it had its interludes like this soothing composition. The lyrics sound initially redundant in
Geela geela paani
but Urmila's joy at the rain seems very real indeed.
Rani Mukerji - Hum Tum
Last updated on: July 20, 2009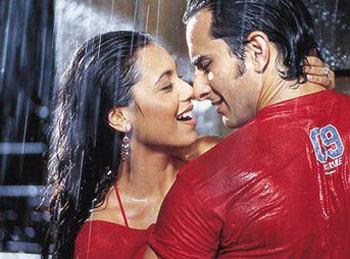 Kunal Kohli's lazily ripped off take on When
Harry Met Sally
managed moments largely because of the charm of the two lead actors, and the love-light shines bright in Saif Ali Khan's eyes as he pulls a very drenched Rani to him in the film's title song,
Hum tum
.
Sonali Bendre - Dahek
Last updated on: July 20, 2009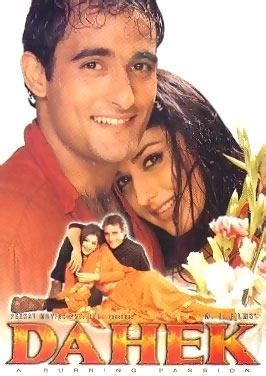 One of the most candid moments in Sonali's career came in
Dahek
, as we see her happiness interspersed with shots of Mumbai blossoming under the season's first rains, an always celebratory sight. The
Saawan Barse
song is a pretty one, and oft-forgotten because of the much ignored film.
Raveena Tandon - Mohra
Last updated on: July 20, 2009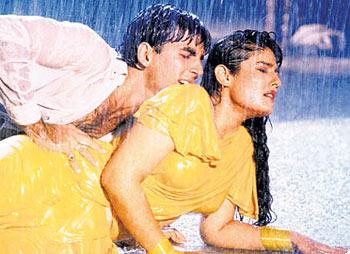 Viju Shah gave some of the catchiest music of the late 1980s and early 1990s, and things didn't change in
Tip tip barse pani
, a song where Raveena steams up the screen dancing a la Madhuri while a young Akshay Kumar tries hard to resist the wet seductress.