'Life has been good after Fashion'
June 1, 2009 16:13 IST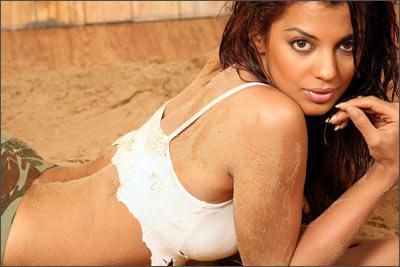 Mugdha Godse wowed us in Madhur Bhandarkar's Fashion, and seems well on her way to more fame and success. The Pune-based actress is currently busy with two projects, Jail and All The Best.
Nithya Ramani caught up with Mugdha at her Versova residence in suburban Mumbai and spoke about life after Fashion. Excerpts.
How has life been after Fashion?
Life has been good. I have entered a different chapter in my life where I get to do lots of different things. I love this phase. I used to interact with the media a lot during my modelling days but this is different. I was never recognised before but now, when I go to malls and public places, people come up to me and say I have done a good job in Fashion.
'I have a very deglamorised role in Jail'
June 1, 2009 16:13 IST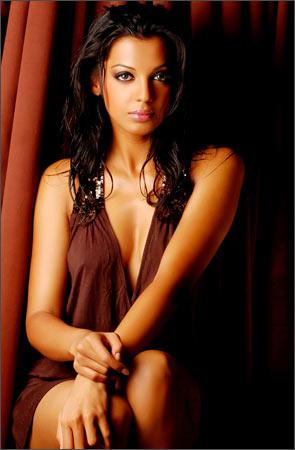 What made you take up modelling?
During my college days, I used to work part time by doing surveys at petrol pumps, selling oil for Rs 100. I would get about Rs 10 from that. I always wanted to stand on my feet as my pocket money wasn't sufficient and I wouldn't ask my parents for more.
I worked in a gym as well, and started working out too. Since I had a good height and toned body, people suggested I take part in a beauty pageant. I took part in Gladrags in 2002 and won it. After college, I moved to Mumbai and started modelling. Things started happening after that.
What are your forcoming films about?
Jail -- directed by Madhur Bhandarkar -- is about a common man who gets arrested and thrown into jail. It's also how his loved ones -- including my character who is his love interest -- get affected by his incarceration. It is another dark film from Bhandarkar. I have a very deglamorised role. I cried when I first heard the story.
All the Best -- directed by Rohit Shetty -- is a commercial, masala film, where I will do comedy and shake my hips. It is different from the kind of films I have been doing. I can't tell you the story because it is very confusing. There is a lot of deceit and lying involved. The film also stars Sanjay Dutt, Ajay Devgan, Bipasha Basu and Fardeen Khan. They made me feel very comfortable. We would laugh so much during the comedy scenes.
'I would love to be a part of all Madhur Bhandakar's films'
June 1, 2009 16:13 IST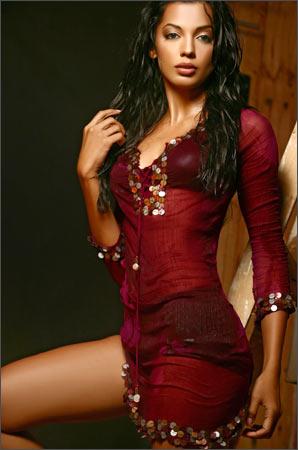 Since you are doing another film with Bhandakar, have you signed any contract with him?
I wish. I would love to be a part of all his films. Unfortunately, I haven't signed any such contract. It is always a pleasure to work with him. He brings out the best in you. I have many other favourite directors as well. But I don't want to name any.
How was the experience working with Rohit Shetty?
He is a very humourous and fun loving guy with a great sense of humour. We had fun on the sets and I didn't feel like I was shooting. It felt like I was chatting with a friend.
'Sometimes when I say something serious, people don't take me seriously'
June 1, 2009 16:13 IST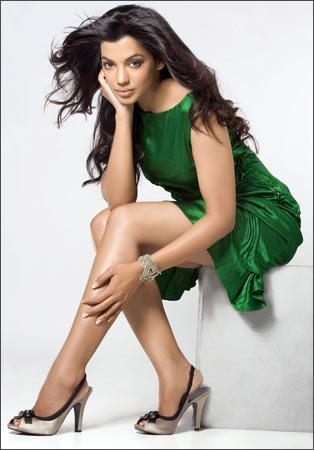 How good are you in comedy?
I don't know. I think you will know better. When I signed All The Best, my friends said it would not be a big deal for me. They think I'm a funny person. I think I am too straight-forward. Sometimes when I say something serious, people don't take me seriously and think I am kidding. You don't have to be a funny person to do a comedy film.
You have been a part of multi-star cast films. Don't you want be the lead?
I just pick and choose what comes my way. I loved working with Priyanka Chopra and Kangana Ranaut in Fashion; Neil Nitin Mukesh in Jail and all the stars in All The Best. I will try to do different things in my films because variety is an actor's delight.
'I see myself more successful five years down the line'
June 1, 2009 16:13 IST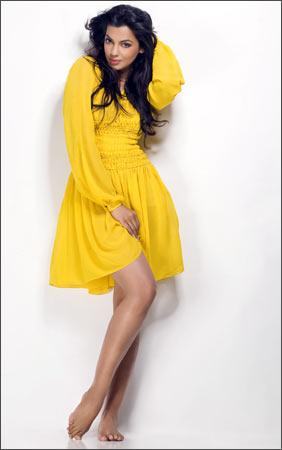 What kind of roles do you want to do?
I love the roles I have played. I loved playing Janet in Fashion. That's my best role. And I love playing Mansi in Jail and Vidya in All the Best. My roles help me grow. Maybe five years down the line, I can tell you what kind of roles I would like to play.
Where do you see yourself five years down the line?
I haven't planned anything. But I see myself more successful. A few years ago, I never thought I would be here.
'I think Asin deserved the Filmfare Award'
June 1, 2009 16:13 IST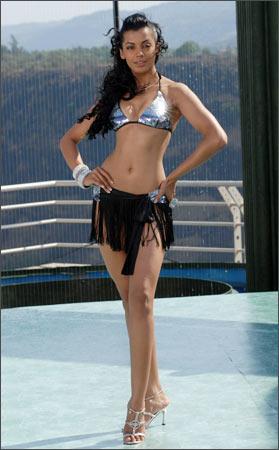 You were nominated for the Filmfare Awards in the best debut actress category. But Asin, who has done more films than you, won the award. Did that upset you?
I don't know. I was like a kid during the award function -- very excited. And when I got nominated, I was very happy. But I realise that the scene is different. There are many actresses, who perform better than you. You can't be in love with yourself. An award is not the only thing that matters. The love and recognition you get for your performance are very important. Of course, if you win an award, you are motivated to do better and you have a trophy to keep at home.
Award functions are more entertainment based where nobody really watches to see who won what but who wore what and danced to what song.
I think Asin deserved the award. I might have said that I was upset but I would like to clear the air. I am big fan of hers and I think she pulled off her role in Ghajini very well. I was upset but just for a day but that was very childish.
'I came with no expectations'
June 1, 2009 16:13 IST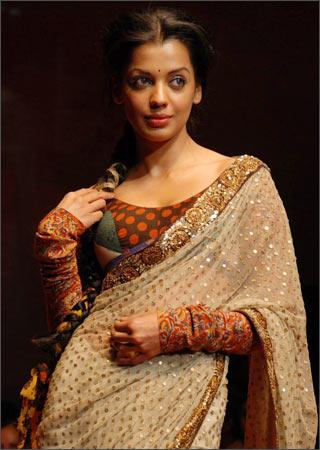 How easy or difficult is it for a newcomer to make an entry into the film industry?
Very difficult.
In my case, it is different because I came with no expectations. When there are no expectations and something good happens, you feel happy. You give your 200 percent -- sometimes, you are rewarded, sometimes you are not. If you are not rewarded, you have to put it behind you and move on.