A R Rahman, as you didn't know him
June 10, 2009 10:11 IST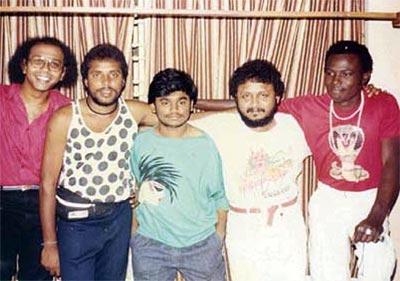 The struggles and celebrations of A R Rahman's life will be documented in his first ever biography, titled A R Rahman: The Musical Storm, which releases June 10. It has been penned by Chennai-based
Kamini Mathai
, who has worked in newspapers like Indian Express and The Times of India. This is Mathai's first book.
The 32-year-old tells Patcy N how she got the shy Rahman to open up to her, and reveal himself.
How did you decide on writing about Rahman?
I had no plans of writing a book. Penguin Books India contacted me in 2003 and commissioned me to write this book. Actually, they were looking out for people to write the book on Rahman. They had short-listed some journalists; I was among them. They had seen my articles in the Indian Express. Christin Sabraini, from Penguin, asked me to give her a brief, and how I would go about it. I did, and was selected.
How did you go about it?
I read up as much as possible on Rahman. I read whatever material I could get on him, so that I would know where the biography would start from. I jotted down names mentioned by him in his interviews, like Sudarshan master [music director], M K Arjunan master [music director, and his father R K Shekhar's colleague], L Vaidyanathan [music director] and Thomas Isaac Kathukapli [ad filmmaker, who composes music as well]. I started tracing these people and found managed to talk to most of them. I also spoke to people who knew his father.
I bought Rahman's music as well.
What was the toughest part of the biography?
Rahman's past -- his childhood and growing up years. Getting details on his father was difficult. But as I met more and more people, I started getting the details I needed.
'Rahman wants us to call it an unauthorised biography'
June 10, 2009 10:11 IST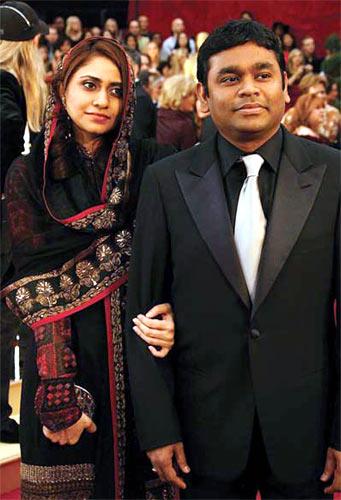 How much time did Rahman give you?
It's very difficult to meet Rahman, so I would keep waiting at his studio. I got to know a lot of people while waiting for him, so my research continued. I met him about three-four times. With Rahman, when you interview him, you have to be very specific of what you're asking him
Rahman is such a shy person. Was he okay with the okay of his biography being written?
He wants us to call it an unauthorised biography although he knew I was writing a book on him and meeting people for it.
He does not open up. You have to try hard. But suddenly, Rahman opens up and starts talking, and then all of a sudden, restricts himself from saying more. But the times when he did open up, he would tell me good stories. Like he said, as Dileep, he was a big failure. Whatever he did before he embraced Islam failed. For instance, he did badly in school, his father died when he was nine and he had to drop out of school, he had to work from a young age even though he liked to play, his music bands flopped, his music albums flopped
How much time did it take you to write this book?
The process of writing the book started in 2003. It took me 10-11 months just to be able to meet Rahman and tell him that I was writing a biography on him. I met him next after six-seven months. In-between, I had a baby so the research took longer.
I made three drafts of the book, and finally sent the fourth to Penguin.
'Rahman said I can write about his music and his life but not about his wife and children'
June 10, 2009 10:11 IST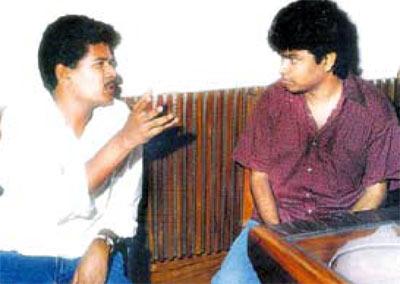 Did you get to meet his family?
He made his mother available to me. But he made it clear that I should not write about his children. He doesn't want his children to be exposed to anything. He did not allow me to meet his wife either.
He said I can write about his music and his life but not about his wife and children. He asked me to respect his privacy. I saw them around in the studio.
I have written stories about his wife and children, as told to me by the people who worked with Rahman. But the book is mostly about Rahman and how he came to be.
What did Rahman's mother have to say?
His mother is free and open. She gave me nice information about Rahman's childhood, about the family embracing Islam, Rahman's spiritual guru, his father's illness and how they did not have money when he died, as he was the only breadwinner
When Rahman's father died, Rahman had to work. Rahman was a session musician, who played instruments for music composers and got paid by the day. So he would leave home early in the morning for the studio and return late at night. He had to go to school too -- he was studying in Padma Sheshasdri school, which is one of the toughest schools in Chennai. They are very strict about performance.
Rahman's father wanted him to be in that school, since he himself did not get much of an education. So even after his father's death, he continued studying. His mother would take his breakfast and uniform and wait for him at the gate of the studio, feed him in the studio van, get him to change into his uniform and send him to school.  Sometimes, he would have to go to the studio after school too. It was tough for an eleven year old child.
'Some people insisted that Rahman was very talkative as a teenager'
June 10, 2009 10:11 IST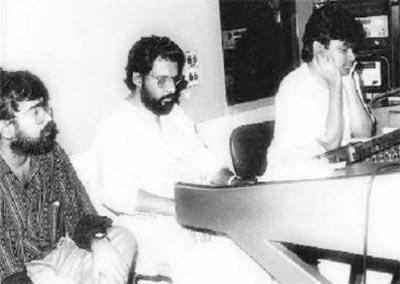 Did you speak to his sisters?
I spoke to Rehana and Ishraat. But not Fatima because she's quiet and away from all this. I did not get much information from his sisters. Ishraat did not speak much and Rehana just gave me the birthdays of all the family members.
What did his close associates have to say about him?
MK Arjunan is from the Malayalam film industry and worked with Rahman's father. He knew the family well and gave me a lot of information. Rahman's band members, John Anthony and Paul Jacob, also spoke to me. I met Subhash Ghai too. But the most valuable information came from the people who knew him as Dileep; those guys have given me a lot of interesting information.
Some people insisted that Rahman was very talkative as a teenager. But most of them say that he was shy. For example, if his band was touring, all the band members would change in the same room but Rahman never did that. But I saw, from my interaction with him, Rahman has a very nice sense of humour.
Where does the book start?
The book starts with Rahman's father -- how he was very poor and got a break into the Malayalam film industry as a music arranger, how he died of cancer, what effect that had on Rahman, how Rahman dealt with it and how he came up. It ends at the Oscars.
'There's a chapter on why Mani Ratnam picked Rahman for Roja'
June 10, 2009 10:11 IST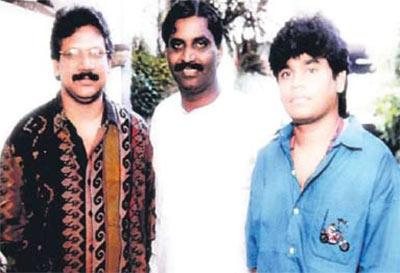 Rahman usually works at night. Did you have to interview him then?
Yes. I would reach his studio by 9:30pm, and wait until after midnight. I would leave his studio by 3am. But I met many people while I was waiting.
Once I met Naresh Iyer (who sang Rubaroo, Rang De Basanti). I saw a skinny boy sitting in a corner with his mother. He was reading a book called Seven Habits Of Highly Effective People. He wasn't so famous then so I asked him what he was doing there. He said he was a part of a music reality show which he didn't win but Rahman had asked him to meet him. He had been waiting for the past two weeks. He would come everyday religiously, and sit with his mother until he finally got a break. Nowadays, when I see Naresh Iyer, he has put on weight and 's wearing a leather jacket!
According to you which song or film do you think really made his career?
Rahman had different phases. Roja launched him, but he did good films with Tamil director Shankar. Later, his songs in Kadhalan Muqala Muqaabala and Rangeela built his roots in Bollywood and everybody started knowing him. Subhash Ghai met Rahman after Roja but Rahman did his film Taal much later, after he was famous.
There's a chapter on why Mani Ratnam picked Rahman for Roja, how he found him. Before Roja happened, Mani Ratnam was working with Illaiyaraja. Illaiyaraja gave Mani Ratnam the biggest hit of his career Talapathi. There are different reasons why Mani Ratnam chose to work with Rahman after that. You should read the book to know more. But I can say is Mani Ratnam was looking for change and a new composer.
Which is your favourite part of the book?
The first part, where he's Dileep. That really tells us how Rahman came to be. My favourite chapter is the last one, called At Work. It's an interview with Rahman.
Has Rahman read the book?
I mailed it to him but he has not commented on it yet. He said his team members have read it but he has not had the time to go through it fully.
The book has some rare photographs. How did you get them?
Rahman's office gave me some. I got some -- like Rahman's father's picture - from different sources.