Gals married men love!
June 12, 2009 19:37 IST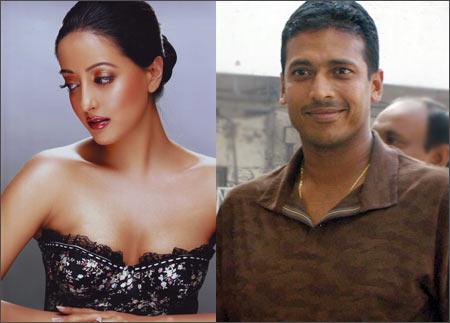 Marriage vows, it seems, are not always made to last. Not when temptation -- in the form of gorgeous and unattached women -- is within reach. So what is a guy to do? More often than not, he succumbs.
According to rumours, the latest to fall is tennis player Mahesh Bhupathi. Allegedly, all is not well with Bhupathi's marriage to Shweta, his wife of seven years. And the reason is Bhupathi's growing closeness to Bengali bombshell Raima Sen.
Raima, however, has denied the news. She claims Bhupathi is her sister Riya's friend.
Be that as it may, here's a look at other married men and their 'good friends'.
Barbara Mori-Hrithik Roshan
June 12, 2009 19:37 IST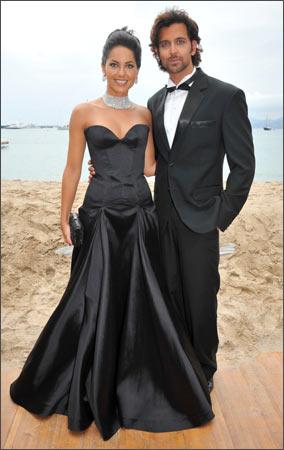 Hrithik's marriage to his childhood sweetheart Suzanne Khan seems almost too good to be true. But with the arrival of a certain dusky Mexican beauty, the perfect facade is starting to slip.
Trouble started during the shooting of Kites, where our hero and his Mexican co-star share a kiss. It seems the two were quite taken up with each other, prompting Suzanne to accompany her husband to the sets.
News of Hrithik and Suzanne moving out of their house gave more credence to the story about the couple's marriage woes. Whether it was white ants -- as the family claimed -- or white lies, no one is quite sure. The latest whisper in the Hrithik-Barbara saga is that the star has hit the bottle to drown his woes.
Sangeeta Bijlani-Mohammed Azharuddin
June 12, 2009 19:37 IST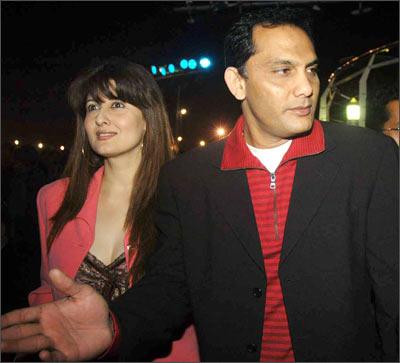 Theirs was the most happening love story of the 1990s. She was a supermodel-turned-actress and he, the star cricket captain.
The only hitch was that Azhar was a married man with two kids. But that didn't seem to stop romance from blossoming between the Mumbai girl and the Hyderabadi lad. Azhar finally separated from his wife to marry his sweetheart.
Akshay Kumar-Priyanka Chopra
June 12, 2009 19:37 IST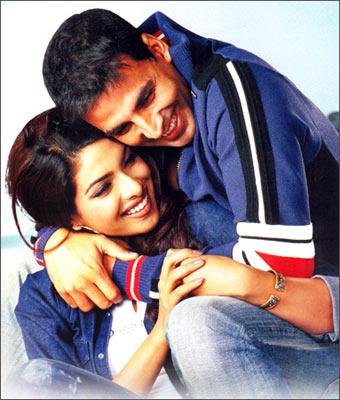 These two share an amazing chemistry on screen, leading to rumours of an affair. At one point, Akshay had to spend the night in a hotel after wife Twinkle apparently refused to let him sleep at home. However, better sense prevailed and Akshay stayed with Twinkle and promised never to work with Priyanka again.
Pity really, as the two gave us some good hits like Andaaz, Aitraaz and Mujhse Shaadi Karogi.
Aamir Khan-Jessica Hines
June 12, 2009 19:37 IST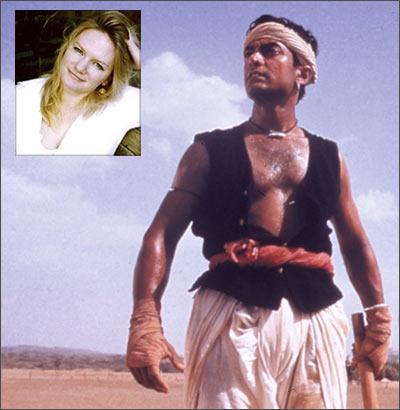 It was a magazine that unravelled the truth about the actor and British journalist Jessica Hines. Aamir was going through a rough patch after separating from his wife Reena.
Jessica, in an interview with the magazine, revealed a torrid affair with Aamir which resulted in a love child.
Aamir, on the other hand, neither confirmed nor denied the affair. He later married Kiran Rao, who is now three months pregnant with his child.
Rani Mukerji-Aditya Chopra
June 12, 2009 19:37 IST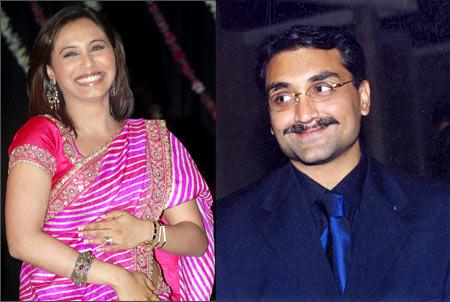 In a surprising move, Aditya left his childhood sweetheart and wife of many years, Payal. It was alleged that Rani was the reason for the rift between the couple.
Neither Aditya nor Rani cared to comment on the rumours.
Aditya Panscholi-Kangna Ranaut
June 12, 2009 19:37 IST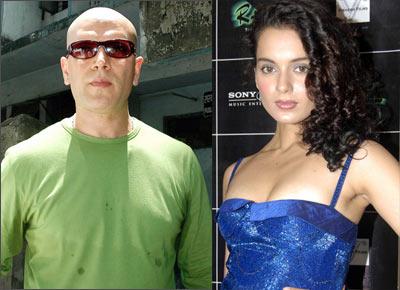 Aditya and Kangna embarked on a rollicking affair. Aditya even claimed that he gave Kangna support when she needed it the most. He also bailed her out financially and became her mentor and manager of sorts.
But the romance did not last. Aditya claimed that Kangna cheated on him. Kangna chose to keep mum though her spokesperson did say that she had returned all the money she owed him. Her friends also stated that Aditya had become obsessed with her and was too interfering.
And all through the romance and heartbreak, Panscholi's wife Zarina Wahab stood by him.
Sanjay Gupta-Sameera Reddy
June 12, 2009 19:37 IST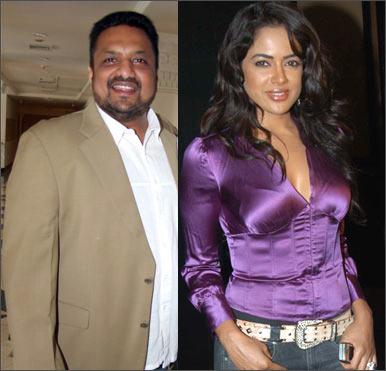 He is a producer/director while she was his hotshot heroine. The two met when Sameera starred in Gupta's Musafir. Gupta was married to Anu Lekhi at the time. Gupta was completely blown away by Sameera's beauty and the two became an item. However, the romance was shortlived and they parted ways.
Gupta's relationship with his wife also suffered and they separated. But last week, they tied the knot once again.
Shilpa Shetty-Raj Kundra
June 12, 2009 19:37 IST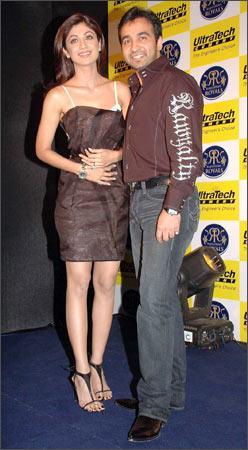 He is a self-made millionaire and she's a sexy Bollywood actress. They met in the UK during the launch of her perfume, S2. Their friendship made Raj's wife Kavita insecure, and she accused Shilpa of being the reason for her divorce. Shilpa, on other hand, denied any involvement in the matter.
After a brief legal tangle, Kavita had a change of heart and even wrote an apology mentioning that Shilpa had nothing to do with her marriage breaking up. Today Raj and Shilpa are going strong, with talk of even marriage in the air.
Nagarjuna-Tabu
June 12, 2009 19:37 IST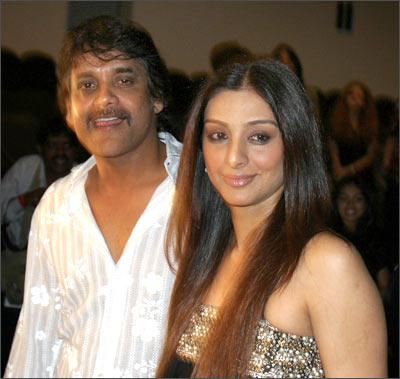 Nagarjuna and Tabu have been linked on and off. Years ago, there was even talk of a torrid affair. But the rumours died down.
In 2006, Tabu bought a house next to Nagarjuna's in Hyderabad, which set tongues wagging once again. Many say that Nagarjuna's wife, Amala, had accepted Tabu as the other woman in her husband's life, and that there was no animosity between them.
Amala, however, rubbished the rumours. She claimed that Tabu was her 'good friend' and that she had faith in her husband.