SRK: The New Controversy King?
June 22, 2009 16:43 IST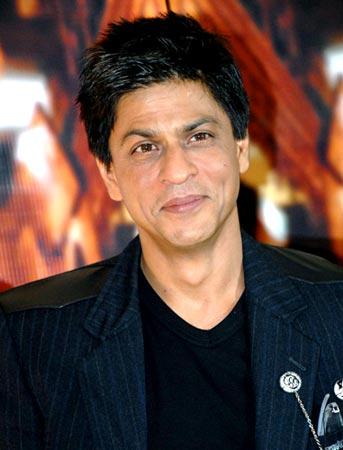 No one makes news quite like Shah Rukh Khan.
Love him or hate him, there's no denying the fact that this superstar generates news like no other. And like a true blue celebrity, he's got his share of controversies as well. The latest is his comment regarding Prophet Mohammed, which was misquoted by a magazine and landing him in trouble.
While it's unclear if the actor will be arrested on his return from the US, where he is shooting for Karan Johar's My Name Is Khan, here's a look at SRK's earlier controversies.
SRK's run-in with Salman Khan
June 22, 2009 16:43 IST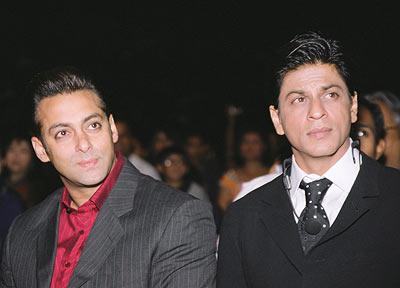 It was supposed to be Katrina Kaif's big day. Instead, it turned into an ugly free-for-all between the two Khans.
The slanging match started when Salman Khan approached Shah Rukh, who was one of the guests at Katrina's birthday bash, to do a special appearance in one of his films. Shah Rukh declined. It was not taken well by Salman, and he started calling SRK names. He allegedly told Shah Rukh that he was one of the most selfish men he had ever met.
What angered Salman was that he had always obliged Shah Rukh, the last one being a guest appearance in Om Shanti Om.
It is believed that things got nasty when Salman's former girlfriend Aishwarya Rai's name got dragged into the fight. Salman vowed never speak with Shah Rukh again.
The actors had a row earlier as well, on the sets of Chalte Chalte when Salman created a scene with Ash, who was seeing him then. As the shooting schedule got interrupted, Ash was replaced by Rani Mukerji.
Much ado about a Barber
June 22, 2009 16:43 IST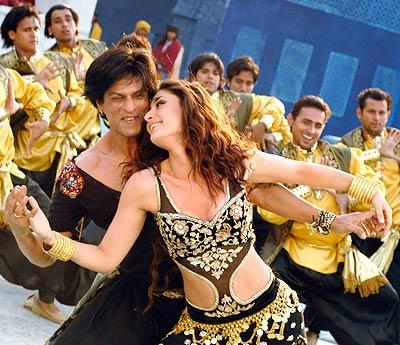 Shah Rukh's Billu Barber -- as it was orignally called -- got some barbers all hot and bothered. The reason? They felt that the word 'barber' was inappropriate and derogatory.
The surprising thing about the whole matter was that the movie's title was in circulation for almost three months with no objection from the hair-cutting community. But just when the release date was announced, a barbers' association felt it was not nice on Shah Rukh's part to name his film Billu Barber.
Shah Rukh agreed to remove the offending word, and renamed the film Billu. It didn't do much to the film's fortunes, anyway.
Controversy dil se...
June 22, 2009 16:43 IST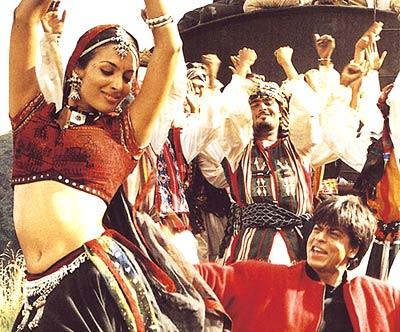 Dil Se's Chaiyya Chaiyya courted controversy because of a single line -- Paanv ke neeche jannat hogi. Religious groups objected to the lyrics, as they felt 'jannat' (which means heaven) cannot be under one's feet. To avoid backlash, the word was later beeped.
Of course, the song went on to be hugely popular, thanks to SRK's and Malaika Arora Khan's terrific dance on top of a moving train.
The Mannat controversy
June 22, 2009 16:43 IST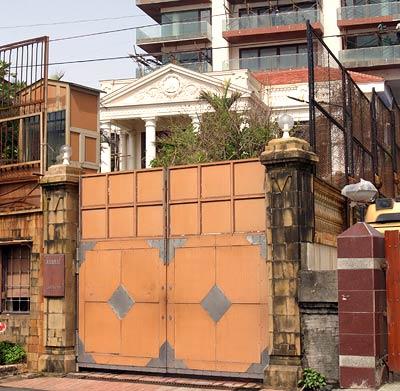 Shah Rukh's magnificent home Mannat, situated in the plush Bandra Bandstand area in northwest Mumbai, has brought the actor a fair share of trouble.
First, it started with complaints against the bungalow because it encroached on the road. Others felt that the land on which the bungalow was built was reserved for an art gallery, and Shah Rukh had no right to occupy the place.
When Shah Rukh decided to construct a building behind his bungalow, objections were raised once again. Shah Rukh, however, maintained that he had taken all legal permissions before going ahead with the construction. Once again, as he is is getting an underground car park done for his vast fleet of cars, neighbours have turned vocal about the noise, making his wife Gauri write a personal letter to them apologising for it.
The Shah Rukh-Aamir cold war
June 22, 2009 16:43 IST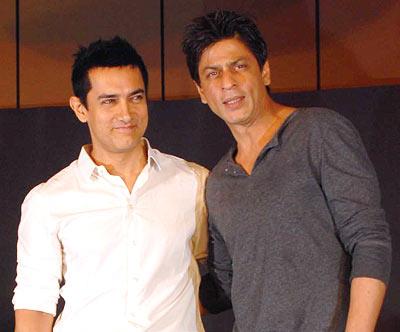 The cold war between SRK and AK started when Shah Rukh boasted that he was the number one star in the film industry. The statement did not go down well with Aamir Khan who had set off a controversy earlier by saying his dog was named 'Shah Rukh'.
So, during the release of his film Ghajini, Aamir joked, 'Does Sachin Tendulkar call himself the number one cricketer? No. Does Lata Mangeshkar call herself the number one singer? No. So why should I say who the number one actor in Bollywood is?'
But the two patched up in a show to support producers during the recent standoff with the multiplex owners. Of course, some say their cameraderie was just an act. Go figure.
Run-in with Amar Singh
June 22, 2009 16:43 IST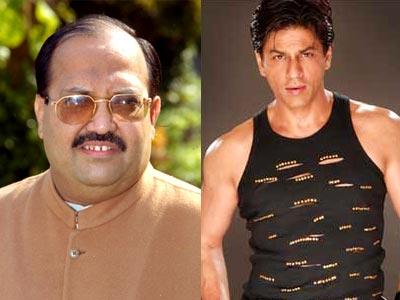 It was a stray comment from Shah Rukh Khan that did not go down well with the Samajwadi Party politician who is also close to the Bachchan family.
Trouble between them began at a films award function in Dubai where Singh, who had accompanied Amitabh Bachchan, found that they had been given seats away from the front row. When he protested, SRK, a friend of the Moranis who had organised the event, intervened. 
The trouble could have died a natural death right there but at another award function, emcee Shah Rukh in his facetious manner said he could see the 'darindagiri' (evil intentions) in Amar Singh's eyes.
Naturally Amar Singh couldn't see any humour in the remark; things came to a head when some SP workers protested outside Mannat, and things between the two still remain strained. Amar Singh even vowed to never go to an award function if Shah Rukh was hosting it.
Amitabh Bachchan vs SRK
June 22, 2009 16:43 IST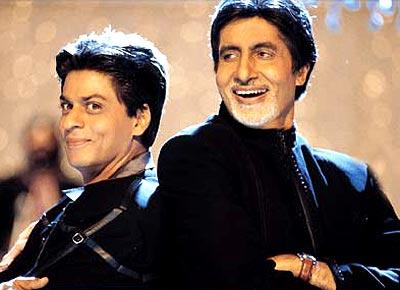 The reported animosity between the original superstar and his successor is the stuff Bollywood legends are made of and it is unlikely it will ever die down.
Both Shah Rukh and Amitabh have denied that they share cold vibes but that hasn't stopped the speculation. And with reason too. SRK was one of the many stars who was not invited to Abhishek Bachchan and Aishwarya Rai's wedding, even though bosom pal Karan Johar managed to get an invite. And when SRK stepped in as host of the popular TV show Kaun Banega Crorepati after Amitabh, or remade AB classics, tongues got all the more reason to wag.
Now, we believe the duo will be seen in a new film, Happy New Year, which will be directed by SRK buddie Farah Khan.
IPL fiasco
June 22, 2009 16:43 IST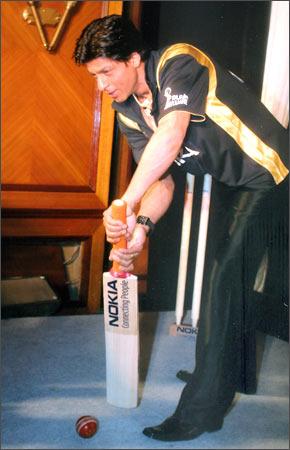 Shah Rukh replaced the captain of his Kolkata Knight Riders team, Sourav Ganguly, with Brendon McCullum in the second season of the Indian Premier League.
Former cricketer Sunil Gavaskar severely criticised Shah Rukh for the decision. Gavaskar was also appalled by the fact that Shah Rukh was all for rotating captaincy, an idea Gavaskar felt was not good.
Defending his decision, Shah Rukh said Gavaskar should not intervene in his team matters, as the new era Twenty20 cricket is not like Test cricket in which Gavaskar was a champion. 'Let him buy a team if he wants to implement his views,' SRK said, before apologising to the cricketing legend.
However, Shah Rukh's troubles didn't end there. He troubles escalated when a blogger -- who called himself Fake IPL Player -- consistently wrote about the discord in the KKR dressing room during the IPL.
Drama over Malaysian honour
June 22, 2009 16:43 IST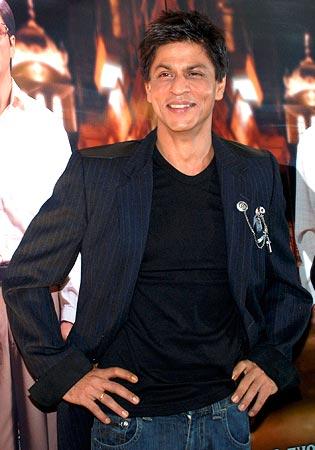 When SRK became the first foreign actor to be conferred the title of Datuk -- akin to British knighthood -- by the Malaysian government, many daggers came flashing out. Many felt it was not right to confer the award on Shah Rukh, as he had not done much for that country.
The Malaysian government, however, was adamant and stated that Shah Rukh did promote the country through his films like Don which was shot there and featured the Petronas Towers prominently.
In the end, Shah Rukh did receive the award.