'New York is the kind of film that no actor could afford to miss'
June 23, 2009 11:23 IST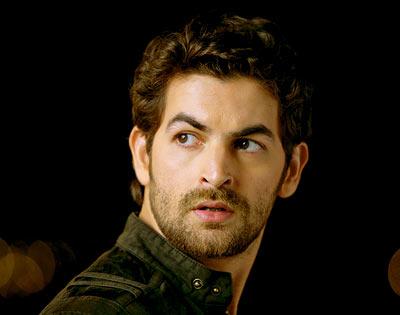 He's gorgeous, can act and not shy about letting it all hang out.
And though Neil Nitin Mukesh is just two films-old, he's not scared of playing strong roles or posing in the nude if the script demands it.
The light-eyed 27-year-old spoke to Nithya Ramani about his latest film New York directed by Kabir Khan and co-starring John Abraham, Katrina Kaif and Irrfan Khan. The film, which is based on the backdrop of the 9/11 attacks in the US, releases this Friday. Neil also talks about his nude scene in Madhur Bhandarkar's upcoming film Jail.
What is New York about?
It is a film about three friends and a particular incident that changes their lives completely. It is a very intelligently made film. Kabir Khan has made it into a youthful film where you can connect with the characters and identify with what they go through.
What is you role?
I play Omar, a Muslim boy from Delhi who goes to New York University to study. He meets two lovely friends -- Sameer and Maya -- who help him change his attitude towards life completely. Everything is fine until one day an incident changes all their lives.
'Johnny Gaddar and Aa Dekhen Zara put me on a pedestal'
June 23, 2009 11:23 IST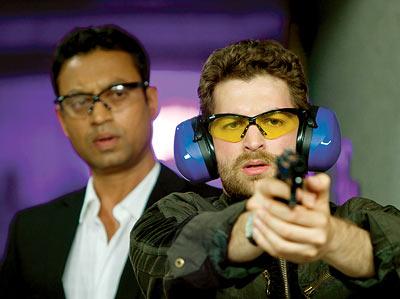 How was it working with your co-stars?
Irrfan, John and Katrina are all sweethearts and great people to work with. It was an honour to be in the same frame as Irrfan Khan. He is a legendary actor and a great performer, and to share screen space with him was such a high.
John is a great friend and like an elder brother. We had a great chemistry going on-screen too.
I met Katrina for the first time on the sets and we became very good friends. The entire cast and crew became very close because all of us were far away from home for three and half months. We had a blast shooting for this film.
Your Aa Dekhen Zara didn't do well in box office. What are your expectations from New York?
Johnny Gaddar and Aa Dekhen Zara are the two films that put me up on a pedestal. I am what I am because of these two films. I would like to go on record and say that Aa Dekhen Zara is the only film that is being re-released in multiplexes. It is still running and doing well for itself. I am proud of being a part of Aa Dekhen Zara.
As far New York is concered, I have high expectations of being accepted by the people. I really don't understand box office and success. We all are very proud of New York and we're sure that it will be liked by all.
'Katrina is a darling and a great friend of mine'
June 23, 2009 11:23 IST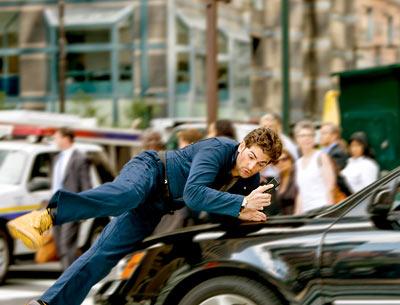 With such films and roles, where are you heading professionally?
Well I am doing exactly the kinds of films I have always wanted to do. I am very content and happy with what I am doing. As far as where I am headed, it is all in God's hands. I hope people pray for me.
Since you know John, Katrina and Salman quite well now, is it true that John's fight with Salman was because of John's alleged link-up with Katrina?
I don't give this story any kind of weightage. I don't understand why we haven't grown up yet. People think if a boy and girl talk, they're going around. I think we need to be a little more mature about how to handle things. There is no truth to these rumours whatsoever. So why give importance to something and spoil the friendship?
What about Salman being mad at you because you called Katrina sweetheart?
[Laughs] Well she is a sweetheart and I will call her a sweetheart. There is no denying that. She is a darling and a great friend of mine. I maintain that I make friends easily and quickly because I am not insecure about anything in life. I am very content human being and happy with the way I am. Salman getting upset because of this is all rubbish. In fact he is a bigger sweetheart. He is matured enough to understand something like that. I have lovely parents, a brother and a sister. I am working hard to go ahead and make my family proud.
'Salman made me sing and mimic'
June 23, 2009 11:23 IST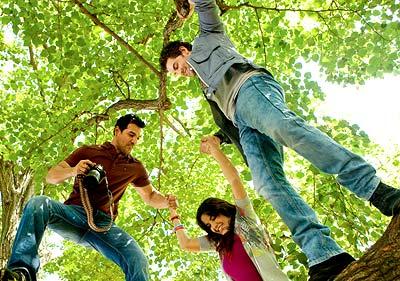 Inspite of being known as a good performer, your films have not been hits. Why is that?
I have no idea. Maybe I haven't been able to figure out what the hit formula is. I am an actor who is trying to concentrate on his creative field. If I was thinking about box office hits then I would be a producer, not an actor.
You and Katrina joined Salman on the 10 Ka Dum. How was the experience?
Great. It was wonderful to know Salman bhai and an honour to be on the show with him. I had a blast. He made me feel very comfortable and I respect him at least a 1000 notches higher. He made me sing and mimic. I don't know how he figured that out but he did. It is a moment I will never forget in my life.
Why did you agree to do New York?
New York is the kind of film that no actor could afford to miss. I feel very lucky to have gotten such a strong character-based, role at such an early stage in my career. Generally an actor works on 15-20 films to get an opportunity to portray such characters.
Omar's character has many layers and I can identify with him so well that I feel that Omar is me.
'My parents are going to be really proud of my nude scene in Jail'
June 23, 2009 11:23 IST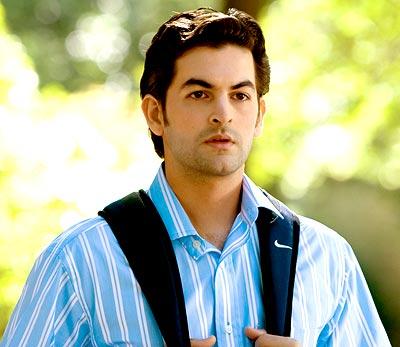 What next?
Next is Jail after which I am doing a film with Ken Ghosh and Abbas Mastan.
What made you accept to do a nude scene in Jail?
It is not done for any publicity gimmick or for any cheap skin show. It is there in the film for a scene that is very strong. It is in fact one of most important moments of my life.
When I did the scene I kept in mind that I shouldn't offend my mother. If my parents sat in an auditorium and watched this, they shouldn't feel ashamed of their son. I can say that my parents are going to be really proud of it. I don't think I will offend anybody.
What should people expect from New York?
They will see a very well made film. And the entire credit goes to Kabir Khan for portraying such a good story in such a good manner.