'I always believed I was the hero'
May 8, 2009 16:26 IST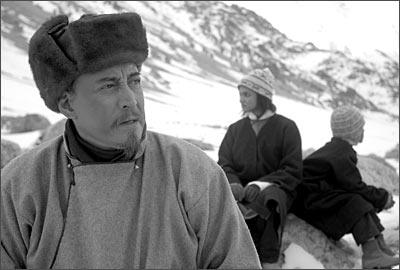 Danny Denzongpa comes across as a no nonsense man on screen. But meeting him personally is another story. One finds it hard to keep a straight face while talking to him as he can crack jokes non-stop.
His latest film, Frozen, however is serious. The film has been directed by Shivajee Chandrabhushan and releases this Friday. Danny talks to Patcy N, and takes her through his years in the Hindi film industry.
What is Frozen about?
I don't know how to explain it, as I don't want to give away the story. It is a simple story of a father, his daughter and son, who struggle to survive in a remote place in Ladakh.
He is very different from the fathers I have played earlier. I've played a violent and angry father in the past. But in Frozen, I play a very religious, mild and soft-spoken person.
How different is it from playing an aggressive villain to a nice gentle father?
Very difficult. Shivajee had to stop me many times because I would get angry. I would speak the dialogues loudly and even charge at my daughter to throttle her as I am so used to playing that kind of character.
You play the main character in this film. How does it feel to land lead roles even now?
I've always felt that whatever character I have played so far have always been the main characters. Even when I was playing a negative character, I always believed I was the hero because from the villain's point of view whatever he is doing is right. It is important to believe in that character. Only then it will look convincing.
'I reached a stage where I could not stand to see my face on screen'
May 8, 2009 16:26 IST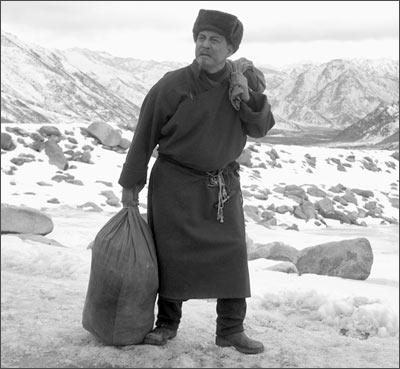 Why is the movie in black and white?
My director is a mad person. He shot the film in colour and printed it in black and white. I told them many times to at least make one print for Gangtok in colour. But nobody listened [laughs].
Colour would have not gelled with script. This is a kind of a film that has never been made here before. It is so authentic. Colour would have not suited it.
How was it working with Shivajee?
I thought there would be lots of problems as most of them are newcomers. I expected them to muck up the whole thing but surprisingly, all of them were very thorough and hard working. Every shot was preplanned and done in a proper manner. We finished the movie four to five days ahead of schedule. We shot for 28 days.
Why don't we see more of you nowadays?
I have always done two to three films a year but this is the first time that I am doing five movies in a row like Endhiran, Luck, Acid Factory and The Man. Also, in between I took a break for three years. I was fed up. I reached a stage where I could not stand to see my face on screen.
Were you embarrassed of any movie or character you've played?
There are so many. I had done a film called Ponga Pandit. See, even the name is so funny. I played a singer who had to dance while wearing a huge hat. It was so huge that even my face could not be seen.
In fact, Boney Kapoor, Naseeruddin Shah, Raj Babbar, Anil Kapoor, and Mithun Chakraborty watched it over and over again laughing all the while. Naseerbhai told me he did a film with Rajshri production where his dance was even worse than mine.
'I would not have succeeded the way Amjad Khan did with Gabbar'
May 8, 2009 16:26 IST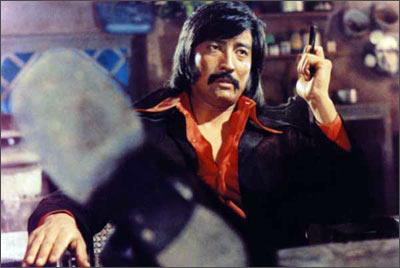 What's the favourite character you have played till date?
All the characters had their own flavour. But the one in Frozen is very close to my heart mostly because the entire film has been made in a very simple way. The character is very simple too. I think I succeeded in portraying it very well and I am very proud of it.
You had entered the industry to become a singer but instead, became an actor...
I wanted become an army officer. But then I join FTII where music and singing was part of the course. I sang with top singers of the country like Asha Bhosle, Lata Mangeshkar, Mohammed Rafi and Kishore Kumar.
Is it true that you were offered Sholay?
I was signed for Sholay. I had also signed Dharmatma with Feroz Khan and my dates were committed to him. Ramesh Sippy [director of Sholay] wanted the same dates. As I was shooting for Dharmatma in Afghanistan, I had to give up Sholay.
Do you regret not playing Gabbar?
I did then, because I wanted to do both films. But not any more. If I had done the film, I would not have succeeded the way Amjad (Khan) did. Amjad's Gabbar was very different from what we had planned -- which was a westernised Gabbar with long hair and strange getup. After Sholay became a big hit, Amjad increased his price and I increased mine as well. I signed about 10 films after that [laughs]. Sholay and Dharmatma released in the same month and both were superhits.
Gabbar was a popular character. What would be your most popular character?
My favourite would be the one in the Bengali movie Lal Kothi where I played a blackmailer who falls in love with the girl of the family he's blackmailing.
'Acid Factory is a very commercial film'
May 8, 2009 16:26 IST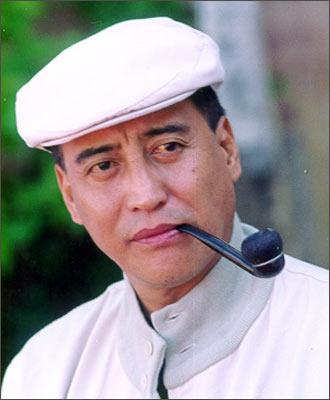 You have acted with so many big actors. Any memories you would like to share with us?
There are many lovely memories. But the one I liked the most is that of Amitabh Bachchan. He is very professional and punctual. Once during the shooting for Hum, he got held up at home. So he called me to tell Mukul Anand that he would be late by half an hour. I told him that he should have been in the army.
He was also very helpful when we were shooting for Agneepath. We were in Mauritius and I was nervous as I was working with Amitabh for the first time. I wanted rehearse for the scene but as I did not get my dialogues, I yelled at Mukul. Amitabh, who was in the other room, heard me and came to my room to help me rehearse.
You came from a small town and made it big. Do you think others can do the same?
Yes, anyone can do it. It is much easier now.
What is Acid Factory about?
Acid Factory is a very commercial film. It is an action/suspense thriller.