Why Akshay's career is still rocking
May 14, 2009 18:21 IST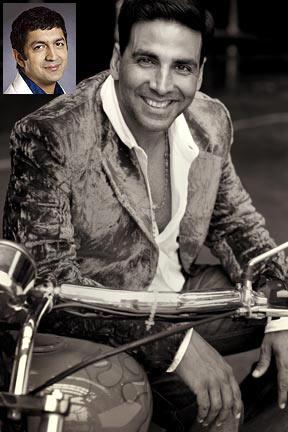 Just two years ago, Akshay Kumar was on the brink of being crowned king of Bollywood. He was riding high on hits like Welcome, Bhool Bhulaiyaa, Heyy Babyy and Namastey London. There were shouts and murmurs that he was ready to displace Shah Rukh Khan as the numero uno Bollywood hero.
But then came the flops, in rapidfire succession: Tashan, Chandni Chowk To China, Jumbo (which he voiced) and Tasveer 8X10.
The only saving grace was Singh Is Kinng.
So, we decided to ask those in the know if Akshay can still become number one, if they have any advice for him. Here's what they had to say.
Kunal Kohli, director and former film critic
Akshay has had an incredible journey in the industry. He's a self-made man. He came from the outside -- from abroad [Bangkok] and made his name here. He did not have a godfather but yet, he reached the biggest height.
One or two flops is not a big deal. Every actor goes through ups and downs in his career. He may have given a few flops but he is a very sincere actor. I have not worked with him but those who have swear by his sincerity. He is very punctual and totally involved in his work.
Personally, I feel no camp in the industry can pull down a film or an actor. The box office decides that. Akshay does not belong to any camp. He may have worked with Vipul Shah and Priyadarshan a lot but he's not part of any camp. Anyway, camps can't make or break a film.
I think Akshay's career is doing really good. Three flops is no reason for Akshay to panic. We should not forget that he is the most likeable star -- his television show Khatron Ke Khildi was a hit, people like his commercials and his films. In the last four or five years, he must have brought a culminative business of about Rs 350 to 400 crores to the industry.
'Whenever his films have a touch of him, they work'
May 14, 2009 18:21 IST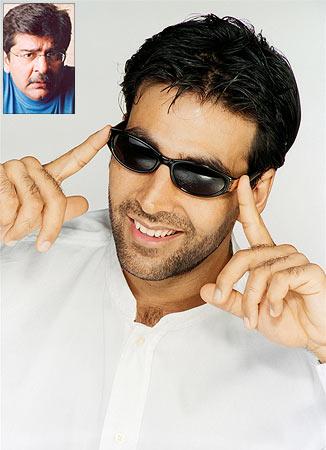 Jayesh Sheth, photographer and close friend of Akshay
I have observed Akshay since his Khiladi and Saughand days. In those days, his action films and good looks worked and he exploited those assets. All the Khiladi films were hits.
Then he tried to do something different in Mahesh Bhatt's Sangharsh and it didn't work. Even in Jaan-e-Maan, he was playing a simple guy, so it didn't work.
But whenever he did a film like Hera Pheri -- where his character had a loud sense of humour and was flirtatious -- he was brilliant. That's how Akshay is in real life -- very loud and with a good sense of humour. He looked convincing in Singh Is Kinng but couldn't pull off a Humko Deewana Kar Gaye.
In Chandni Chowk To China, Akshay tried to do Jackie Chan kind of comedy mixed with action. But Akshay's action image has gone now, and people like him better for his comedy. Tasveer 8x10 was a serious suspense thriller, again not Akshay's forte. For him, a Bhool Bhulaiyaa will work because it's effortless for him.
When I see Akshay's comedy films, he reminds me of the days we would meet at addas and play galli cricket and shout loudly and have fun. So whenever his films have a touch of him, they work.
My advice to him would be to do films that showcase his sporty and flirtatious attitude. Even if he is doing a James Bond film with a lot of babes and guns, he should be loud and flirty.
'Nikhil Advani should be blamed for Chandni Chowk To China'
May 14, 2009 18:21 IST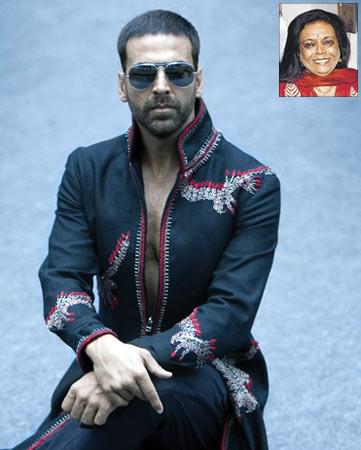 Bharati Pradhan, journalist
Akshay has had an amazing career. He can do anything if he makes up his mind.
Let me give you an example. When Akshay was a child, he was travelling in a bus in Mumbai. The bus conductor asked him in Marathi, 'Pude chaala, pude chaala (move in front).' Akshay did not understand, so he just stood there. The conductor started pushing him and this annoyed Akshay. They started arguing. Akshay told the conductor that he did not understand what he had said. The conductor replied that if you stay in Maharashtra and yet don't know the local language, it's your fault. Akshay understood his mistake and made up his mind to learn Marathi. Today, he can speak Marathi fluently.
Akshay is that kind of person -- if he is determined to do something, he will do it.
Secondly, he will readily accept his mistakes. He will not say his film is a hit even after it flops -- like how they said about  Sarkar Raj. Akshay is ready to accept failure. Since he understands his failures, he will bounce back.
The reason his past few movies flopped was not him alone. I would say it had to do with direction. Nikhil Advani should be blamed for Chandni Chowk To China. Jumbo was an animated film, nobody accepts anything big from animation films in India yet. Tasveer 8X10 was an experiment.
Akshay does not need anyone's advice for his career. He will bounce back on his own, and soon. As a friend, I would like to say only one thing -- he can't do a fool's role with a heart of a gold. The audience does not like him doing that.
'His last three movies flopped because of bad choices'
May 14, 2009 18:21 IST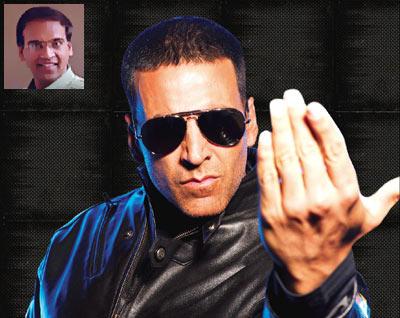 Komal Nahata, trade analyst
From the time Akshay started his career, his career has seen a meteoric rise. Although action and dancing has been his forte, he has switched smoothly to comedy and romance. Secondly, his overseas market has increased tremendously. After Shah Rukh Khan, Akshay is the hottest property.
I think his last three movies flopped because of bad choices. He has to be smarter while selecting roles and films. No camp in the industry can bring down anyone's career or movies.
Akshay does not need any career advice -- just two or three flops does not make his career shaky. He made his career single-handedly and does not need anyone even now.