'The frontal nudity scene is an essential element of Jail'
Last updated on: November 3, 2009 14:37 IST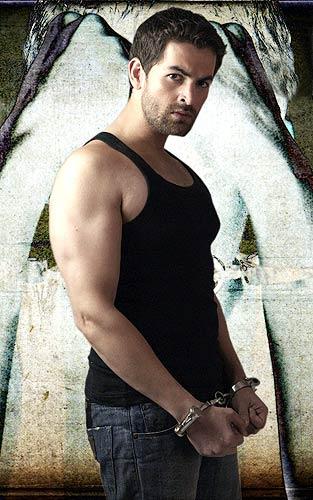 Neil Nitin Mukesh is not one to play a chocolate boy hero despite looking very much like one.
His first movie Johnny Gaddaar saw him portray a character with grey shades while his second New York was not a conventional hero-centric role either.
Neil takes a different route in his third film Jail as well. Madhur Bhandarkar's movie promises to be a gritty one about prison life. The movie, which Neil has even gone nude for, also stars Mugdha Godse, Manoj Bajpai and Arya Babbar.
Nithya Ramani finds out more.
What is Jail about?
Jail is the journey of a common man called Parag Dixit. It is about prison life from his point of view. All of us will definitely relate to Parag because at some point or the other, we are like him.
'The best thing about Madhur is that he is a good actor'
Last updated on: November 3, 2009 14:37 IST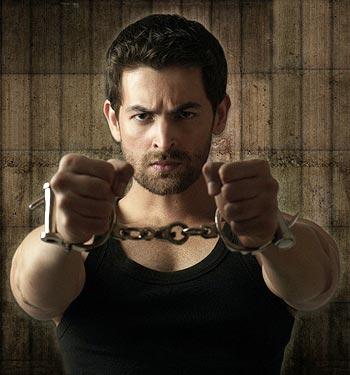 Were you intimidated to work with Madhur Bhandarkar? After all, he is a National Award winning director of realistic films.
The very name Madhur Bhandarkar is very intimidating for an artist. All sorts of questions come to your mind because of the kind of image he has.
When he announced that he was going to make a film called Jail, everyone was curious to see what it was going to be like. There were many questions and doubts in my head when I decided to do the film. But all of them were laid to rest when I started working with him. He is fun, jovial and completely opposite from what comes across through his films.
But the best thing about Madhur is that he is a good actor. He understands what acting is all about. He has a lot of trust in his actors. You one can relate to him and his approach to things.
'Mugdha is our lucky mascot'
Last updated on: November 3, 2009 14:37 IST
What was it like to work with Mugdha?
She is a very clean-hearted and lovely human being. I think that inner beauty comes out as exterior beauty. That is what makes her even more gorgeous. She is a great performer and is learning the tricks of the trade very well. She is our lucky mascot. Both her films -- Fashion and All The Best -- have been successful. She is one person I have really enjoyed working with.
She said that you both share a love and hate relationship. What does that mean?
I love her and she hates me. As simple as that.
As the character I was playing is a serious one, I had to be serious too. Had I been doing any other film or any other character, I would have been in my element -- having fun and games like Mugdha. There were moments when I had to ask her to stop playing around and to concentrate on her scene.
'Jail will answer all unanswered questions about prison life'
Last updated on: November 3, 2009 14:37 IST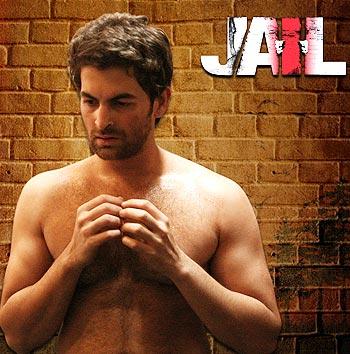 Did you research for your role?
I did not want to fill my head with pre-conceived notions about jail life and as I have never gone to jail -- and I hope I never will! All that was left to do was to visit some jails, and I did. I went to Thane jail, Tihar jail, Yerawada jail and many others. It was an integral part of my research. The initial research for Parag was limited to a file and a few documentaries.
All my questions about what happens behind those bars were answered when I went to Thane Jail. It was a life altering experience. I must say this film and the experience of going to jail has changed me a lot as a person. I have become more conscious, responsible and attached to my family.
We celebrated Diwali with the inmates in Tihar jail.
Hindi cinema has always portrayed jails as larger than life. We have always seen single barracks and a bearded bad man standing behind bars in chains. But Jail will answer all unanswered questions about prison life -- from strip searches to anything you can think of.
'I have sung two versions of Saiyyan Ve'
Last updated on: November 3, 2009 14:37 IST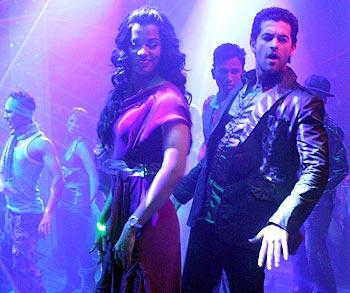 Speaking of strip-search, you did a frontal nude scene in the film. Weren't you apprehensive? How did you think your parents would react to it?
I didn't have any kind of apprehensions. I was prepared to do whatever was required to play Parag. I am very emotional about this film. It's a film I have given my heart and soul to and a character I have lived practically everyday.
Stripping is just one part and the frontal nudity scene is an essential element of the film. When people watch the film, they will relate to the mental state of Parag's at that point when he is in the nude.
You have sung in the film too.
Yes. I'm very excited about Saiyyan Ve. I loved this song from the moment I heard it. When Madhur sir and the composers (Sharib and Toshi) asked me to sing, I was excited. There are other versions of it in the album -- two of them are sung by me.
What next?
My next film is with Yash Raj Films. Deepika Padukone will play my leading lady. It is directed by Pradeep Sarkar.