When Bollywood stars elope
Last updated on: November 5, 2009 18:27 IST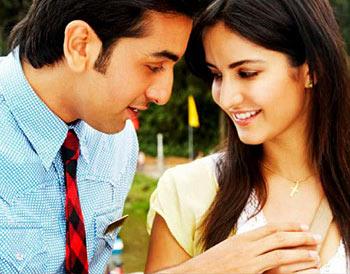 What's a Bollywood character's favourite last resort? To elope!
No matter what the circumstances are or how sensible or silly a person may be, they love to run off.
In Rajkumar Santoshi's romantic comedy, Ajab Prem Ki Ghazab Kahani, Ranbir Kapoor and Katrina Kaif engage in some similar activity. Here's a list of their predecessors who did the same.

Pooja Bhatt, Dil Hai Ki Manta Nahin
Last updated on: November 5, 2009 18:27 IST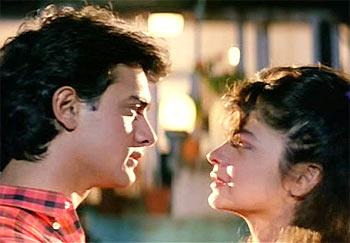 Usse bhaagne ki aadat thi, aur who bhaag gayi,' proclaims a proud Anupam Kher after his pampered screen daughter elopes for the second time.
After her millionaire daddy refuses to bow down to her wishes to marry a dodgy movie star, Pooja runs off to chase the man of her dreams. Little does she know fun-filled adventure and true love is just around the corner.
Aamir Khan and Juhi Chawla/ Madhuri Dixit in Qayamat Se Qayamat Tak and Dil
Last updated on: November 5, 2009 18:27 IST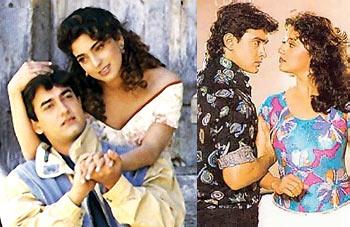 Aamir Khan is quite a PRO in these matters. He instigated an escape with Juhi Chawla in Qayamat Se Qayamat Tak after their warring Rajput parents refuse to let them date each other. The duo, with some help from cousins and friends, takes off on a bike to set up their nest in desolate hilly area.
Once again, Khan bears the brunt of conflicting papas and after an impulsive saat-pheras session, hitch hikes a truck with ladylove Madhuri Dixit to proudly croon, 'Humne ghar choda hai.'
Interestingly, independence enjoys an amusing definition in Bollywood. In both scenarios, the perfectionist star is reduced from a bright college student to a daily-wages worker.
Shahid Kapur and Kareena Kapoor in Jab We Met
Last updated on: November 5, 2009 18:27 IST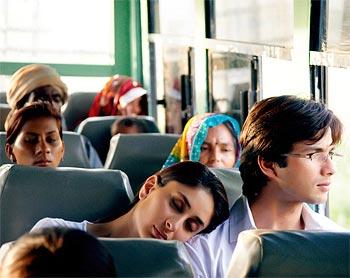 While Shahid's Aditya simply leaves home after his girlfriend marries another, Kareena's Geet likes to have complete control over her life and hatches a well-planned slip out after her conservative Sikh family force a potential groom down her throat.
The duo let her family believe they've eloped with each other whereas a thrilled Geet's objective is to reach Manali to meet her beau. We all know what such well-meaning proximity leads to, right?
Rishi Kapoor and Dimple Kapadia in Bobby
Last updated on: November 5, 2009 18:27 IST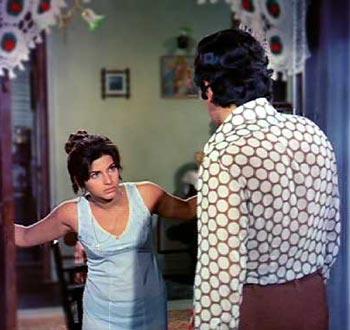 Bollywood parents are often portrayed as the bad guys in a script low on villains. And so the rich vs poor angle plays the proverbial spoil sport in Rishi and Dimple's budding romance after their respective fathers Pran and Premnath clash over class differences. Running away seems to be the only option the dumb teenagers can think of.
Abhay Deol and Ayesha Takia, Socha Na Tha
Last updated on: November 5, 2009 18:27 IST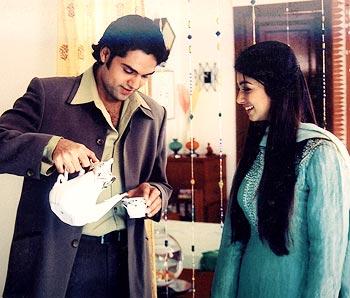 On-the-run romance has always been director Imtiaz Ali's thing. In his debut, Socha Na Tha too he uses the ploy in the final act wherein Ayesha Takia takes the initiative of eloping on her marriage day. She approaches Abhay Deol and convinces him to do the same.

Fortunately for the duo, their disappearing act is met with forgiveness by the previously aggravated families.
Manisha Koirala and Arvind Swamy, Bombay
Last updated on: November 5, 2009 18:27 IST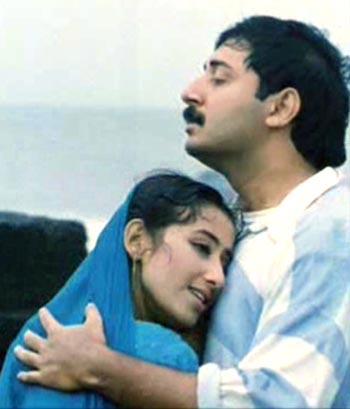 He's a Hindu. She's a Muslim. Again, their fathers are dead against this liaison.
Running away to the titular city appears the only way out. Only unlike the previously mentioned heroes, Arvind Swamy has a real job and a tiny, rented space to boast of.
Abhishek Bachchan and Rani Mukerji, Bunty Aur Babli
Last updated on: November 5, 2009 18:27 IST
For a change, romance isn't the criteria to slip off.
Bunty's dad wants him to do a regular nine to five job. Babli's mom wants her to perfect the art of shaping
ladoos
. They, however, has a distinctly different idea about how they want to lead their lives and refuse to follow their family's conventional ways.
What's the nest best thing to do? Elope. They hatch a partnership as professional con artists and eventually fall in love.