The A to Z of Amitabh Bachchan
Last updated on: November 5, 2009 17:35 IST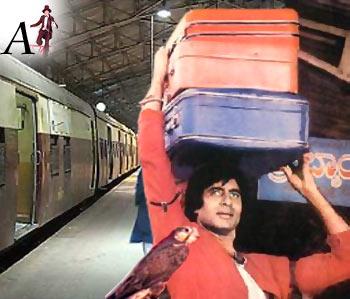 There are actors, and there are stars, and there are those who end up dwarfing the industry they are a part of.

And there's only one Amitabh Bachchan.
The Big B completes 40 years in the film industry on November 7, and these are four decades worthy of great celebration.

As we wish him the very best, with lots more years to come, here's the first part of a fanboy present to the legend himself: An A-Z of Bachchanalia, the letters expanding into unforgettable bits of his filmography.

We wish you, Amitji. Thank you for the magic.
A Allahrakha

Amitabh Bachchan's Iqbal Khan was a pretty spectacular porter, a scarlet-shirted suitcase-bearer who led the cult of coolies as he proudly wore his divinely numbered ID bracelet 786. Yet what truly made this Manmohan Desai character iconic was his pet falcon, Allahrakha. A majestic bird, he was a constant ally who came to Bachchan's rescue in the film.
Later, when Amitabh was injured after an on-set accident that brought the country to its knees, he recovered and came back better than ever. Allahrakha indeed.

B Babumoshai
Last updated on: November 5, 2009 17:35 IST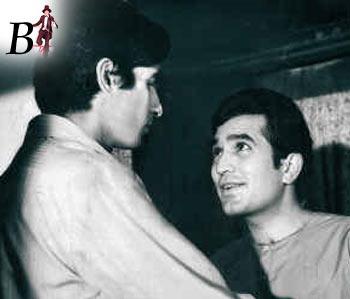 Hrishikesh Mukherjee's 1971 classic Anand was a breakthrough film for Bachchan, playing no-nonsense doctor, Bhaskar Banerjee. Not just did Bachchan's baritone bestow unforgettability on the kind of cancer Rajesh Khanna's titular character had -- lymphosarcoma of the intestine -- but his Babumoshai was a wonderfully written character and brought Bachchan's sensitivity to the fore.
The honorary Bengaliness Hrishida conferred upon him started here, and remains a vital part of the Bachchan persona.
C Contact lens
Last updated on: November 5, 2009 17:35 IST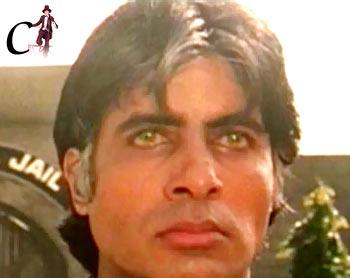 He had to be Sunday. In Raj Sippy's delightful take on Seven Brides For Seven Brothers called Satte Pe Satta, each of the brothers was a day of the week. And while Amitabh was in top form as he played Ravi, the eldest, he truly shone in the role of his doppelganger, Babu.
The sinister RD Burman theme would kick in soon as dashingly-greying Babu would appear on the scene, and his Ravi act would include slipping on dark contact lenses to cover his own cold light eyes. Do keep in mind that this was 1982, and this was the first time most of us had even seen coloured lenses.
D Drunk
Last updated on: November 5, 2009 17:35 IST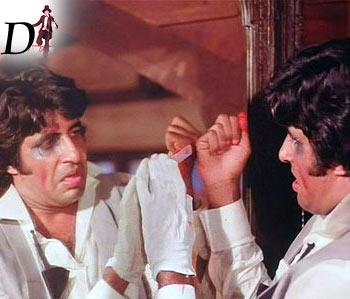 It is an incredibly hard feat to master the drunken slur and even make it sound poetic, but Bachchan poured that silken voice and all his charisma into his hiccups, and no boor was ever more charming.
The immortal band-aid scene from Amar Akbar Anthony is a masterful soliloquy, while the cockroach exposition from Hum is astonishingly effective. Just when you think he'll stop, he goes on -- and he makes it work.
This is a man who taught us, in a Golmaal cameo, that a hurricane isn't excuse enough to spill a drop of drink -- all the while making the usually coarse word 'sharaab' sound smooth as single malt. Cheers.
E Ego
Last updated on: November 5, 2009 17:35 IST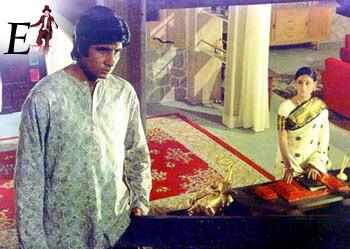 Hrishikesh Mukherjee's 1971 film Abhimaan starring Bachchan alongside wife Jaya is their finest work together.
Amitabh's Subir is a singing star who marries Jaya's Uma, a wonderful amateur singer. As Subir's star dims and Uma's ascends, envy rears its hideous head and ego tears the couple apart -- even as SD Burman's soundtrack keeps things ironically lovely.
Jaya racked up justly-deserved plaudits but Abhimaan sees Amitabh deliver a magnificent performance as a protagonist riddled with insecurity and arrogance.
F Friday
Last updated on: November 5, 2009 17:35 IST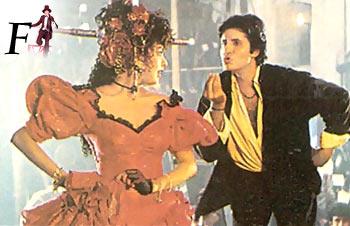 Not just is an Amitabh Bachchan Friday the biggest kind in an industry running from Friday to Friday, but one has to doff a hat towards a 49-year old Bachchan puckering his lips and thrusting out his pelvis while leading a chorus of beermugs.
The way the Big B set about asking for his promised Friday kiss sparked off a sensation and, thanks to Mukul Anand's Hum, a grizzled Bachchan showed us why an Angry Man doesn't need to be young.
G 'Gyarah mulkon ki police...'
Last updated on: November 5, 2009 17:35 IST
Cops from nearly a dozen countries were on the lookout for Don, but capturing him wasn't just difficult, it was impossible.
Amitabh Bachchan took his image to whole new heights of coolth with Chandra Barot's 1978 smash hit. Bachchan juggled Vijay the bumpkin and Don the gangster with equal aplomb, and even over two decades later, it's hard to think of a more suave leading man.
And as the Shah Rukh film proved a couple of years ago, it's not just hard to remake Bachchan, it's inconceivable.
H 'Haain'
Last updated on: November 5, 2009 17:35 IST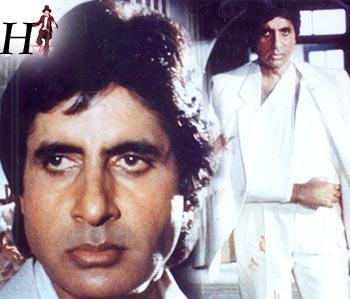 In the way that Sir Sean Connery gradually started sh-ing his esses as age and his Scottish lineage got the better of him, a large part of Bachchan's 1980s/90s oeuvre saw him in roles making the most of his 'Ganga-kinaare waala' roots.
The actor developed a characteristic 'haain?' sound, one that he tacked on to the end of his sentences for emphasis, best heard in Agneepath. It's a dramatically growled sound, the ill-tempered father of a 'huh?' squeak, and no one does it like Amitabh -- even though it's the first thing mimicry artists mock. Yet, he made a syllable and a half into a trademark that amuses the entire nation.
I 'I can walk English...'
Last updated on: November 5, 2009 17:35 IST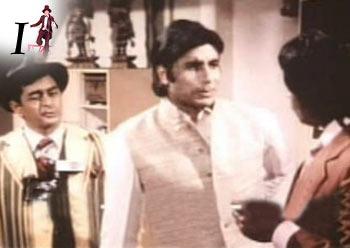 Namak Halaal is the kind of film that would be utterly unwatchable tripe without the leading man. The script gives Bachchan nothing to work with, forces him to keep saying 'daddu' in a pained wail, and tosses in a song ripping off Peter Sellers and another involving an unnecessary dance in all-too-fake rain.
Yet it was Bachchan, and he elevated this bawdy Prakash Mehra film to classic status with incredible comic timing and phenomenal screen presence. It was 1982, and such a peak had Bachchan scaled that Francois Truffaut had dubbed him a one-man industry. Not just could he walk English -- invoking Byron, Vijay Hazare and two cricket matches in the same breath -- but he could also trip the light fantastic.
J Jai
Last updated on: November 5, 2009 17:35 IST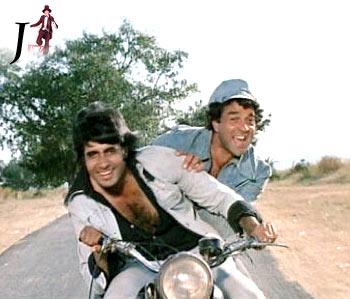 Conventional industry wisdom marks Dharmendra's Veeru clearly as the hero of Sholay, the biggest Hindi film of all time. He gets the maximum amount of screentime, all the indulgent moments of horseplay, the heroine with the smartmouth and stays alive at the end.
Yet, it is Bachchan's Jai who brings a magical unflappability to the proceedings. He's the man's man, the one with nothing to prove who sits back with his hat pulled over his eyes, his sharpshooter perfectly aimed, occasionally flashing a wicked sense of humour. Just don't challenge him to a coin toss.
K 'Kabhi Kabhi Mere Dil Mein...'
Last updated on: November 5, 2009 17:35 IST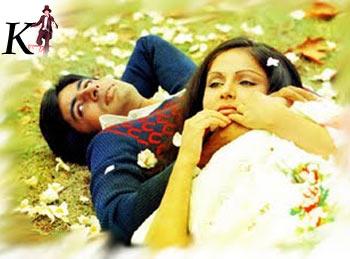 That voice was made for goosepimples. Mukesh sang the lighter version of the song, Lata brought incredible poignance to her heartbreaking reprise, but Bachchan did it best.
Laying lover in lap, he recites Sahir Ludhianvi's ethereal words in that voice, that staggeringly perfect voice, and makes the moment last well beyond the film. Bachchan started his career by playing commentator in Mrinal Sen's Bhuvan Shome, and it's no wonder Satyajit Ray honed in on him to do the same for Shatranj Ke Khiladi.
The voice has inevitably changed -- though it retains its distinctive character -- but one listen of Kabhi Kabhi brings it all back.
L 'Lock kar diya jaaye?'
Last updated on: November 5, 2009 17:35 IST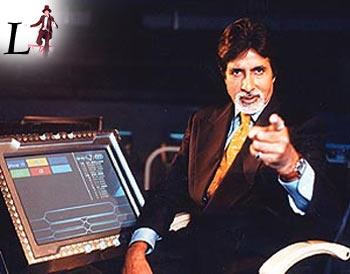 At the turn of the 21st century, it seemed as if Bachchan and Hindi cinema had outgrown one another. It was at this stage that the actor decided to host a game show, an idea perplexing to many. How could a simple quiz show be an appropriate vehicle for the biggest star in our cinematic firmament, one who shunned television for so long? Well, it was.
Bachchan emptied streets of traffic as he cajoled answers out of contestants, making his way with a beguiling smile and Hindi so immaculate it sparkled. The reinvention was incredible, and we now began to relate to Bachchan on an irresistibly familiar level.
M 'Mere angane mein'
Last updated on: November 5, 2009 17:35 IST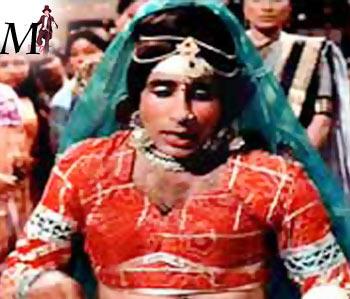 It is one of Prakash Mehra's most unashamedly capitalist movies, marking the leading man as illegitimate and calculated to pander to middle-India sympathies. And yet, with the unfathomable whimsy that made cinema of that era special, Laawaris is interrupted by a hilariously sexist song featuring Bachchan in many kinds of drag.
Making for a singularly ugly bunch of women, Bachchan carries off the song with elan, making it one of his most memorable excursions behind the microphone.
Watch out for the second part of this feature tomorrow!