'Now people make films for Friday, Saturday and Sunday'
Last updated on: November 13, 2009 16:05 IST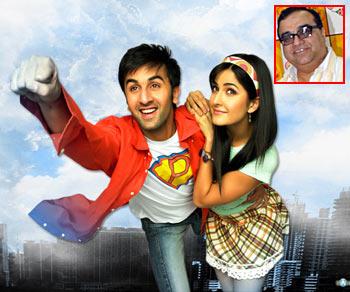 When you enter director
Rajkumar Santoshi
's office in Versova, north-west Mumbai, you don't see any posters of his latest hit,
Ajab Prem Ki Ghazab Kahani
.
Posters of his early films -- Ghayal, Damini, Barsaat and Andaz Apna Apna -- are showcased next to a portrait of Che Guevara, the Argentine doctor who became an icon of revolutionaries everywhere.
Santoshi was written off after consecutive failures -- Family: Ties of Blood (2006) and Halla Bol (2008) -- but has bounced back with his Ranbir Kapoor-Katrina Kaif starrer.
The director spoke to Syed Firdaus Ashraf about the highs of lows of his career.
Did you expect such a good response for Ajab Prem Ki Ghazab Kahani?
I knew people would like it, especially youngsters. When we edit and watch the trial, we come to know. But no one can predict the response. The film had a lot of innocence.
How has the attitude of the movie industry changed after this success?
The corporate people are calling me now!
Artistes have always respected my work. As far as the trade is concerned, it changes every Friday. I don't go to parties or meet stars other than the ones I am working with.
I am an introvert. I don't like to hang around with people without purpose because I don't drink. That's another problem. How many Cokes can I have in a party?
What kept you away from romantic comedies despite the success of Andaz Apna Apna?
I go by my own emotions and pick subjects that inspire me. When I made my first film Ghayal with Sunny Deol, it was a phenomenal success. But I did not make another action film after that. I made a heroine-oriented film, Damini. Then I made Andaz Apna Apna. If you see my career graph, it's always been like this.
I did Lajja, a woman-oriented film, and Khakee, a police thriller. I never repeat myself; I don't like doing that. I always want to explore new territories; that gives me a high.
Comedy, of course, comes naturally to me. But I don't want to cash on it. There was a lot of pressure on me to do a sequel to Andaz Apna Apna, but I didn't.
'Andaz Apna Apna was released haphazardly'
Last updated on: November 13, 2009 16:05 IST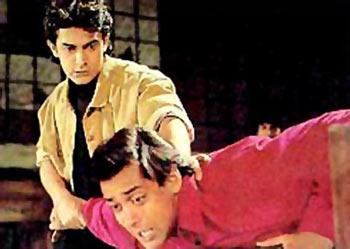 H
ow far is it true that Rishi Kapoor told his son Ranbir to do the film with you and that's why the project took off?
Rishiji is a very good friend of mine. I have immense respect for him as an actor. He has not got his due in the industry.
After working in Damini, he told Amitji that he must work with me. Amitji told me that when we were shooting Khakee.
Ranbir told me his father had told him he must do a film with Rajkumar Santoshi as he would learn a lot as an actor. Irrespective of that, Ranbir liked the subject when I narrated it to me, and immediately said yes.
Rishiji liked the subject also. So he may have influenced Ranbir somewhere, I don't know.
Your films have received critical acclaim but commercially they have not done well for years. Doesn't that bother you?
Except for Halla Bol and Family, my films have done well. Khakee did well. There was a long gap between Khakee and these two films. It's okay -- sometimes you succeed, sometimes you fail.
I don't want to chase success or money because there has to be some creative satisfaction too. People have told me that it has been written that I am the most versatile director of the country.
Before Ajab Prem, youngsters probably didn't know you and your films.
It happens. The intention was never to make a film for teenagers, but to make a good film. I feel a good story well told will always work. Perhaps now they will know about my work and pick up a DVD of Andaz Apna Apna. It's one of the most sought after DVDs today.
But Andaz Apna Apna flopped when it released in 1994.
The marketing was not done properly. It was released haphazardly. I was shooting in Ooty at that time, and Aamir was not in town. But today, it has become a craze.
Did you wonder where you went wrong with Family and Halla Bol?
I wanted success on my terms. I didn't want to follow the norms. People make a sequel immediately after a hit film. That's insecure and weak, and an easy way of making money. I want success and will be happier when a serious subject becomes a success.
But serious films don't work very well at the box office.
Khakee did well in 2004.
'Why does every film have to be a huge success?'
Last updated on: November 13, 2009 16:05 IST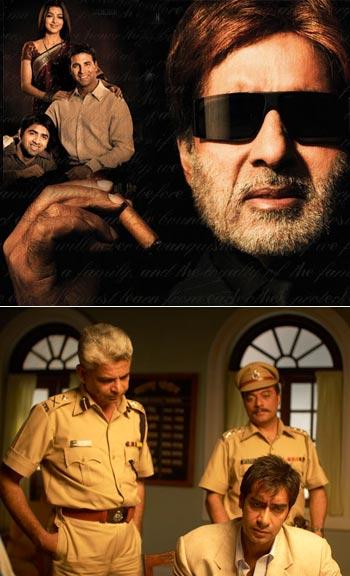 B
ut it wasn't a huge success.
There is no end to greed. Why does every film have to be a huge success?
Everybody wants a Sholay, but can they make it? No.
People fail because they are chasing huge success by paying Rs 40 crores (Rs 400 million) to stars.
Honestly, we never expected Ajab Prem to become such a huge success.
Do you think the industry has rediscovered you as a director?
I won't say 'rediscovered', but I would say they have taken notice of me again. Many people like Paresh Rawal have called and praised me.
In this industry, people only go by success. Talent has no meaning. If a film succeeds, you are a talented person. If it doesn't, you're not talented.
For me, success means the freedom to do more interesting films. I can do films I believe in. Ajab Prem is purely a director's film. It didn't have stars like the Khans or Akshay Kumar.
Ranbir is comparatively new and he worked very hard in the film. Yesterday, a journalist told me that one hero is behind the camera and one is in front of it.
But the credit for its success has gone to the film's cast. The director's name seems to have been overshadowed.
I have always kept away from the media. I do my work and move on. People are aware of my name as it appears as soon as the film is over. And they clap in the theatres after seeing my name. From my first film Ghayal, people have told me, 'Rajji, director nazar aata hai aap ki picture mein (We can see the director in your film).'
The late director Vijay Anand -- whom I unfortunately could not interview but only exchanged some words with -- told me he could never make great films in the 1980s and 1990s because there was a new crop of actors who could not give him the kind of respect earlier stars did.
Do you feel the same way with younger actors when you meet them to narrate a script?
It's unfortunate what happened to Vijay Anand. He was a master. His name reminds me of what Paresh Rawal told me last week. He thanked me, so I asked him why he was thanking me.
He said he had been telling the industry that there are only two directors -- Vijay Anand and Rajkumar Santoshi -- who have command over the film medium. They write their own scripts, dialogues, direct the films and have knowledge of different subjects.
Vijay Anand can do a film like Guide and then Jewel Thief. I can do films like Ghayal and Damini and then Ajab Prem Ki Ghazab Kahani.
He said when Family and Halla Bol flopped, people would laugh at him when he spoke this way about me. Now he could proudly compare me to Vijay Anand because Ajab Prem is like a slap on their face. That's why he thanked me.
I like Paresh Rawal as an actor. He is a straightforward person.
'What Wake Up Sid made in its entire run, Ajab Prem made in its opening weekend'
Last updated on: November 13, 2009 16:05 IST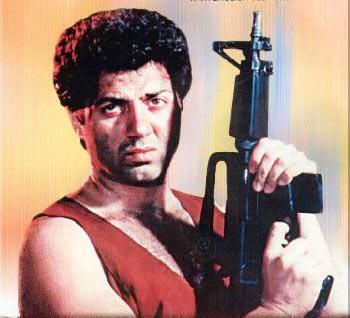 T
here are allegations that you took money from producers but never made the films.
(Laughs.) There are many well wishers in the industry who spread this rumour. There is not a single project that I took up and then shelved. I did Legend of Bhagat Singh for (film producer) Ramesh Taurani. It flopped, but even then I did Ajab Prem Ki Ghazab Kahani for him.
What happened to Ranveer with Amitabh and Abhishek Bachchan that you were supposed to do?
Unfortunately, I could not come up with a satisfactory script that would do justice to their presence. Then Ram Gopal Varma's Sarkar happened and the charm of them coming together faded.
Was it difficult to convince producers to put money in your projects after your flops?
It was very difficult. My background of work did not matter to them. This is the saddest part of the industry. All the big corporates and financers are ready to put money on stars. They will not see the content or the technicians.
But this has happened lately. Earlier, people would see who is behind the camera. They would give money to Hrishikesh Mukherjee and Guru Dutt to make films they believed in. Stars would work with them because they knew they would make a good film.
Nobody knows which film will succeed and which one will not. This has been proved time and again. No star can guarantee a success. For a film to succeed, team work is required. And for that, a captain is important.
Who is the captain? The director. He is the person who handles everything.
If Ranbir was not in Ajab Prem, do you think it would have worked? My family, for example, went to see the film because of Ranbir.
Ranbir was in Saawariya and Bachna Ae Haseeno, so why didn't people celebrate those films?
What Wake Up Sid made in its entire run, Ajab Prem made in its opening weekend.
From the trailer itself people saw that Ranbir looked different in this film. And who made that character? The director, the people behind the camera. Unfortunately, the technicians are pushed back.
A very sad situation, indeed.
Films are a collective work. Who sang for Ranbir? Atif Aslam. When you clap for his dialogues, it's been written by somebody else. Stars can get people to the theatres but to get audiences to clap is not in their hands. Other elements are involved like editing, choreography, photography...
The day people get educated, they will appreciate it and ask who the director of the film is. Abroad, they realise this. Inglourious Basterds is (Quentin) Tarantino's film. Brad Pitt is hardly there in it.
'Govindji is a name to reckon with'
Last updated on: November 13, 2009 16:05 IST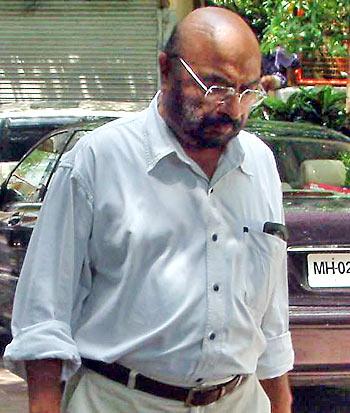 D
o you feel sad that the industry is so star driven?
It is very disturbing. Stars are very important; I have done all my films with stars. But corporates should not only put money on stars; they should see other people's names too.
No one in the industry seems to care for great directors like Govind Nihalani whom you once assisted.
Lately, the trend is that people make films for three days only. Gone are the days when they made films with passion and say proudly, 'I did Mother India' or for that matter, Pratigya, Sholay, Ardh Satya, Ghayal....
Now people make films for Friday, Saturday and Sunday. They make money on these three days, and by the fourth day, forget about the film. I feel sad when I see posters saying Rs 92 crores (Rs 900 million) in three days. The name of the film becomes small and the figure becomes big.
But commerce matters. We may like Govind Nihalani's movies but there has to be profit in it.
For that, we need strategy. There are people for all kinds of cinema. What is missing is a marketing strategy and a distribution network. Govindji is a name to reckon with. His budgets are small and that kind of funds can be definitely arranged. But nobody makes an attempt.
Everybody wants to make quick money in three, four days and get out.
Commerce is important, yes. But how is it that corporates don't do well in the film industry? It's because they only talk commerce. Cinema needs passion as well. That is what made Mughal-E-Azam a huge success. Producer Shapoorji Pallonji stood by K Asif and believed in him for the nine years that the film took to get made.
What did you learn from Govindji?
Whatever I am today is because of Govindji. All my knowledge about cinema and world cinema is because of Govindji. Editing, dramatic story-telling, extracting performances... I learnt from Govindji. I worked with him for five years. He is one of the best filmmakers of our country.
'I have a Che Guevara and a Bhagat Singh in me'
Last updated on: November 13, 2009 16:05 IST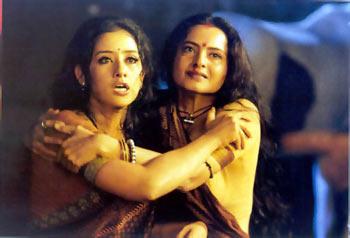 W
hat happened to your production house?
I made three films -- Ghatak, China Gate and Lajja. There was too much tension in handling the movies, so I gave up and concentrated on direction. Now, I will revive that production banner.
What next?
I have a few ideas. I'm in talks with producers. It will be a serious subject based on Partition. It is based on a play Jis Ne Lahore Nahin Dekha. I have been toying this idea for quite some time. I have not finalised the star cast. There is another action film with Sunny Deol, but nothing is finalised yet.
You did three films with Sunny. Now you're re-uniting with him.
We gave three hits. Unfortunately, his films haven't done well recently. The industry tends to think that if the film is bad, the actor is bad too. I feel Sunny is a very good actor. We are working on something interesting.
What about a sequel to Ajab Prem?
No, that is not true.
Your office has a poster of Che Guevara and you spent 15 minutes in puja before meeting me. Are you a Marxist who believes in God?
There is a Bhagat Singh picture too. I am a huge fan of Che Guevara and Bhagat Singh. That's why I made a film on Bhagat Singh. I keep reading books on them. The Legend of Bhagat Singh didn't do well, but after five years, I may make another Bhagat Singh. He has to succeed; I can't see him fail.
I have a Che Guevara and a Bhagat Singh in me, and that you can see that in my movies.
But as a Hindu, tradition is deep-rooted within me. So I do puja. That keeps my head on my shoulders.