'I wanted to do something different after Ghajini'
Last updated on: October 14, 2009 13:42 IST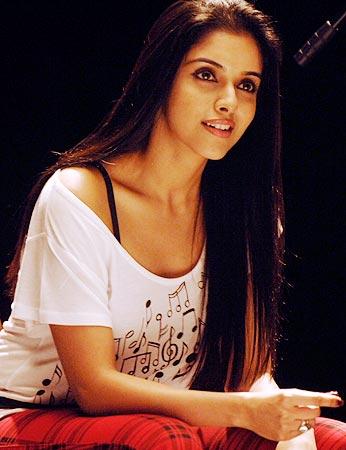 Ghajini gave Asin a bigger platform to showcase her talent and many more fans. Now, the actress is back to fulfilling her Bollywood dreams with her new film, London Dreams, co-starring Salman Khan and Ajay Devgn.
Asin tells Nithya Ramani what to expect from this Vipul Shah film, the pranks Ajay played on her and why Salman is not the bad boy of Bollywood.
How has life changed post Ghajini?
Not that much. My daily life is the same. But more people recognise me now. They are able to put a name to the face. Earlier, this happened only in the south. Only when I attend functions, I realise the impact Ghajini has made.
It feels great to see the kind of love people showered on me when I was shooting for London Dreams in Chandigarh. It was overwhelming and touching. That was when I realised the kind of fan following I have.
What is London Dreams about?
It is about a band called London Dreams and its members -- played by Ajay Devgn, Salman Khan, Ranvijay, Ajay and myself. I play a dancer called Priya. Salman and Ajay are the lead singers. The other two boys are the guitarists. Some of the film was shot in London and some in Punjab.
'I don't want people to carry the baggage of Ghajini when they watch London Dreams'
Last updated on: October 14, 2009 13:42 IST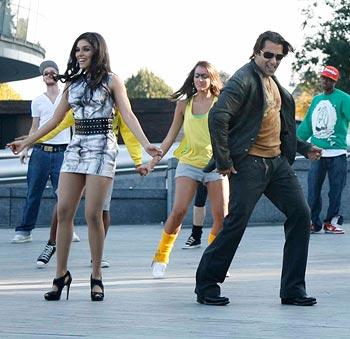 Have you shifted base to Mumbai after Ghajini?
Many things started happening after Ghajini. I got London Dreams and became brand ambassador (of products) too. As all these things were happening in Mumbai, I thought it was wise to get a place here rather than live out of suitcases and hotel suites. My parents have moved here too. They have been very supportive.
How are they reacting to your success?
They are chilled out. They are the most low profile parents ever. They don't crave publicity or reflect glory. They like to be behind the scenes. They are happy that their kid has got what she wanted in the nicest way possible.
What are your expectations from London Dreams?
I wanted to do something different after Ghajini. I wanted to do mainstream masala films -- not with a role as intense as Kalpana (Asin's character in Ghajini). And who better than Vipul to help me! I don't want people to carry the baggage of Ghajini when they watch London Dreams. I want them to accept Priya for what she is in the film. Kalpana and Priya are completely different characters.
Priya has two aspects to her -- she is an Iyer girl, born to south Indian parents in London, who have conservative ideas about music. She is not able to express her thoughts about music. It's only when she steps out of her home that the rock chick in her comes out.
'I call Ajay guruji'
Last updated on: October 14, 2009 13:42 IST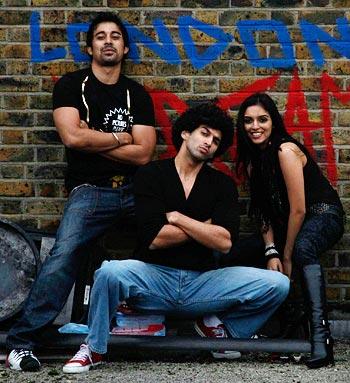 How was the experience of working with Salman and Ajay?
Fabulous. Though they are such huge stars with years of experience, they are very down-to-earth. Getting to work with Salman and Ajay in your second Hindi film is a great thing.
I had a different notion of Ajay. I saw him as a serious, brooding kind of a guy probably because of the kind of films he does -- except for films like Golmaal. But he was fun on the sets. He would play pranks on me though I gave back with equal measure. I was pleasantly surprised to know that he has a lighter side.
Being the only girl in the whole crew, I was pampered and bullied at the same time. Vipul knows how to handle people and situations very well. There was a lot of camaraderie on the sets -- between the actors and the director; the technicians and the cast; as well as among the cast. We had tables and chairs outside everybody's vans and we would sit around and chat. I was like this small kid listening to their stories.
I remember once while waiting to shoot a concert scene with Ajay and a live audience, he challenged me by asking me to repeat a tongue-twister. I took up the challenge and gave him another tongue-twister which he couldn't say. The crowd was in splits. I call Ajay guruji because he taught me these tongue-twisters.
There was this other incident on the sets. I was getting ready in my van when it suddenly started shaking. Then someone started banging hard on the door. When I opened the door, there was this huge African man, built like a bouncer.
He barged in and started shouting loudly. I did not know what to do. I just stared blankly at him. The set was a secured place and nobody was allowed into anyone's van. I waited till he finished his monologue. Then I calmly thanked him and asked him to leave. He was baffled at my reaction. He was obviously expecting me to cry, or shout back at him or run away screaming. He stared at me and then burst out laughing.
I peeped out of my van and saw Ajay and the gang of boys including Vipul and a guy with a camera waiting for me to rush out of the van. I coolly got out of the van, walked up to him and said, 'Ajay, better luck next time.'
You should have seen the look on his face. They were very disappointed. Since then nobody has tried to pull a prank on me.
'I have never seen Salman's bad boy image at all'
Last updated on: October 14, 2009 13:42 IST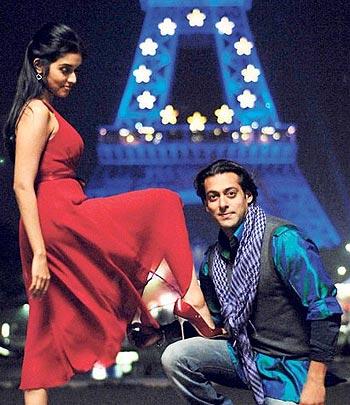 Did you ever feel out of place because you are new to the industry and the crew?
Not at all. The first time I met these guys was during a photoshoot for London Dreams. When you are new and working with senior artists, it is their responsibility to make you comfortable. Since I am comfortable with the language and know what is happening around me, there was no awkwardness.
Salman has this image of being the 'bad boy' of Bollywood. Did you see this side of him while shooting for London Dreams?
Salman is a paradox. He has this image of a moody actor, who turns up late for shoots or doesn't turn up at all. And then there is this image of him as a kind-hearted, loving and giving man.
From my experience with him I have to say that I have never seen the bad boy image at all. He was always professional, and never to my knowledge, held up shoots. Even when his dogs died, he came for the shoot and did a happy song though he was visibly upset. He is very caring about the people he is working with.
Tell us something about the music of the film.
It is both rock and pop. Shankar-Ehsaan-Loy have done a great job. There are a lot of concert songs. My favourite is Khana Badosh picturised on the boys and me. I love the lyrics.
I also like Mann ko Aati Bhaawe -- a crazy song picturised on Salman and me. I like the way this song is shot because it comes in a romantic situation. Generally in Hindi films, you cut to the Swiss Alps or have a dupatta flying and a couple dancing. Vipul had a great idea of shooting the song in Paris. I think the music will be even more popular once the film is out.
'It is very difficult for me to say no to Farah'
Last updated on: October 14, 2009 13:42 IST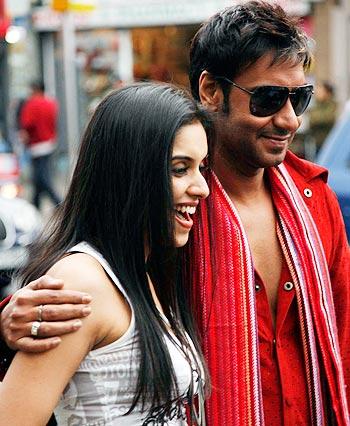 What are your favourite scenes?
There is an intense scene between Salman and me in the second half. I wouldn't want to reveal much. So you just have to wait and watch out for it.
What are your next projects?
I am in a tricky situation now because unless the production house is out with an official announcement, I really can't say anything. There will be at least two announcements for sure.
Apparently, you refused a film with Farah Khan?
That was just a rumour. Farah and I are close friends. I am very fond of her. It is very difficult for me to say no to her. I am very eager to work with Shah Rukh and if it happens through Farah, there's nothing like it. Moreover, she is in the initial stages of scripting. I share a great rapport with her and that is why I was on her show, Tere Mere Beach Mein.
There are many such ridiculous rumours like the one about Salman buying me gifts. It gets irritating at times. Every morning I read things I don't know about myself. Initially, I used to get very annoyed, I still do, but I am dealing with it. There's no point thinking about it, wasting time and justifying things to people. You tend to develop a thick skin.
Since my parents are more matured than me and understand me more than I do, I don't owe them any explanation.