Playing Shriya Saran's daddy
Last updated on: October 21, 2009 15:08 IST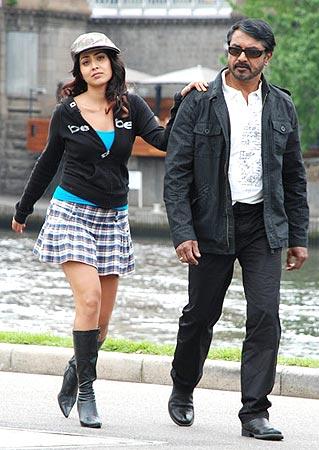 His peformance in the magnum opus Pazhassi Raja has been appreciated by all. Yes, we're talking about Sarath Kumar who is ready with another Tamil movie titled Jaggubhai. 
When actors his age play still play young heroes, Sarath Kumar has decided to play his real age. He plays Shriya Saran's father in Jaggubhai.
Sarath Kumar speaks to Shobha Warrier about the film, and the new magazine he edits.
Is acting in Jaggubhai a way of reinventing yourself as an actor?
Yes. Jaggubhai is one such film which other heroes in Tamil will not even think of doing. Others want to act with younger heroines. I am acting with a younger heroine too but not as a lover. And I don't feel bad about it. It was a role given to me.
I liked the story which shows the value of relationships. There are so many broken homes. I feel that the basic value of relationships should not get broken too. What I like about the story is the affection that is there for the children, and the relationship between the father and daughter.
'I can still run around trees too'
Last updated on: October 21, 2009 15:08 IST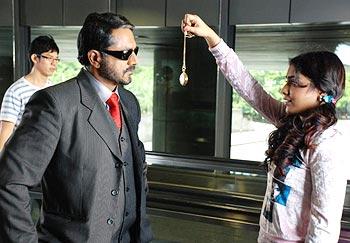 The relationship between a mother and son is shown in films all the time but very rarely do we see the love between a father and a daughter, except for Abhiyum Naanum ...
Very true. Jaggubhai is a beautiful film about a beautiful relationship with a different tone to it. The daughter doesn't know that he is her father. She wishes for a father like him when in reality, he is her real father. There is a little drama here.
You have produced the film. Was it because of the story that you decided to produce it?
My wife (Radhika) has produced it. Yes, it is the relationship between the father and the daughter that appealed to me. It is a challenge to do the role of a father. Many people asked me why I wanted to do such a role when I don't look that old. I said, "come on, in real life, I have such a big daughter (Varalakshmi)."
It is not a question of acting old. Sivaji Ganesan acted as an old character when he was young. What matters is what an actor can do and contribute. I really enjoyed doing the film and the character. I can still run around trees too!
'K S Ravikumar has brought out the best in me'
Last updated on: October 21, 2009 15:08 IST
K S Ravikumar has directed you in many films...
Yes, it is my tenth film with him. He has brought out the best in me. We understand each other very well. It feels nice to work with someone who understands you well.
And he has shot the movie very well. Most of the portions were shot abroad.
Who are you in Jaggubhai?
I play Jagannathan, a cop. I go on deputation to Australia, where I realise the existence of my daughter. I have performed the role very subtly.
'It is better for my daughter to debut in Yash Chopra kind of films'
Last updated on: October 21, 2009 15:08 IST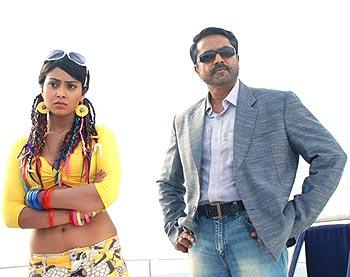 Your daughter Varalashmi is also going to act in films. Why didn't you take her?
We thought about it but later decided that it is better to introduce her in a fun loving film. She is more of a bubbly child. It is better for her to make a debut in a film with lot of songs and romance, like the Yash Chopra kind of films. She is a very good performer. Anupam Kher (she studied in his school), told me that she has extraordinary talent.
Are you not going to introduce her?
We can but I feel she should do a film outside and then do a film with us. I have done the branding part by bringing out her talent in the musical Mamma Mia.
'Shriya's body language and height fitted the role perfectly'
Last updated on: October 21, 2009 15:08 IST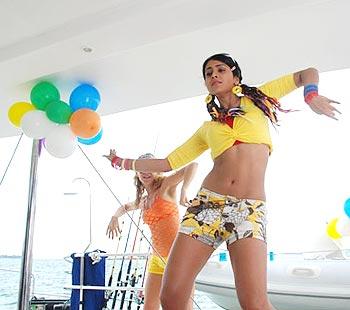 With your daughter in films, would you stop acting as a lover, the kind of films you have been doing earlier?
Why? I am doing my part, she is doing her part. Rajniknath is still acting as a hero while his son-in-law Dhanush is also doing the same. His daughter is married and has a child. These things do not matter to the audience. Today's youth want something new, that's all.
Why did you choose Shriya for the role of your daughter in Jaggubhai?
We wanted a girl who looks like she is living abroad, a girl who is vibrant and talks in a mix of Tamil and English. Shriya's  body language and height fitted the role perfectly well.
'People did not like me getting bashed up by a guy smaller than me'
Last updated on: October 21, 2009 15:08 IST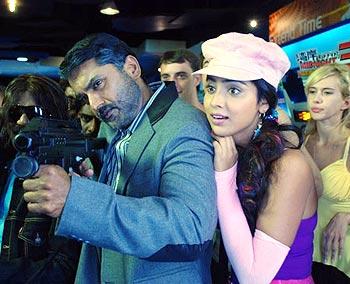 At this stage of your career, does box office success really matter to you? Why I ask this is because some of your last films didn't do that well at the box office...
It does matter to me to a certain extent. Ultimately, the producer has to make money. I did something different in Pachaikili Muthucharam and though it did well in the cities, it didn't do too well in the B and C centres. People did not like me getting bashed up by a guy smaller than me (Milind Soman). But today, things are changing and people are exposed to different kinds of films, and they are ready to accept experiments.
After acting in 110 films, now I can act in different kind of film and re-invent myself. As I grow older my performance has become sharper.
'I always had passion for writing'
Last updated on: October 21, 2009 15:08 IST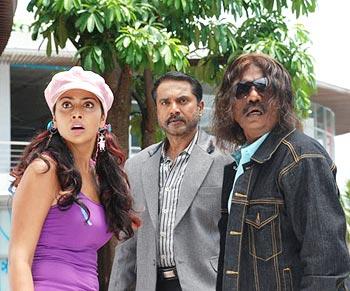 You have started a magazine now. You started your career as a journalist. Is it like your career has come a full circle?
Media Voices is a monthly magazine. The major launch will be in November. I always had this passion for writing. That is where I plan to put my thoughts into action. We have correspondents not only from India but all over the world.
The audio of Jaggubhai was launched by Karunanidhi at Anna Arivalayam. Do we see you going back to the DMK?
The political culture should be like this; even if you are on the opposite side, you should be able to to sit with the other people and have a cup of coffee and discuss issues. That is what the function endorsed. We have a long standing relationship, and it still stands despite our different political paths. We need mature political relationship in Tamil Nadu.