Rani, Neil at Mumbai Film Festival
Last updated on: October 30, 2009 15:08 IST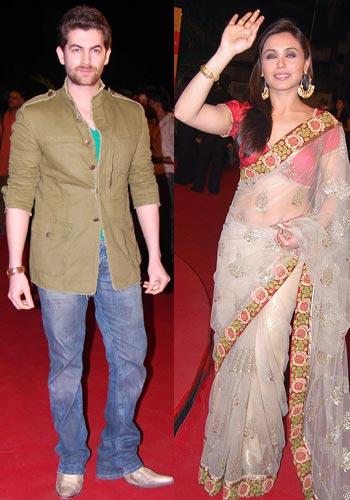 The 11th Mumbai Film Festival, organised by the
Mumbai Academy of Moving Image (MAMI), kicked off on Thursday in the city.
Among those present at the glittering event were Rani Mukerji, Neil Nitin Mukesh, Farhan Akhtar and Karan Johar.
An evening to remember
Last updated on: October 30, 2009 15:08 IST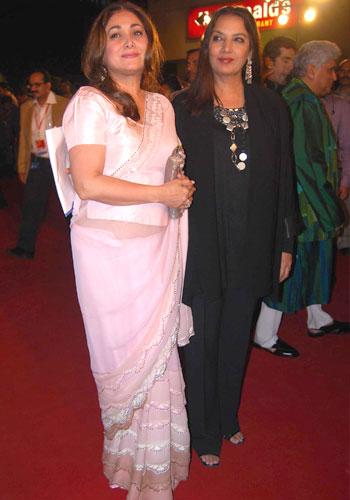 MAMI committee led by Chairman Shyam Benegal and trustees Yash Chopra
,
Amit Khanna,
Shabana Azmi and
Amol Palekar played host to the evening which saw the two felicitations -- one to filmmaker Yash Chopra for Outstanding Achievement in Film, and the other to actor Shashi Kapoor. Kapoor was awarded the Lifetime Achievement Award for his career spanning six decades.
The highlight of the night was the screening of Steven Soderbergh's The Informant. The Informant is a dark political comedy based on true events and the 2000 non-fiction book of the same name by journalist Kurt Eichenwald. The film stars Matt Damon, Scott Bakula, Joel McHale and Melanie Lynskey.
Soha, Emraan's brush with art
Last updated on: October 30, 2009 15:08 IST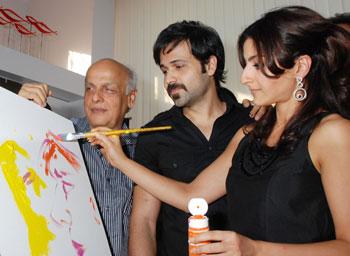 It may be quite surprising for some to find actors, directors and producers promoting their film in an art gallery -- but not when your lead actor plays a role of an artist. 
The cast and crew of Tum Mile comprising of Mahesh Bhatt, Emraan Hashmi, Soha Ali Khan and director Kunal Deshmukh were present at Sanjay Wadhwa's Tulika Arts Gallery for an exhibition, which showcased the paintings created by artist Saillesh Acharekar. They were created and used specially for Tum Mile.
In the movie, Emraan plays an artist and these paintings were showcased in the film as part of his work. Tum Mile is scheduled to release on November 13.
Aladin paints his magic
Last updated on: October 30, 2009 15:08 IST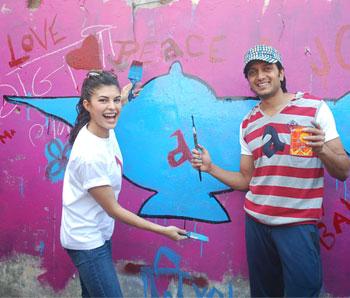 Speaking of paints, the cast and crew of another movie Aladin were spotted wielding paint brushes for a cause.
The Aladin cast and crew decided to rectify their mistake of pasting their film posters on walls painted by the citizens of Mumbai, dedicated to beautifying the city.
Ritesh Deshmukh offered his sincere apologies on twitter agreeing that the whole matter was insensitive and incorrect, director Sujoy Ghosh tweeted that posters on walls should be banned or should only be put upon authorized areas.
In order to show their solidarity towards the matter, the team of Aladin including the actors Ritesh and Jacqueline Fernandez, director Sujoy Ghosh and music duo Vishal-Shekhar decided to don their artistic hats and repaint the damaged wall.
Saif hair
Last updated on: October 30, 2009 15:08 IST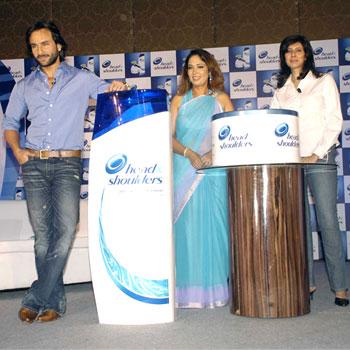 Elsewhere in Mumbai, Saif Ali Khan promoted a new brand of anti-dandruff products.