'Kamal Haasan was a major attraction'
Last updated on: September 14, 2009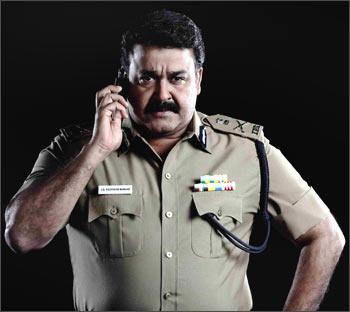 Twenty two years ago when I first interviewed Mohanlal, he was not a super star in Malayalam; he was an upcoming one. He was a man who spoke in monosyllables. Today, he eloquently speaks on any subject. He had not won any national awards then; today he has four, including a commendation for Kireedam.
He was known only in Kerala then, today, he is recognised as one of the most talented actors in India with directors like Ram Gopal Varma comparing him to Robert De Nero.
Even after 22 years, one thing has not changed; he was accessible then and even today, he answers his phone himself and returns calls.
In this exclusive interview, Mohanlal talks about many things, including his next release Unnaipol Oruvan, and the Tamil remake of A Wednesday, in which he shares screen space with Kamal Haasan. It is with great interest that lovers of good cinema and great acting look forward to two of the greatest actors in India working in a movie together.
Have you seen A Wednesday? Is it because you liked the film that you accepted Uunaipol Oruvan?
Yes, I have seen A Wednesday and it is a wonderful film. Kamal Haasan and I had been planning to act in a film together for a long time but no good script came along untill now. So, when he suggested this story, I was interested.
'I hope Kamal and I will do more films together'
Last updated on: September 14, 2009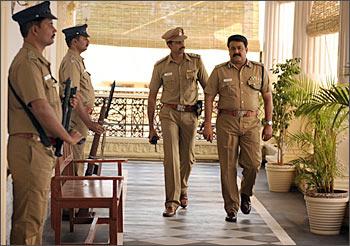 You have done similar roles, that of a police officer in many Malayalam films. What was special about this role?
I was more attracted to the story than the role. More than anything, Kamal Haasan was a major attraction. He was producing the film, and above all, we had been planning it for a long time. Once when he came to Kerala, he publicly said on stage, 'You people should tell Mohanlal to act with me.'
Finally, what was the experience of acting with Kamal Haasan?
You must have seen the film. As you know, we have only one scene together. That, I felt was the uniqueness of the film. Finally, after years of planning, we did one scene. I hope we will do more films together! That is my desire.
The most interesting aspect of Uunaipol Oruvan is the coming together of you two. Together you must have collected almost ten National Awards.
I have also narrowly missed the National Award four times!
It was reported that this time also, Prakashraj and you were on tie till the last minute.
Yes, we had the same votes till the last minute and it was the chairman's vote that tilted the award in Prakashraj's favour.
Were you disappointed?
Not at all. Last time, I missed by a vote for Tanmatra also. It is like a cricket match where you win a match by a single run or lose by a single run. You win some, you lose some. There is nothing to feel disappointed about all this. You have to be fortunate enough to get such roles and also get awards.
Prakash is a good friend and I called and congratulated him. I am happy that he got the award for Priyadarshan's film.
'Kamal Haasan helped me with my Tamil diction'
Last updated on: September 14, 2009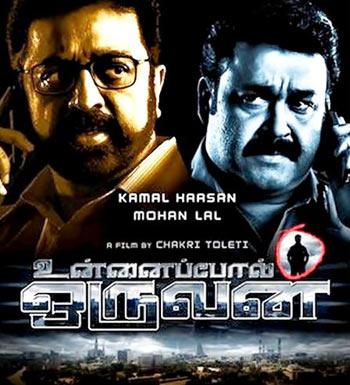 Priyadarshan said you were supposed to do the role.
Yes, I was supposed to do the role but it did not materialise. So, I look at Prakashraj winning the award as me getting it. I am very happy for him.
How did you feel when you saw the film?
I saw Kanchivaram at the Toronto film festival with Priyadarshan. It is a very good film. The speciality of the film according to me is that it is made by a commercial director like Priyadarshan.
Generally the directors who make art films will not be able to make successful commercial films but here, Priyadarshan shows his versatility in both the genres. That, I feel is a great achievement.
Unnaipol Oruvan is produced by Kamal Haasan. Did you at any point fear that you would be overshadowed?
Such thoughts are unnecessary. Only insecure people think on those lines. I need to think how well I can portray the role given to me. If you are insecure about your role and if you feel that the other actor will overshadow you, you should not commit to such films. It is very shameful to think that the other person will overshadow you. I don't think that way at all.
I had seen the original and I knew how it was going to be made in Tamil. Except for minute changes, it is the same film re-made in Tamil.
Was it an interesting experience for you?
For me, every film is an interesting experience. I do all my films happily and I enjoy every moment of it.
While I was dubbing, Kamal Haasan was with me throughout to help me with my Tamil diction. I told him not to trouble himself and after the dubbing was over, if he needed any corrections, I would come and re-do it. Do you know what he said? He said, 'I am very selfish about my films'. Because he had good command over the language, he stood by me throughout. It shows how passionate he was about film making.
'I don't get bored at all while acting'
Last updated on: September 14, 2009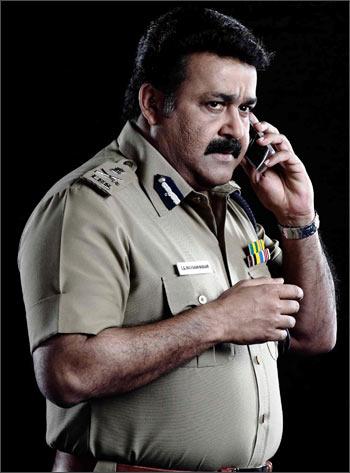 Are you a Tamil police officer in the film?
I play Raghavan Marar, a Malayali police officer in Tamil Nadu. In Company, I was a south Indian police officer from Coimbatore!
You have been acting in films for the past 30 years. You get films like Vaanaparstham or Tanmatra or Paradesi only once in a while. Most of the roles look repetitive to viewers. As an actor, do you feel bored doing the same kind of roles again?
I have no such problems. I don't get bored at all while acting. Yes, viewers may. My last release Bhramaram was a different film. Unnaipol Oruvan is also an interesting experience for me. At the moment, there is nothing much interesting happening in Malayalam.
There has to be major changes in the way stories are written and the way they are presented. What can we actors do? We get interesting and challenging roles only once in a while. I need to get one or two such roles while doing 5 or 10 films in a year. But it is directors who have to take the initiative to make good films.
Actors like Kamal Haasan have now become very selective and do only a few films because maybe they are bored of doing the same thing again and again...
I can't do one film in five years. I can only choose films from what is offered to me. It is true that we get to do the films we really like only once in a while. That is why I became a producer. I made Bharatam, Kala Pani, Vaanaprastham, Paradesi.
The kind of satisfaction and contentment I received when I took Vaanaprastham to Cannes film festival was indescribable. Nothing else can match that. It is my personal cinema.
It was also with Vaanaprastham that Mohanlal, the actor became a well known figure nationally.
Is that so? I am happy about it. If it was made like any other small Malayalam film, it would not have become such a big film. We had Shaji N Karun as the director, internationally known tabla maestro Zakir Hussain as the music composer, the cinematographers were Renato Berta, famous French cinematographer, and also Santosh Sivan. We mixed the film in France. So, the quality of the film went up and the grandeur of the production made it a big venture. Not many Malayalam films can boast of such quality. That is because we have only a small market.
'I don't act with very young heroines'
Last updated on: September 14, 2009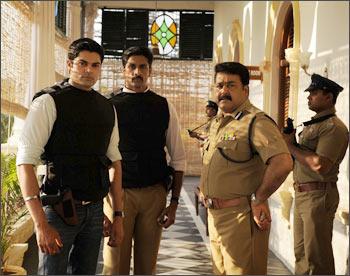 Do you feel charged up when you get to do films in other languages, for example, something like Iruvar, Unnaipol Oruvan, or Company?
My desire is that there has to be more movement between languages. Tamil and Malayalam actors should do films together in both Tamil and Malayalam. It has to be the same with other languages too. Only when there is interaction between languages that films will grow and viewers get a new experience.
Malayalam films have a very small market. On the other hand, Tamil has an international market. So, they can make big films. It is enjoyable to be a part of such big ventures.
There is a lot of criticism in Kerala that you and Mammootty are dominating the Malayalam film scene, still  acting as young men with very young heroines. Your comments?
What can I do? [laughs] If you take all the languages, you see new girls entering the scene while male actors remain the same. If possible, I don't act with very young heroines. For example, in Sagar Alias Jacky, Bhavana is not my heroine.
I don't know why Keralites forget all the good things you have done till now. They criticise you for one mistake forgetting all your earlier good work. I know only this one job; acting. I act in the films that I get.
'I am from the Madras Regiment in Kannur unit'
Last updated on: September 14, 2009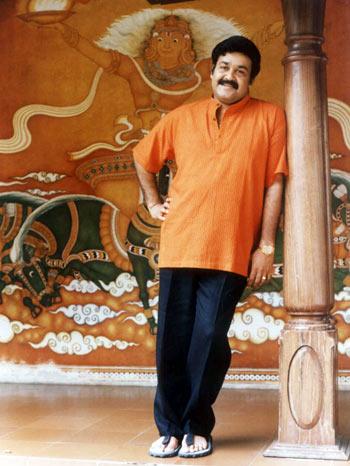 Recently, you joined the Indian Territorial Army and you were conferred the Lt. Colonel rank. What made you join the territorial army? Was it what you saw while shooting two war films in Kashmir that made you take such a decision?
Territorial army is like a parallel army, anybody can join it. There are so many people from various fields who join the territorial army to help the country. I am not the first person to do so.
When I expressed my desire by sending an application form, they took it as a special case, made enquiries and then admitted me. It is a great thing, I feel. National Awards are won by somebody or the other every year but this kind of a thing happens very rarely. So, I am very proud of the rank given to me.
I am from the Madras Regiment in Kannur unit. They are not here right now; they are in Kashmir. When they return in November, I will take 10 days' training in Kannur.
I was told by the army that after I joined the territorial army, many enquiries came from youngsters. I am extremely happy about it. It is a wonderful profession. If ten youngsters are inspired by me, I am happy and satisfied.