Dharmendra charms the Big Apple
Last updated on: September 22, 2009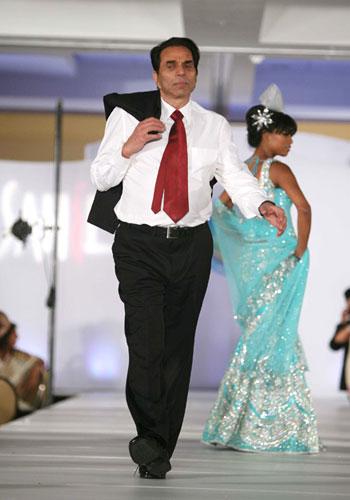 Over the years many movie stars have attended the annual fund-raising for the Nargis Dutt Memorial Foundation's in New York. But it is difficult to imagine any of them creating the stir the producer and actor Dharmendra did on September 20.
For the star of some of the biggest hits in Indian movie history including Sholay and Phool Aur Patthar recalled his debt to Nargis Dutt and her husband.
If the new president of the organisation Kailash Sharma, whose daughter Richa Sharma was the daughter in law of Sunil Dutt, was thinking of a way to galvanise the foundation, he achieved it through Dharmendra's heartfelt address to dozens of the supporters of the event.
Dharmendra spoke of the Dutt couple playing the 'hand of God' in his early days in Mumbai; he knew very few people in the industry.
"In 1958, I came to Bombay for a talent contest," he recalled. "Sunil and Nargis Dutt selected my photographs in the final selection round and pronounced 'He is the best hero for the industry'. And the rest as you know is history."
"Both Sunilji and Nargisji cherished me as a brother; they continue to hold a special place in my heart," he added
Dharmendra charms the Big Apple
Last updated on: September 22, 2009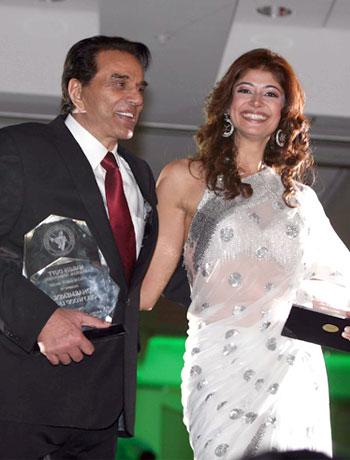 The 28th Annual Fundraising Dinner was held at Marriott Long Island, New York with a fashion show featuring Sahil's Timeless Fashion Show and themed Moulin Rouge to capture life in the legendary Paris club.
Dharmendra, who walked on the ramp, also wooed the audiences with his dances; the hit Mohammad Rafi number Main Jat Yamla Pagla Deewana from his own film Pratiggya played in the background as he danced.
Organisers said Bollywood actress and model Pooja Batra, brought glamour and energy to the show, especially as she sashayed with Bhavesh Patel, CEO of Sahil Collection.
Trishala, daughter of Sanjay Dutt and Richa Sharma and who is studying law in New York City, also joined Dharmendra on the stage, and declared "This has been the best year so far for the Foundation."
Dharmendra charms the Big Apple
Last updated on: September 22, 2009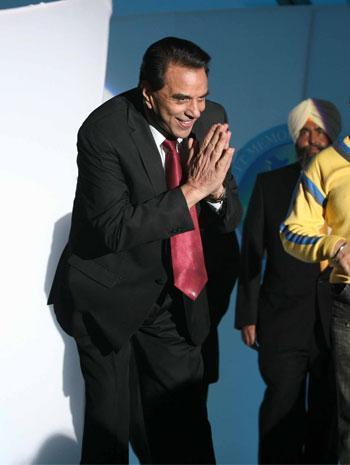 Rujuta Vaidya, who heads a Bollywood dance school and had choreographed under the supervision of the legendary Fatima Robinson the Slumdog Millionaire songs at the Oscar ceremony, presented along with Pranav Tailor, the runway choreographer, a modernized version of Can-Can dance and a medley of various other genres.
This segment was conceived by Shruti Tiwari of MediaSphere, an integrated PR and Event Management firm.
As the foundation is getting ready to move into the third decade, Sharma who has been involved with it from its inception, plans to give it a new orientation. In addition to raising funds through the annual show and dinner, he wants to raise money from corporate houses.