'I have lost 28 kilos'
Last updated on: September 30, 2009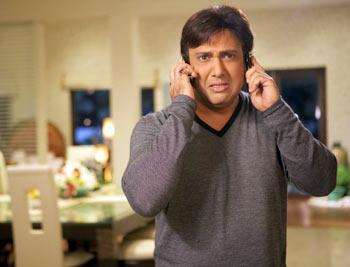 Govinda's long-delayed Do Knot Disturb is finally up for release this Friday. The actor re-unites with his Kyunki Main Jhoot Nahin Bolta team -- director David Dhawan and co-star Sushmita Sen -- in another film on infidelity. This time, they are joined by Lara Dutta and Ritesh Deshmukh.
Govinda talks to Patcy N about his new film, and how he apparently lost weight for it.
What is Do Knot Disturb about?
It is about an extra-marital affair. But David has shown it differently this time. The film has an open end -- the audience will have to decide according to their own views.
This movie reminds us of Saajan Chale Sasural, where you were romancing Tabu and Karisma Kapoor.
In most of my films with David -- like Saajan Chale Sasural, Coolie No 1 and Bade Miyan Chote Miyan -- I romance two women. Only in Hero No 1 I don't have two women; I don't how David made a mistake there! David's movies cannot do without two heroines.
How was it working with Lara and Sushmita in Do Knot Disturb?
It was great because I was working with the two most beautiful women in the universe! And I could do this only because of David.
I was 108 kilos when I started shooting for the film. But while working with them I realised how important it is to lose weight. So I lost 28 kilos. When you see people around you looking so beautiful and fit, you feel ashamed and want to improve yourself. So I did.
I thank David for it. But sad to say, this did not affect David's fitness and love for food. He gained three-four kilos.
'I would have been scared if Ritesh was not a good actor'
Last updated on: September 30, 2009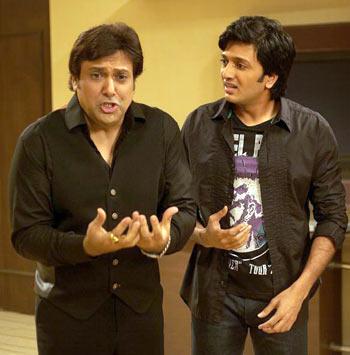 How is Ritesh to work with? He's got some great terrific comic timing too.
Ritesh is a fine actor. The best thing about him is that he is well-mannered and well-behaved. I am not saying that because he is the son of the former chief minister of Maharashtra (Vilasrao Deshmukh) but because he really is good.
I know where his good manners come from -- his family. His father respects and takes care of his parents. Ritesh has learnt that. He respects his elders -- not just me but other actors as well.
Before he became an actor, I had told his grandfather that Ritesh will become a star.
I would have been scared if Ritesh was not a good actor because that would have affected the film. All actors need success. If you have a poor co-star, you will not get success.
'I have done 19 films with David'
Last updated on: September 30, 2009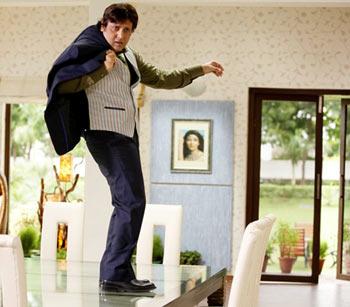 How was it working with David? You have done quite a few movies together.
I have done 19 films with David. I trust him completely. He never gives me a script. He just informs me that I'm in his film, and I go for the shoot. I never know the story.
I have faith in him. If I tell him that something will not work, he will delete it. When we shot for Deewana Mastana, I told David that the film will flop if you don't cut four reels. David spoke to Anil Kapoor and the producer and convinced them of that. Then he changed it.
Bringing Salman Khan in the last scene was a good idea. Nobody was happy with it but I knew it would work and it did. That's why I don't need a bound script. I know he will listen to me if I ask him to change anything.
In a David Dhawan film, you never know why what will happened. Like in Hero No 1, there is a song that goes like this: Main tujhko bhaga laya tere baap ke darr se. But the film did not have a 'Baap' character.
If an actor has two changes of clothes in one scene, people should not ask David why. If you do, David would say, 'tu samjh le na yaar change karke aaya hoga.'
I still don't know why David gave Ritesh a script and not me.
'I want to be a showman and live in style'
Last updated on: September 30, 2009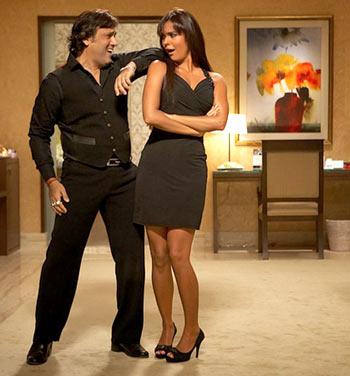 What is the best thing about this film?
The best thing about this film is that nobody is a hero or heroine. All of them are characters. Only my character is a bit characterless!
What do you want to do in life at the moment?
I want to be a showman and live in style. I am enjoying my work now. Earlier, I was full of anger. I wanted to show the world that I was something and that I am capable of lots of things. But it's not like that now. I am calm now and enjoy my work. I learn everyday.
I want to do commercial movies because only these films become hits. And people remember hit films only. But I have no qualms about playing someone's father.
'I was surprised that the public accepts me as a romantic hero even today'
Last updated on: September 30, 2009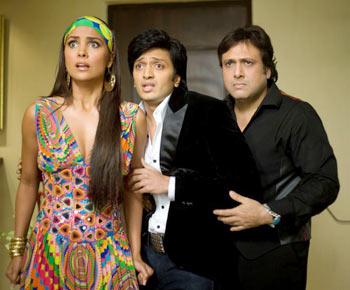 How did you feel about the success of your last film with Salman Khan, Life Partner?
I was very happy with its success. I was surprised that the public accepts me as a romantic hero even today. My daughter has grown up, people are asking me about launching her. But nobody has said how dare you play a romantic hero at this age! That's good.
Our film industry is different. You can play a hero as long as you look fit. In fact, married women are playing heroines now and their movies are successful. That's a good trend too. The audience has become intelligent. They come to see your work, and not anything else.
When will we see your daughter Narmada on the big screen?
Narmada has groomed herself well. She listens to whatever I say. My blessings are with her. She is waiting for a proper break. I have asked her to wait as I want her to be launched with a good film. I don't want a hasty launch. I want her to think and sign a film, and give a hit.
I appreciate Aamir Khan in this regard. He has always done selective good movies.
The Assembly elections are coming but you're not in active politics.
Politics is like school -- you learn and understand. You have to be careful. You should not hurt your elders.
I did my work honestly. When I knew I could not do more and that I was upsetting my elders, I stepped back.