'I'm good at comedy'
Last updated on: April 12, 2010 18:46 IST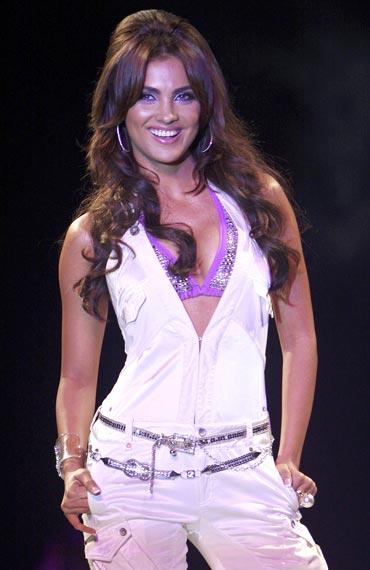 Bollywood beauty Lara Dutta has already starred in several comedies, like No Entry, Bhagam Bhag, Partner and Do Knot Disturb.
Now, the former Miss Universe is prepared to continue that trend, with yet another comedy, Housefull.

The film tells the story of Aarush, played by Akshay Kumar, who believes that his bad luck will change only after he finds true love.

Housefull is directed by Sajid Khan, and represents his second turn in the director's chair, following 2007 hit Heyy Babyy.

It's a multi-starrer, featuring Riteish Deshmukh, Deepika Padukone, Jiah Khan, Arjun Rampal, Boman Irani, Randhir Kapoor and Chunkey Pandey alongside Lara and Akshay.

In an interview with Patcy N, Lara describes working with Sajid Khan, tells us why she does so many comedies, and gives her thoughts on the Bollywood of today.

Tell us about your character.

She lives and studies in London, and also works in a casino there. She doesn't know much Gujarati, but her heart is very Indian. Her father, played by Boman Irani, lives in Ahmedabad and speaks proper Gujarati. So whenever her father calls, he has to listen to her answering machine, which has a voice message in Gujarati. She falls in love with a non-Gujarati and marries him, and her only wish in life is that her father accepts her husband.

How was playing a Gujarati girl?

During the very initial scripting period, Sajid was tossing around the idea of what my character should be: a Parsi, a Gujarati or a Punjabi. I am bored of playing Punjabi characters, so I told him not to make her Punjabi. Sajid later decided that the character should be Gujarati and should speak in Gujarati too. He named her Hetal. I found the name very funny. In fact, all the names of charcters in the film are funny, like Batuk Patel. But since the film is in Hindi, we have not used too much Gujarati, just simple dialogues that the regular Hindi-speaking crowd can also understand.

So did you have to learn Gujarati?

I learnt quite a lot. When I was dubbing, we had a Gujarati artist come in to help me with the pronunciations, to make sure that they came out well. It was great fun. Boman is very fluent in Gujarati, so when he would start saying his dialogue in Gujarati, he would forget that the film is in Hindi and take off. Sajid would then have to tell him, 'Boman, it is not a Gujarati film.'

So do you have Gujarati looks too?

My look in the film is very modern, as my character stays in London and works there too. She is very savvy and loves to carry designer bags. She is not rich, but she is stylish.
'Sajid has made me make many faces in the movie'
Last updated on: April 12, 2010 18:46 IST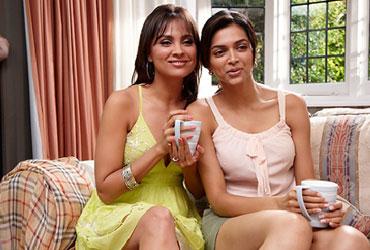 T
his is your eighth film with Akshay. Any thoughts?

I have lost count of how many films I have done with Akshay. There are just too many, like
Aan
and
Insaan
and what not [
laughs
].
Your last film, Blue, did not do well, and that also starred Akshay.

Every film is made with the intention to do well, but it doesn't always happen. It is good to make a film and take a chance and try something new. That is the only way you will break new ground and discover new things in the industry. If it works, it is great for everybody. If it doesn't, you can go back to the drawing board and start all over again.
Why are you mostly doing multi-starrers?

I like doing comedy and most comedies have many characters, therefore the multi-starrer films. At the same time, every role I have taken in a comedy, whether it was Kajal in
No Entry
or Naina in
Partner
, were very distinct roles. I genuinely feel that if you take away those characters from the films, there would be something missing from them. In the same way, Hetal is the only female character in
Housefull
that gets to do so much comedy.
When a director takes you -- whether it is David Dhawan or Priyadarshan -- they take you thinking: "I need an actress who can perform comedy and therefore I am taking Lara."
That's a huge compliment.

Sajid knows that I am good at comedy. Sajid is very clear on that; he told me before we even started the film, "I need an actress who can perform. I know you can perform, so you come and do this." Sajid has made me make many faces in the movie. So many stupid faces that I would never do in my life otherwise. [
Laughs
]
Sajid gave you some letters on the first day of the shoot?

He is the only director I have ever worked with who has told everyone on the sets, "Welcome to the biggest hit of your career." I was like, "Okay. We have not shot one frame!". [
Laughs
]
We trust him. The optimism is infectious, and today there is a great buzz about the film. It is hot property right now.
'This film is complete confusion!'
Last updated on: April 12, 2010 18:46 IST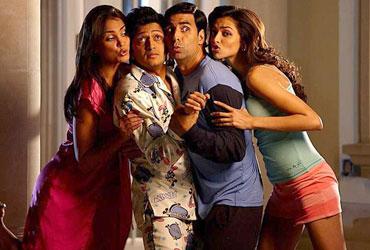 W
here was the movie shot? You also went on a holiday?

In London and Italy. Riteish, my hairdresser and I went to Rome for a holiday while we were in Italy. We had three days off, and Riteish had never been to Rome. He had always wanted to go, but never had the chance. We knew that if we had stayed in Puglia, Sajid would drag us on to the sets, regardless if we were working or not, just for entertainment purposes. So we decided to head off to Rome in a car.
Who are you married to in the film?

This film is complete confusion! So I am married to Riteish, but am also married to Akshay. But I am also Akshay's sister. But I am also Riteish's sister. I am Boman's daughter, but I am also Boman's daughter in law!
So what is Housefull?

It's a story set in a house that has many people living in it. There is one husband, Akshay, and his three wives, Deepika, Jiah Khan and myself. And these three wives have their own complications.
There is a situation in the film that brings everyone together in the house, to make it completely full. Hence the name
Housefull
. The confusion that follows after that is what the film is about.
'The only skill that I had to learn was to fall out of the window'
Last updated on: April 12, 2010 18:46 IST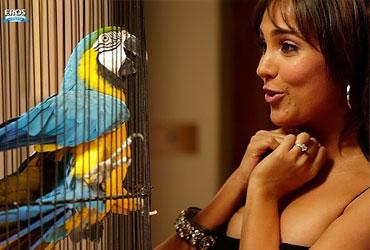 D
id you have to learn any new skills for this film?

The only skill that I had to learn was to fall out of the window and crawl on my knees in front of a tiger. That really requires skill, because you are trying to do a comedy scene, and trust me at that time you don't feel funny at all.
But why did you have to crawl in front of a tiger?

Ask Sajid Khan -- only he has the answer to all this! The motives to his madness only Sajid knows. We only do what the director tells us to do.
When you are with Sajid, you know that if he asks you to do something, it is important for the film. Sajid knows what he is asking us to do and why. He knows exactly who will love which scenes. He write scenes for front benchers, the masses and for classes.
Sajid is very clear, so I never questioned him. Plus, I am a director's actor.
What is the maddest thing that Sajid has done in front of you?

Sajid does mad things all the time. Madness is normal for him, because he is not normal as a person. So if Sajid was normal, it would be a strange thing [
laughs
].
But he is fun, and has a great energy to be around. When you are performing for a scene, the person who is laughing the loudest will be Sajid. So we have to tell him, "Stop! You are distracting us from working."
When you come on the sets you have your own issues. For example, Deepika was sick with malaria. So everybody comes with a different frame of mind, and it is the director's job to get everybody into a zone where they are able to perform.
There are so many actors and animals in one house in
Housefull
, so everyone is there in every scene. It was really difficult to handle something like that, but Sajid did an amazing job.
'Blue reinvented me'
Last updated on: April 12, 2010 18:46 IST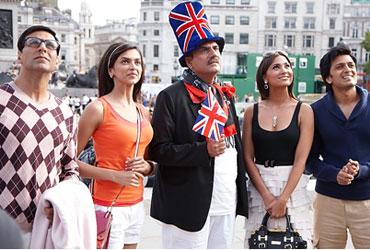 What are your expectations for Housefull?

It is a great entertainer. It is not a mindless comedy. It has a tight screenplay, so if you are not following it, all the confusion may cause you to los the plot somewhere. So it is very important to stick with it. It has good music too.

Why are you doing so many comedy films?

Because I am good at it [laughs]. I like doing comedy, and most of the films that I am offered are comedy films. Comedy works, as at the end of the day everybody wants to go to the theatre and have a good time. Nobody really wants to see social dramas, which is what we'd otherwise see. We have had feel good films, romantic films, comedies and a few action films in the last couple of years.

Last year I did Billu, which was not a comedy. Then I did an action film, Blue. Do Knot Disturb was a comedy. You have to pick and find your balance somewhere. Now, I would like to take break from comedy and look at doing something else.

What do you think about this new type of films that are made like LSD [Love Sex Aur Dhokha]?

LSD is a new genre and was made with a small budget. Blue was something different, on a big budget. You need people taking these chances because that is the only way that the industry will grow.

I saw Well Done Abba a few days back, and it was really interesting. There are different kind of films made today, and that is the most exciting thing in the industry. There are producers, small and big, trying to change things. For example, Karan Johar made Wake Up Sid with Ranbir and Konkona Sen Sharma, which was an unusual pair. We have Red Chillies doing a super hero film Ra.One.

Everybody is making economy films today, which is a sensible thing to do. It is great to do a Housefull, which is a big commercial film, but at the same time, as an actor you need creative satisfaction too. So you do a film that may not have a big budget, but which will give you the opportunity to perform. If you are able to do a mixed bag like that, you are very fortunate.

You tried doing a variety of roles last year but none of them worked.

Honestly, for me, I will never regret doing Billu. It worked personally for me as an actor, because I got a good audience reaction and good responses from within the industry. Same with Blue, because it reinvented me. I got myself into shape at a level I've never been before, and people definitely stood up and took notice of it.
And if David Dhawan ever asks me to do a film, I will do it, because David Dhawan is the god of comedy. And I don't doubt David's sensibility. Every film of yours is not going to work.

What are your forthcoming films?

I have Bandha Hai Bindaas Hai, which is ready for release. But I don't know the release date yet. I have short-listed a few films that I want to do but have not yet signed them. Of the films I have short-listed, none are comedies. But if something really fabulous comes along, I may think of doing it. I will only sign a film after Housefull releases.