Looking at Bollywood's two-timing men
Last updated on: April 27, 2010 17:45 IST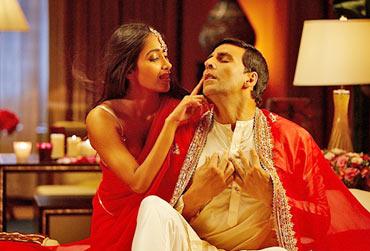 Bollywood likes unfaithful men.
Infidelity is clearly an excuse for farce in Hindi cinema, the industry liberally churning out enough slapstick about men juggling wives and lying. And while men get to cheat by the dozen, there's no room for casually promiscuous women.
With Akshay Kumar's latest 'cheating-comedy' around the corner, here's a look at some recent infidelity farces:
Akshay Kumar in Housefull
Sajid Khan's latest film features Akshay Kumar as a man with three wives.
With each of them -- Lara Dutta, Jiah Khan, Deepika Padukone -- leggy and looking hot in bikinis, this sure is an enviable state of affairs for the industry's highest paid leading man.
Akshay in Garam Masala
Last updated on: April 27, 2010 17:45 IST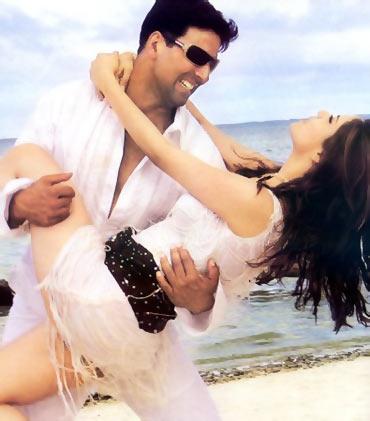 Kumar, however, is no stranger to a three-woman situation.
This Priyadarshan comedy from a couple of years ago featured him not just romancing a troika of air-hostesses, but even giving advice to a hapless John Abraham on how to go about the juggle.
Govinda in Saajan Chale Sasural
Last updated on: April 27, 2010 17:45 IST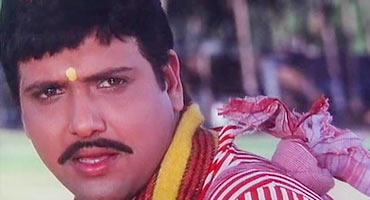 A tale of accidental bigamy (yes, indeed), this David Dhawan film stars Govinda as a country bumpkin who moves to the city, and believes his wife Karisma Kapoor has died in floods back home.
He marries Tabu, but when Kapoor returns to the city, the man has to do the two-wife shuffle.
Anil Kapoor in Gharwali Baharwali
Last updated on: April 27, 2010 17:45 IST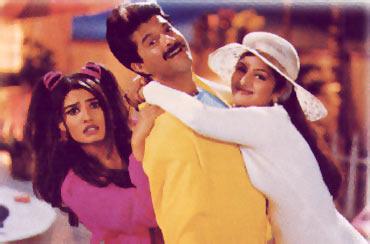 David Dhawan directed pretty much the exact same story with a few superficial changes a couple of years later with this Anil Kapoor comedy, featuring the actor marrying both Raveena Tandon and Rambha, and then caught up in the tug-of-war between the shrill ladies.
Salman Khan in Biwi No 1
Last updated on: April 27, 2010 17:45 IST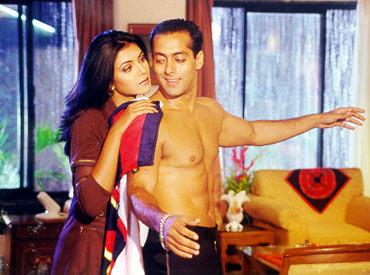 Salman plays a married man, with Karisma as his wife. Bored of her domesticity, he has a serious affair with supermodel Sushmita Sen.
Karisma's heartbroken but Anil Kapoor intervenes and gives her a makeover -- for isn't that the perfect answer to infidelity?
Karisma turns hot and Salman returns, and all ends well in the David Dhawan universe.
Anil Kapoor in No Entry
Last updated on: April 27, 2010 17:45 IST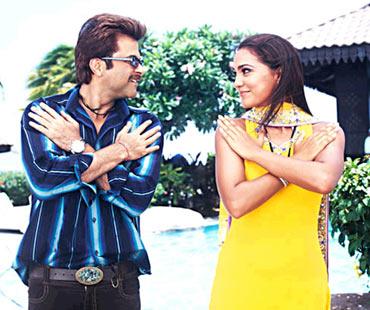 Kapoor plays a nice guy married to an extremely suspicious wife, played by Lara Dutta.
Salman, as his friend, cuts in to present his buddy with an affair to justify all the suspicion, and brings in callgirl Bipasha Basu.
Much chaos and lying follows as Anees Bazmee steps into David Dhawan territory.
Ritesh, Aftab and Vivek in Masti
Last updated on: April 27, 2010 17:45 IST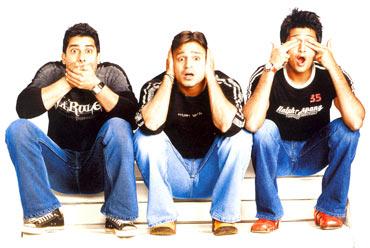 This Indra Kumar film stars Ritesh Deshmukh, Aftab Shivdasani and Vivek Oberoi as three married men -- Amrita Rao, Tara Sharma and Genelia D'Souza play the three wives -- who step outside their marriage to have an affair, but all three end up courting the same manipulative woman, played by Lara Dutta.
Fardeen, Zayed and Sharman in Shaadi No 1
Last updated on: April 27, 2010 17:45 IST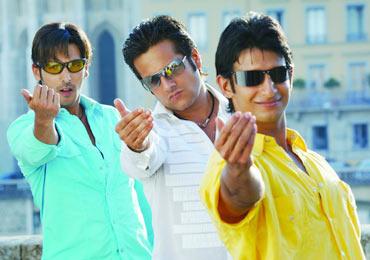 Similarly, in this David Dhawan disaster, Sharman Joshi, Fardeen and Zayed Khan play three married men -- Ayesha Takia, Soha Ali Khan and Esha Deol being the wives -- and since feeling neglected is cause enough in Bollywood to go have an affair, they do so, with itemgirls Sophie Chaudhry, Riya Sen and Aarti Chhabria. Ho hum.
Govinda in Do Knot Disturb
Last updated on: April 27, 2010 17:45 IST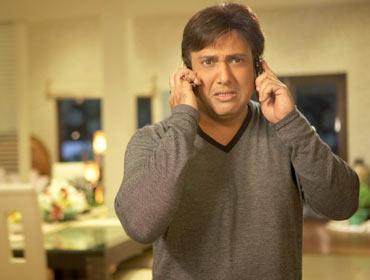 In this standard David Dhawan enterprise, Govinda's married to Sushmita Sen and has Lara Dutta for a girlfriend.
It's the standard cast in the standard setup, but this time Dhawan ends a chaotically bad film with the hero being dumped by both girlfriend and wife.
Govinda in Sandwich
Last updated on: April 27, 2010 17:45 IST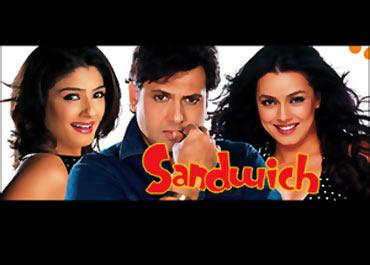 In this insanely farcical Anees Bazmee film, Govinda's back to wife juggling.
Despite a premise almost identical to Saajan Chale Sasural, the gags are madder and there's a raw, almost-watchable quality to the director's first effort.
Mahima Choudhary and Raveena play the confused wives as Govinda pretends to have an identical twin.