Ajith's 50th film launched
Last updated on: August 6, 2010 17:16 IST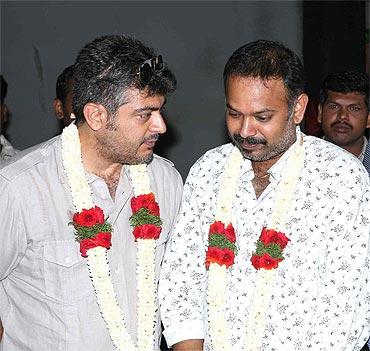 Get your low down on what's happening in the Tamil film industry right here!
The talk about Ajith's 50th film has been going on for quite sometime now. As per the initial reports, Gautham Vasudev Menon was to direct his 50th film. It was then that racing bug hit Ajith and he went away to Europe to participate in the Formula 2. Half way through the season, Ajith abandoned his racing plans and returned to Chennai.
It was then that Ajith decided to ignore Gautham Menon and choose Venkat Prabhu of Chennai 28, Saroja and Goa fame to direct his prestigious 50th film. Dayanidhi Alagiri and Vivek Rathnavelu are the joint producers under the Cloud Nine banner.
The film titled Mangaatha had its launch at AVM Rajeswari theatre in Vadapalani in Chennai this week in the presence of Ajith, Venkat Prabhu, V K Rathinavel of Cloud Nine, SPB Charan and other technicians.
Incidentally, Ajith's journey as an actor started 18 years ago on the same day in 1992) with the film Prema Pustakam. That is why the makers of his 50th film decided to launch it on the same day.
Telugu actors Nagarjuna, Manchu Manoj Kumar play prominent roles in the film.
Yuvan Shankar Raja scores the music, Shakthi Saravanan is the cinematographer, and K L Praveen, the editor. Besides direction, Venkat Prabhu has penned the story, screenplay and dialogues for the film.
Meanwhile Ajith fans through their website have lashed out at Gautham Menon for allegedly telling a newspaper that he would wait only for Kamal Haasan and his good friend Suriya and nobody else!
K Balachander appreciates Madrasapattinam
Last updated on: August 6, 2010 17:16 IST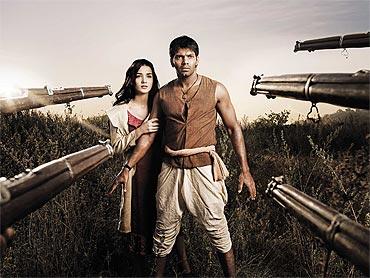 Veteran film-maker K Balachander has never shown any reservation in appreciating a film. If he likes a film, he immediately writes a letter of appreciation to the young film-maker. When he was bowled over by Gautham Menon's Vinnaithandi Varuvaya, he immediately wrote to the director.
Another film that impressed KB is Vijay's period film Madharasapattinam. KB wrote to Vijay, "Attenborough's Gandhi was awe-inspiring. Mangal Pandey was authentic. Laagan was adventurous. Your Madrasapatinam is simply astonishing!
"Right from the teaser of your pre release promos which suggested that it was a period film, to the opening of your picture in London on a charming old lady, a few feet of inter cut of a little girl, were just starters for what is really a fantastic visual, technological and artistic feast!"
Now, this is what he had to say about Amy Wilkinson, the heroine from the UK. "I would like to dwell on your heroine a little. The moment she walked on to the screen, my heart -- I have to confess -- did a somersault! It has been a very long time since I saw such charm and intelligence on a girl's face!
"Her walk, her air of aristocratic arrogance, her elegance, her carriage, her attitude, her reserve, her poise all across the film - from the girl to the grandma -- was simply extraordinary! The scene where she watches the wrestling match on the sand, sitting on a stool as if it was a throne, head slanted, face still, not a single hair out of place -- yet with a restrained excitement and anxiousness - just hinted at in her eyes, was indeed sheer cinematic poignancy!
"There is that air of such unaffected superiority that rests so gently on her dainty shoulders. Somewhere in between a Sophia Lauren and a Grace Kelly, she will be a.star in Hollywood one day."
K V Anand teams up with Suriya again
Last updated on: August 6, 2010 17:16 IST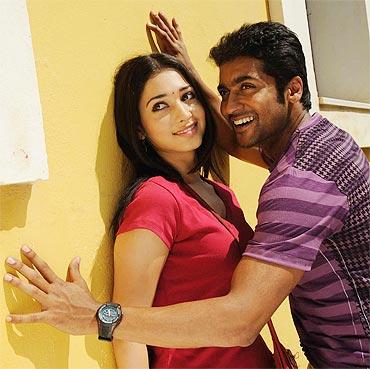 K V Anand's second directorial venture Ayan with Suriya and Tamannah in the lead was last year's biggest hit. Now, he is in the final stages of his third film Ko.
The film stars Jiiva, Ajmal, Karthiga (yesteryear actress Radha's daughter), Prakash Raj and Kotta Srinivasa Rao in the lead.
RS Infotainments, which co-produced Goutham Menon's Vinnai Thaandi Varuvaya with Photon Factory, is the producer.
Music is by Harris Jeyaraj, cinematography by Richard who won a lot of accolades for his work in Angadi Theru, story Subha, editing Anthony, and art Kiran and stunts by Peter Haien.
The shooting for the movie is almost complete but for a few song sequences. One song has been shot in China, while plans are on to shoot a couple in Norway.
A press release says that the highlight of the movie is the climax stunt sequence that was recently shot in the busy Mint Street in Chennai by Peter Haien featuring Jeeva, Ajmal and Prakashraj for 20 days.
After the success of Ayan, Ko is an eagerly awaited film.
But what has interested many in Tamil Nadu is the news that Kalpathi S Agoram's AGS Entertainment is bringing the Ayan team again. AGS Entertainments had come out with blockbusters like Thiruttu Payalae, Masilamani, Santosh Subramaniam, Irumbu Kottai Murattu Singam and the recent hit Madarsapattinam
The Suriya-K V Anand film would go to floors in February 2011.