Kajal returns to Tamil with Naan Mahaan Alla
Last updated on: August 17, 2010 13:39 IST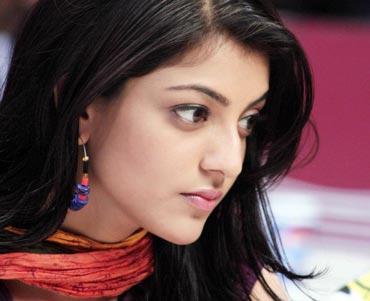 After starring in a few forgettable Tamil films, Kajal Agarwal returns with yet another Tamil film Naan Mahaan Alla.
The film also stars Karthi and is directed by Susinthiran of Vennila Kabadi Kuzhu fame.
The tall and lissom actress is quite a name to be reckoned with in Telugu (especially after Magadheera) with many plum projects. She finds juggling films in Telugu and Tamil interesting.
She talks about Naan Mahaan Alla releasing this Friday. Excerpts:
Did you sign Naan Mahaan Alla because it had something different to offer?
Yes, it was a different story with a realistic and interesting character. We didn't have to act, we only had to react. Everything was natural.
'Naan Mahaan Alla is not the same as Rajnikanth's film'
Last updated on: August 17, 2010 13:39 IST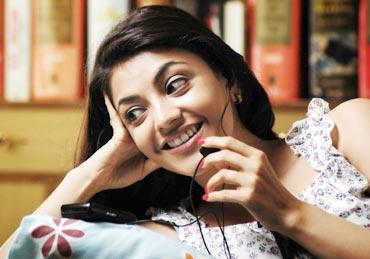 Is it similar to Rajnikanth's film with almost the same title?
None whatsoever. This is a realistic film. It is a situational one dealing with what happens in the life of the protagonists. I haven't done anything in Telugu like this. So, Naan Mahaan Alla is a different genre altogether for me.
Tell us more about your role.
I play a chilled out girl called Priya. She's a normal middle class girl who falls in love with the hero, Jeeva, who is a brat. There are certain things in his life which have repercussions on her life.
So is the role substantial?
It's impactful though it is primarily a hero's film. I'm there mostly in the first half and I am happy with the way the role has shaped up.
How was it working with Susindran?
I saw his first film (Vennela Kabaddi Kuzhu) and really liked it. I found him practical and focussed. He knows what he wants to do.
'I am comfortable with both Tamil and Telugu'
Last updated on: August 17, 2010 13:39 IST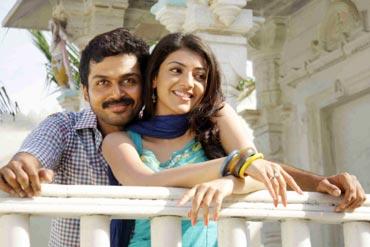 How would you describe Karthi as a co-star?
Very nice and sweet. He is very professional and humorous and makes everyone comfortable. I share a good rapport with him, which is reflected onscreen.
Are you comfortable doing both Telugu and Tamil films though the concentration seems to be more on Telugu?
I am comfortable with both the languages. Since I had interesting offers in Telugu, there were no dates for Tamil films. I am going to sort out in an organised manner and try to accommodate films in both the languages.
Do you have anything to say about the Tamil film industry?
The industry is professional; the people are punctual. It has the best technicians and there's so much creativity and discipline. The stories are out of the box and there is experimentation.
'One can't predict the fate of the film even though we have given our best'
Last updated on: August 17, 2010 13:39 IST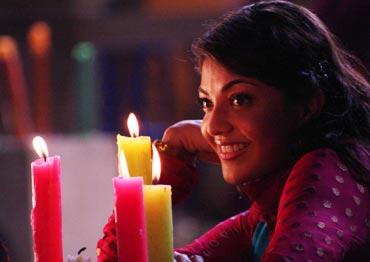 Have you signed any new Tamil projects?
There are a couple of films in the pipeline but I cannot talk about them now.
Are you excited about the release of Naan Mahaan Alla?
Yes, I am quite excited. Hope it does well. We have all worked hard but one can't predict the fate of the film even though we have given our best.
You seem to be busy with Telugu films like Brindavanam, a film each with Prabhas and Naga Chaitanya...
I have four films in Telugu -- Brindavanam with NTR Jr, a film with Prabhas directed by Dasharath, Meruppu with Ram Charan Teja and one with Naga Chaitanya directed by Ajay Bhuiyan.