SRK: I never look at the script
Last updated on: February 9, 2010 13:42 IST
February 2 was one of the busiest days for Shah Rukh Khan -- when he hasn't been shooting for a film, that is. From the time Kajol and he rang the bell at NASDAQ opening the New York-based stock exchange for business, he gave over a dozen television interviews for South Asian channels, attended an hour-long press conference, and loosened his tie and sat down for an interview with rediff.com
For over 20 minutes he talked about his passion, why he disliked revealing the secrets of his trade, and what it meant to work with Karan Johar.
"He [Johar] is not just a director or producer to me," SRK said. "He is a friend, he is family, and then, he is a world class director who knows how to put together a world class team."
In My Name Is Khan, directed by Johar, SRK plays Rizwan Khan, a man with a form of autism that makes him a much misunderstood person. The 9/11 events indirectly affect millions of people across the globe, and Rizwan is one of them.
The movie, SRK asserts, is not about terrorism but how it affects people.
Is doing a film like MNIK a risk for you?
I've done about 70 films to date -- including films featuring guest appearances. I realise that whenever I have taken chances, I have not necessarily succeeded. But whenever I have failed, I have not felt very bad. Whenever I've succeeded, I've felt much better than in a film when I have not taken chances.
On the whole, it is better to try something new, rather than do the same thing. There is no guarantee which film will work. I've always been like that. If you don't change often enough, you will not be able to evolve or do something new. Stagnancy, same place, comfort zone -- I've never believed in that. I come from Delhi and I play films off the cuff. But that does not mean I am flippant.
I often pay movie tickets and see films. Those [the audiences] are the only people I work for. I don't work for the director or the producer. I work for those, who pay Rs 12 or $12. And when I say that I am also aware that I want to work for them in a way, that god willing, I'm able to make them evolve also. It's not just, 'Oh you want this, so I'll give it.' No! I'll give this and a little more. So, in the next one expect a little more, I have been telling my friends and the audiences from my early years.
So, I'll do a Baazigar [in 1993] where I'm a negative guy. Everyone told me, 'Oh this won't work!' But it became a huge hit. And then everyone told me that doing a love story [Dilwale Dulhania Le Jayenge] for me after Baazigar won't work; but Dilwale is still running after 25 years. Everyone told me that Darr won't work. But my audience told me otherwise.
If I count the last eight films of mine, you will find yes, they are Hindi films; that's the only common thing in them. Otherwise, inherently, there is a new kind of hero; but I don't make a big thing about it.
Will you watch My Name Is Khan when it releases on February 12? Tell us!
'My Name Is Khan is as risky as Baazigar'
Last updated on: February 9, 2010 13:42 IST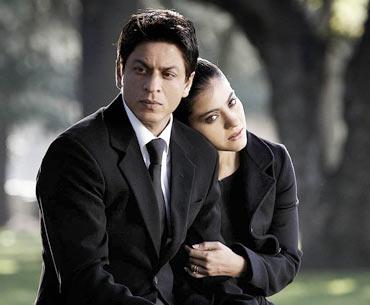 You have not got enough credit for your work...
I am often a low profile person. That's because, even for My Name Is Khan, people ask me, 'How do you prepare for it?' I'm not very thrilled answering that question.
It's important not to ask the chef how he makes the dish. Just tell him if it's tasty or not tasty. And that's what I believe an actor should be. Any actor who starts telling you how he prepared for the role, is actually boring you and making an excuse for a bad performance, I think.
In this case, I needed to tell because it is related to an [autistic] disorder. So, you have to give it the respectability. Yes, I've researched it; I've not just gone and played it. But whenever there is no research -- in most of my roles I don't -- or even if there is research, it is not going to disturb the character. Some may say, 'Oh, he did not research to be a teacher.' But, in fact, I do. But I don't like talking about it because I believe that's not what I'm paid to do. I'm paid to make you have a tasty dinner; not tell you how that was made.
Yes, I take my chances. My Name Is Khan is also as risky as Baazigar on a different level. Of course, I have the stardom to back it, it will open well, I have Kajol, Karan (Johar, the producer and director), all those safety nets are there but in spite of it all, I think very few heroes will play the role I have played. Inshallah [god willing], when you see the film you [will] realise.
My challenge is here is a character who does not feel love, who does not know how to cry or laugh, sing or dance, and yet in this film, I am going to be the most romantic hero. I want every woman to turn around and say, 'I want to have a person who loves me like this.' And yet my character does not know what love means. It is a true disorder, and it is not made up. You will at the end of the film feel, 'Oh my god, I wish he could be in love with me', knowing fully well my character does not feel love, he does not cry. I don't think I can succeed in convincing you that he is a lovable guy. And yet you feel for this man, you love him. That is the challenge I have in this film.
'People think I am arrogant because of my sense of humour'
Last updated on: February 9, 2010 13:42 IST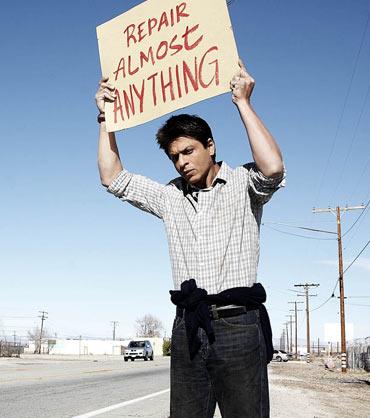 Locations are very important for this film, isn't it?
The film is very expensive. It has been shot mostly between Los Angeles and San Francisco. I have shot many films in America starting with [Subhash Ghai's] Pardes shot mostly in and around Las Vegas [in 1997], and several films including Kabhi Alvida Na Kehna in the New York area.
[My Name Is] Khan is about journey, one man's journey to win his love back. We wanted the whole countryside and location of the country to play an important part. We wish we could have got the permission to shoot in the White House. We didn't, so we cheated, shot opposite [California Governor] Arnold Schwarzenegger's office in [the state capitol] Sacramento. This film would not have been anywhere else but set in America.
Do you ever go through a doubt or anxiety when working with a team that has produced a major hit?
I have no self doubt ever when I have said yes to something. I tell myself, 'This is it, this is the best that god made for me.' I am very spiritual about my work -- very, very spiritual. It sounds strange. I think of my work as the only thing I was made for. I think of my work as the happiest moment of life. When I am acting I am one with god, very strangely. I don't say it because a lot of people will find it weird. I have said in a documentary on me [made by the British filmmaker Munni Kabir]. With the huge connect I have with Allah, god, I am sitting here and saying, 'Wow, he has given me a chance to express in one lifetime, so many expressions of so many different people and people like me for it. And they pay me for it. Who gets a chance like this?'
I am so many people in a day and it is so wonderful. In the last 20 years, very few children [of my generation] have got a chance to live out the fantasy that I have. And thankfulness shows in my performances. I am only doing it to please everyone. It is never self centered. People think I am arrogant because of my sense of humour. I am very humble and down to earth. And people who know me know that.
'Khan should be a bigger hit than Karan's KANK'
Last updated on: February 9, 2010 13:42 IST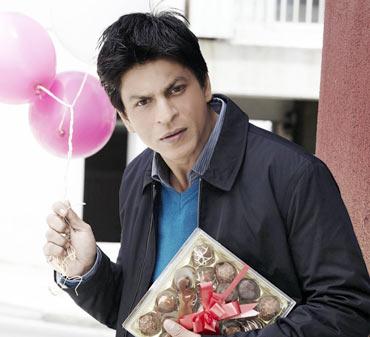 Does it hurt you much to read negative criticism about you?
If you don't know me, you will say or write negative things about me. My Name Is Khan is about such things: If you don't me, if you don't know the religion, you may think you have the right to dislike me or anyone belonging to a particular religion. It is my duty to tell people about these things. Once you know it, you may say, 'Oh, this is cool.' It is lack of knowing me, people say certain things about me, which is okay.
You have worked in some of the most successful films of your career made by Karan Johar. And some of your biggest hits have had Kajol. Do you feel a little nervous when you join them on a new film?
Whenever I do a film with friends like Kajol and Karan, I feel that the success I have had with them is not a monkey on my back. There is actually even more confidence that this new project will be bigger than Dilwale. I feel that Khan should be a bigger hit than Karan's KANK.
I only think positive and I have never had a negative strain in my life. I only say when I sign a film with them, 'Oh wow, here is the team that is going to make the biggest film ever.' If it happens, it is very good. If it doesn't happen, it does not lessen the love I have for them.
Sometimes people say I have been on the top for two decades. In reality, for 20 years I have had my ups and I have had my downs. People have said, 'He has lost his golden touch' but that is not true. I am going to come back following any downs. I would like to think I am the comeback kid. I cherish being a movie star, with so much of spirituality and love in my work and around me that you cannot take them away from me  And if you can't take these things away from me, I will always have confidence in me.
I wish success for Kajol [
in
MINK] because she makes so few films, and for Karan Johar because he has made a big movie. He is a very conscientious guy and he deserves all the success. And I hope I can participate in more of his films.
'In Karan Johar I have the fullest faith'
Last updated on: February 9, 2010 13:42 IST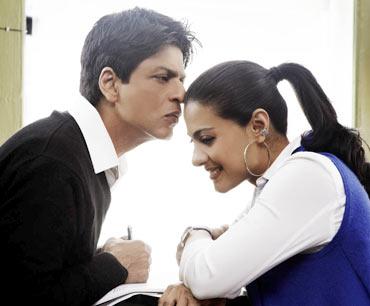 As an artist what are your strengths and weaknesses?
I never look at the script. I never work with the scripts. I work with people, who make the scripts work. My biggest undoing is my faith in people. My biggest plus point is also my faith in people. In Karan Johar I have the fullest faith. He told me in a few words what My Name Is Khan about. Even if he hadn't, I would have signed for the film.
He came to my wife [Gauri Khan] telling her to ask me to read the script. He said everyone connected with the film had seen it. Even in the case of Kal Ho Naa Ho [which Johar produced and Nikhil Advani directed], I did not read the script. I said, you tell me the preceding scene and what comes after this, and I am fine with it.
And as a producer?
I have my ups and downs. Phir Bhi Dil Hai Hindustani did not do well. And yet I made Asoka which did not do well, too. And yet I made Paheli. Some people have told me that I should not make the films that people won't like. But I feel every time I am making a film that people have given me so much of love and support that I should give them something strong. I have lost money on films. My cricket team has lost money. And people, even my family, ask me, 'Aren't you sad, aren't you disturbed?' I always say, 'God has given me so much, I cannot be sad. I cannot be disheartened. And I will come back.'