Oscars 2010: The race for Best Animated Film
Last updated on: February 22, 2010 11:02 IST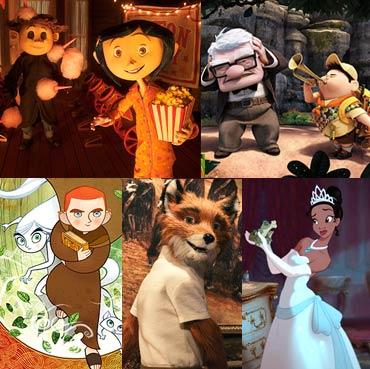 As always, the Oscar favourite in this category is the fantastically reviewed and phenomenally successful latest release from Pixar.
This time it's Pete Docter's Up, a touching tale of an old man with a flying house, but while this would generally be the category's frontrunner, it must be remembered that Up also has a Best Picture nomination, which means other well-reviewed contenders like Coraline and Fantastic Mr Fox stand a chance.

Let's take a look at the nominees for Best Animated Film.
Coraline by Henry Selick
Last updated on: February 22, 2010 11:02 IST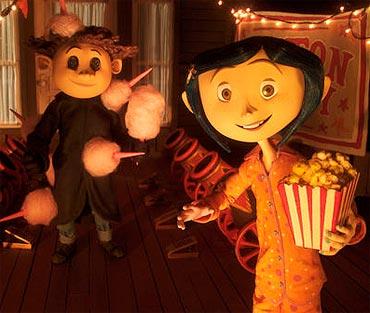 Based on a bestselling children's book by Neil Gaiman, Coraline is the story of a young girl who goes through a door and finds herself in an Other World, wherein live clones of her parents, her Other Father and Other Mother.
It's an eerie, beautiful story and Selick -- the father of stop-motion animation -- has crafted a film too delicious to resist.

In terms of Oscar chances, Selick's film has slim hopes. Up remains the de facto category leader and Fantastic Mr Fox has been created with significantly more whimsy -- even if Coraline's detailing is the stuff of wonderment.

Fantastic Mr Fox by Wes Anderson
Last updated on: February 22, 2010 11:02 IST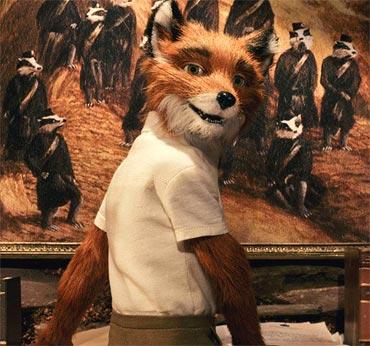 Based on the Roald Dahl book of the same name, Wes Anderson's Fantastic Mr Fox is a delightfully loopy take on the children's classic about a fox who just can't get enough of poultry heisting.
Anderson casts his first animated film fantastically well -- Meryl Streep plus his favourites Jason Schwartzman and Bill Murray -- with a scene-dominating turn by leading man George Clooney: who better to play a charming, roguish fox planning a few chicken runs?

Fantastic Mr Fox is by far my personal favourite animated film of 2009, but Fox has its work cut out for it if it is to beat Up. The only hope is that Up's Best Picture nomination costs it some steam in the Best Animated Film category.


The Princess and the Frog by John Musker and Ron Clements
Last updated on: February 22, 2010 11:02 IST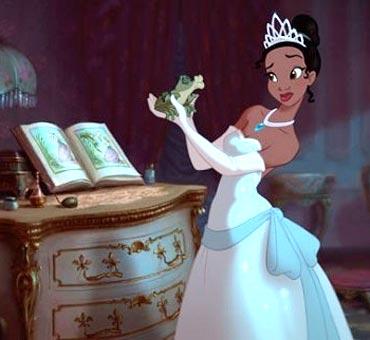 Disney returns to two-dimensional animation with this film about a black princess who kisses a frog -- only to turn into one herself!
The film, a Broadway style musical set in New Orleans in the 1920s, is packed with colour and shows off verve and style, and is notable for showing off Disney's first African-American princess.

2D animation has always been represented well at the Oscars, but the films haven't really picked up the awards. Hayao Miyazaki's Ponyo On The Cliff By The Sea could have been a serious contender but that cold shoulder from the Academy should see 2D hopes dashed this year.
The Secret of Kells by Tomm Moore
Last updated on: February 22, 2010 11:02 IST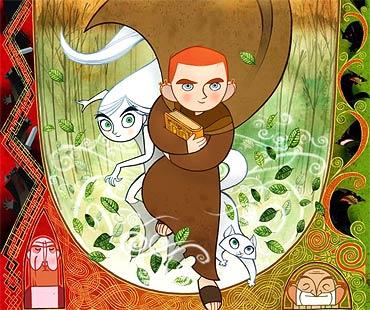 It's the smallest of the contenders. Lesser watched animated film The Secret of Kells is an Irish production that premiered at the Berlin International Film Festival last year.
The story is set in the 9th century, about a young boy called Brendan who sets on a creative, artful journey to complete the legendary Book of Kells.

It might be the tiniest contender, but Kells has had dramatically stunning reviews, and, most importantly, won the 2009 Annie Award for Best Animated Film, an award that is picked up by most films that go on to win the Oscar.
Still, this would be a massive upset.

Up by Pete Docter
Last updated on: February 22, 2010 11:02 IST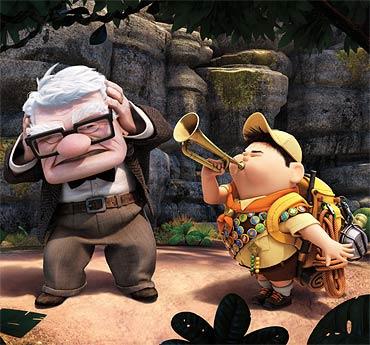 It's the year's biggest animated film, and the category's strongest contender by far.
Pixar virtually owns the best animation category, and this is one of their finest films ever. Pete Docter's film about an elderly widower is profoundly touching and very romantic, and the detailing is magical.
The story is striking and characteristically Universal, and directly deals with more adult themes -- love and death and separation -- than most animated films.

The only way Up can lose the Best Animated Film award is if it gets major traction in the Best Picture category. Otherwise this one's a shoo-in.