Oscars 2010: The big fight for Best Picture
Last updated on: February 25, 2010 12:49 IST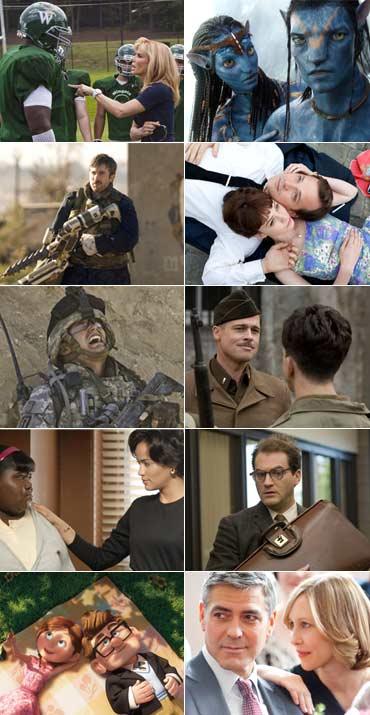 Ten nominees stand for Best Picture this year for the first time since 1944, the category having been expanded to include both more mainstream and more obscure films.
This year's selection has been a mixed improvement, including animated films like Up and independent films like An Education, but failing to include any foreign film.

Here's a look at the nominees vying for this year's biggest prize.
Avatar
Last updated on: February 25, 2010 12:49 IST
This year's big whopper, Avatar has earned over $2.4 billion worldwide, and is really the only landmark film this year that will be important 20 years from now.
It is a massive step ahead in 3-D technology, and it is the picture of a visionary, Cameron having spent over a decade developing the tech to make the film possible.

You might knock holes in the script and the politics, but this is clearly the cinematic event of the year, and a spectacle Hollywood should celebrate.

The Blind Side
Last updated on: February 25, 2010 12:49 IST
Not even a long shot.
The Blind Side is the most hackneyed and formulaic film among the ten nominees, and rates the lowest among critics worldwide.
It's an exhausting watch anchored in place by a strong, predictable performance by Sandra Bullock, but there is no way this film -- which rates a mere 53% on metacritic as opposed to the other nominees, all from 85% upwards -- deserves a nomination alongside the other nine.

District 9
Last updated on: February 25, 2010 12:49 IST
A welcome consequence of the Academy extending the pack to ten films has been the inclusion of this modern sci-fi classic, a film using aliens as a metaphor for racism.
It's a fine achievement for first time filmmaker Neill Blomkamp -- having well eclipsed his producer Peter Jackson's pedestrian adaptation of The Lovely Bones -- but a nomination is as much as this film will get, at least for the big prize.


An Education
Last updated on: February 25, 2010 12:49 IST
An interesting film with a very strong script by Nick Hornby, Lone Scherfig's coming of age drama stars the very gifted Carey Mulligan in the role of a young girl seduced by a smooth old man who isn't exactly what he seems to her.
It's an interesting British indie with a good performance at its core, but the film isn't markedly impressive enough to deserve more than a nomination.

The Hurt Locker
Last updated on: February 25, 2010 12:49 IST
I've stuck my neck out on the line a couple of times about this already, but Kathryn Bigelow's very fine Iraq war film is getting more award-season than it entirely deserves simply because it's a very fine Iraq film made by a woman.
The Hurt Locker is a solid effort and a riveting watch, and the film seems like the most likely candidate to topple Avatar's boat -- but it really isn't an artistic, creative match to Cameron's uniquely mega achievement.

Inglourious Basterds
Last updated on: February 25, 2010 12:49 IST
Quentin Tarantino's Basterds does nothing like you'd expect, taking an opening scene and stretching it past the twenty minute mark, using a 60s David Bowie song right in the middle of WWII, changing history, and making sure posterboy Brad Pitt isn't seen as much as promised.
It's a staggeringly original film, more definitively QT's legacy than any of his other movies, and hence probably the most important film among all the nominees -- not that you'd expect the safe-playing Academy to get that; they probably think it has too much blood.

Precious: Based on the novel Push by Sapphire
Last updated on: February 25, 2010 12:49 IST
Lee Daniels' much appreciated film is the story of an obese 16-year-old called Precious who has the most tragically dysfunctional life ever.
Her father has impregnated her twice, and her mother abuses her routinely as well. Her child has Down's Syndrome, and just when you feel that things can't get any more miserable, Daniels takes you on the upswing, showing you hope in the midst of all that darkness.
It's a strong film with a distinctive directorial voice, but Best Picture might be too tall an order for not-so-little miss Precious.

A Serious Man
Last updated on: February 25, 2010 12:49 IST
Joel and Ethan Coen have long been on the fringes of Hollywood mainstream, the brothers making cult cinema that is massively popular -- Fargo, The Big Lebowski, Barton Fink, O Brother Where Art Thou -- and while they include major stars, Hollywood's always treated them like troublemakers.
Till a couple of years ago, when their No Country For Old Men got all the reviews, and a bushelful of awards, including the top Oscars.
Now, A Serious Man seems like their effort to head back into a non-awardfriendly space, but here they are, with yet another nomination? Can they win? Well, it's a slim chance and it'd be a major upset, but it could just happen.

Up
Last updated on: February 25, 2010 12:49 IST
One of the best reviewed films of the year, Up is only the second animated film to be nominated for Best Picture after 1991's Beauty And The Beast.
It is a major accolade for the film -- one that many had anticipated for Pixar's previous accomplishment, the phenomenal Wall-E -- and, coupled with a nomination for Best Original Screenplay, shows that the Academy is open at looking at fine animated work the same way it looks at fine cinema.
But can the old man in the flying house beat off the blue people, the soldiers and the milk-drinkin' jew hunter? Not ruddy likely.

Up In The Air
Last updated on: February 25, 2010 12:49 IST
Director Jason Reitman capitalised on the strengths of his first two successes -- the sharply written Thank You For Smoking and the over-clever Juno -- to come up with this extremely relevant film.
Up In The Air, featuring a clinically detached professional sacker evading love and life, is as much a must-see for an economically-reeling America as it is for an emotionally-bereft generation.
The film is a terrific accomplishment, but Reitman, 32, might have to wait a while for the big prizes.
For now, Best Adapted Screenplay should suffice -- that, and maybe an award for Clooney.