'Shahid has learnt how to play the game'
Last updated on: January 6, 2010 17:59 IST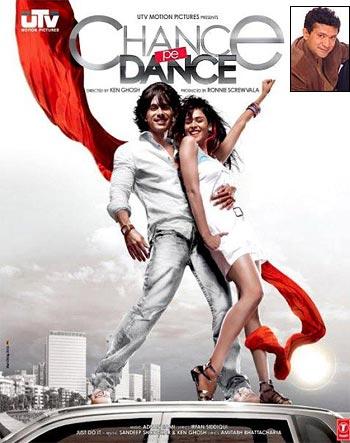 Shahid Kapoor's latest film Chance Pe Dance has quite a few instances from his own life, especially his struggling years. The film also captures his terrific dance moves perfectly.
The Shahid showcase is directed by Ken Ghosh, who has known the actor for about 10 years -- from the time they did their debuts together with Ishq Vishk. Since then, Ken has only worked with Shahid. Chance Pe Dance is Ken's third film after the ill-fated Fida.
Ken tells Patcy N what to expect from Chance Pe Dance, which releases on January 15.
Shahid Kapoor has been a part of all your three films. Why do you work only with him?
Post Fida, Shahid and I kept planning to make another film. We locked onto this topic just before Shahid left to shoot for Kismat Konnection. Normally, the story comes first and then the cast. But in this case, it was the other way round. I fleshed out the story and turned it into a script when he was away.
I did not plan on working only with Shahid; that's just a coincidence. Before I start a film, three things need to be in order: the script, the cast and the budget. Somehow, all these things fall into place only with Shahid.
Is the film about dance or a struggling actor?
We had already decided to make the hero a good dancer. Then we expanded on it and made the story about a guy from Delhi who goes to Mumbai to become an actor.
'I rejected Shahid for Ishq Vishk because he was too thin'
Last updated on: January 6, 2010 17:59 IST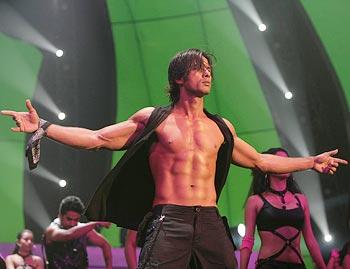 Is this film based on Shahid's life?
Like I said, this is a story about a guy who comes to Mumbai to become an actor. He knows no one in the industry. Likewise, Shahid also struggled and made it on his own. Before he became an actor, he used to teach dance at Shaimak Davar's institute.
What is your rapport with him like?
We met during the auditions of Ishq Vishk. Ishq Vishk was a struggle for both of us, as it was our first film. Even though I was established as a music video director, I took a year to make Ishq Vishk.
When I first met Shahid, I rejected him because he was too thin. But he went back, worked on his body and returned with a better physique. We finally signed him.
In these 10 years that I have known Shahid, I have seen him grow. He has become more mature -- not only in acting but also in his approach to life. He has learnt how to play the game. We're good friends and think alike. We even celebrated on New Year's Eve together.
'There are no Indian dance numbers in Chance Pe Dance'
Last updated on: January 6, 2010 17:59 IST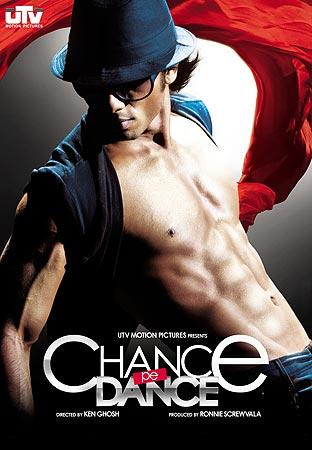 Is it true that Shahid and you had a tiff while shooting Chance Pe Dance, as he was not giving you dates and was busy with Kaminey and Dil Bole Haddipa?
We did argue but the arguments were not about dates. They were about how the scene should be or how the character should react to a particular situation. I understand date problems, as I know that an actor cannot come from one set to another directly as he needs his rest. People behind the camera can make do with less sleep but not an actor.
Shahid is a great dancer. Should we expect something new from him?
Dance needs good music. The kind of the music we have done here is very different, more westernized. There are no Indian dance numbers in the film. Expect a lot of rock and roll, trance and hip-hop in the sound track.
Why was it necessary for Shahid to have eight packs in the film?
The brief to Shahid was that he needed to have a dancer's body, something lean and not too bulky. We planned the shoot of that particular song almost a year in advance. Shahid timed it in such a way that his body was in a peak condition. His body fat content was eight percent at that time, something which even an athlete doesn't have. Even David Beckham has nine percent body fat.
'I call Genelia my sunshine girl'
Last updated on: January 6, 2010 17:59 IST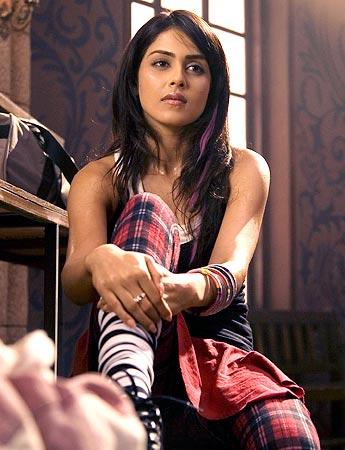 Your title Chance Pe Dance is similar to the song Dance Pe Chance from the film Rab Ne Bana Di Jodi...
My title and the Rab Ne song is completely different. Chance Pe Dance in slang means when you a get a chance, grab it.
Why was there a delay in Chance Pe Dance as Fida released in 2004?
I co-produced a film called Chain Kulii Ki Main Kulii after Fida, so it wasn't like I was not doing anything.
Plus, I wanted the right budget, cast and script, and arranging them took time. Chance Pe Dance is being made in Rs 20 crores which is a mindblowing budget for a Shahid Kapoor film. I want to quote Taran Adarsh [critic] who once said that 'films don't fail. It is only the budget that fails'. You can have the biggest hit of the year but if it is not made in the right budget, you can lose money. An average recovery film in a correct budget can make lots of money.
What made you cast Genelia in the film when Jiah Khan was already cast?
The first version that we shot did not have any romance. The character was a lot more aggressive and hot. But after shooting about 40 to 45 minutes, we realised romance was very important for the film. So we rewrote the girl's track and made it more romantic. The new girl is someone cuter, something that wouldn't have suit Jiah. That is when we thought of Genelia. Jiah was very upset but in the end what matters is that you have to be true to your film. You will appreciate the change when you see the film.
How was it working with Genelia? It looks like Genelia's role in Chance Pe Dance is an extension of Jaane Tu... Ya Jaane Na as she is the same bubbly character.
It is a pleasure working with her. I call her my sunshine girl as the whole unit perks up whenever she comes on the sets. And no, her character here is quite different from Jaane Tu's.
'I hope the audience will like Chance Pe Dance'
Last updated on: January 6, 2010 17:59 IST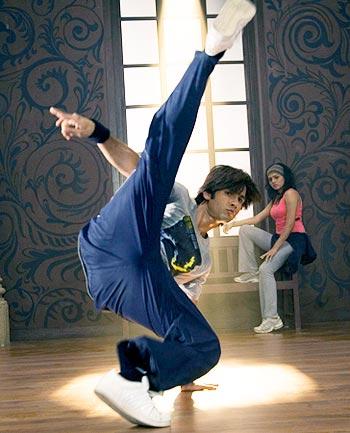 Why was the kiss scene chopped from the film. Some say Shahid is responsible for this...
There was no such scene in the film that had to be cut. This film is a complete family entertainer.
Is it true that Adnan Sami is going to sue the producers for using Pritam songs in the film without his consent?
Whatever the issues between Adnan and T-series were have been sorted out. We had a contract with Adnan that we will only use his songs. But later we added one more song (Pritam's) to which he objected. But he has agreed to it now and has signed the relevant papers.
What are your expectations from the film?
It is nice sweet film and I hope the audience will like it and appreciate the work our team and actors have put in.
Can you tell us of any interesting incidents on the sets?
We were shooting the climax scene where Shahid had to perform difficult dance steps. He had to swing around on the floor and he missed a step and fell on his backside. He was hurt badly. We have added the scene as a blooper at the end.
What will be your next project? Will it also have Shahid?
My next is a romantic comedy with Neil Nitin Mukesh. It will be produced by Tips.