Directing Amitabh Bachchan and Ben Kingsley
Last updated on: January 6, 2010 12:10 IST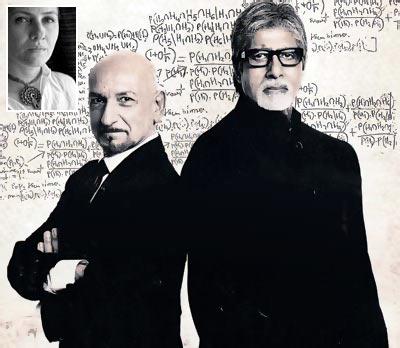 Casting Sanjay Dutt and Aishwarya Rai Bachchan in your very first film, and Amitabh Bachchan and Sir Ben Kingsley in your second is no mean feat.
But that is what editor-turned-director Leena Yadav [inset] achieved in her short directorial career.
Though her first film Shabd bombed at the box office, Leena is hopeful that her second film Teen Patti -- starring Amitabh Bachchan, Sir Ben Kingsley, R Madhavan, Saira Mohan, Raima Sen and four newcomers, Gaurav Ganesh, Shraddha Kapoor, Siddharth Kher and Vaibhav Talwar -- will do better.
The director talks to Nithya Ramani about her four year hiatus and Teen Patti, which releases February 26.
What have you been doing for the past four years, post Shabd's debacle?
Recovering from it and writing scripts for my next! It took me two years to write Teen Patti. I co-wrote it with Shivkumar Subramaniam.
These four years have helped me grow. I have changed, learnt and absorbed a lot. I have been lucky to be able to make a film the way I wanted.
Do you think the industry is indifferent to outsiders, to people who don't come from a filmi background?
No. If you are dying to tell a story, there is always someone to listen to you. There is always someone out there to help you.
'I needed an international actor who could match up to Bachchan's stature'
Last updated on: January 6, 2010 12:10 IST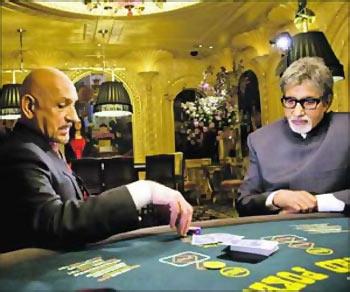 Did the fate of Shabd affect you so much that you needed four years to recover from it?
I would be lying if I said I wasn't upset. I was disappointed but I'm not the type who sits and broods over something. I tried my best to make the film simple for the audience but Shabd was a complex and complicated film. The film was of a different genre and was too demanding for the audience.
Has this changed your way of directing now? Any apprehensions while directing your second film?
I don't think I have changed drastically. I am driven by characters; I like to do character-driven movies. Teen Patti is more massy -- people will be able to relate with the characters at some point or the other. I had no apprehensions.
What is Teen Patti about?
It is a human drama with a thriller element to it. It is about greed, deception and imagination. A few twists and turns in the story will keep you on the edge of your seat.
Your first film was with Aishwarya and Sanjay Dutt and your second is with Amitabh Bachchan and Sir Ben Kingsley. How do you manage to rope in such big stars?
Well, during Shabd, it was Mr Pritish Nandy [producer], who had suggested the names. For Teen Patti, Ambika Hinduja [producer] had approached the stars.
I only knew I wanted the stars; fixing appointments and meeting with them was done by the producer. I am lucky that way.
I couldn't see anyone else but Mr Bachchan as Venkat Subramaniam. He plays a mathematician. Sir Ben's character Perci Trachtenberg is someone who Venkat admires and idolises. Since Mr Bachchan agreed to be a part of the film, I needed an international actor who could match up to his stature. And who better than 'Gandhi' himself.
'I don't think I could have made Teen Patti without Amitabh Bachchan'
Last updated on: January 6, 2010 12:10 IST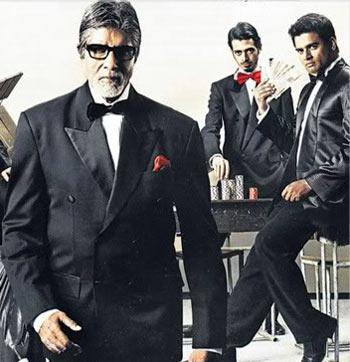 What was Amitabh Bachchan's reaction when he first heard the script?
We approached Mr Bachchan with the first draft. He gave a lot of valuable inputs. He saw the story from the viewers' perspective, which I appreciated. I don't think I could have made Teen Patti without Amitabh Bachchan. I don't think anyone else could have played Venkat Subramanyam.
Mr Bachchan was a joy to work with. He added magic to his character. The amount of nuance and subtlety he added to Venkat was amazing to watch.

I like my actors to bring their personal touches to the character.
Did your association with Aishwarya help you to get Amitabh?
I think what gets an actor on-board a film is the script and his perception of the set-up. Ambika and I approached Mr Bachchan with the script. Luckily, he agreed to be part of the film.

What about the other cast?
Madhavan plays professor Shantanu Biswas in the film. I needed someone charismatic like him to play the character. I had worked with him earlier so I knew what to expect from him. I was the editor of the television soap Sea Hawks, which he was a part of. And then through the years I have seen him in various films. I was sure that nobody could have played Shantanu better than Maddy. He has done an amazing job.
We have four new kids -- Dhruv Ganesh, Shraddha Kapoor, Siddharth Kher and Vaibhav Talwar -- who play students. They have done an awesome job.
'Teen Patti is not similar to 21'
Last updated on: January 6, 2010 12:10 IST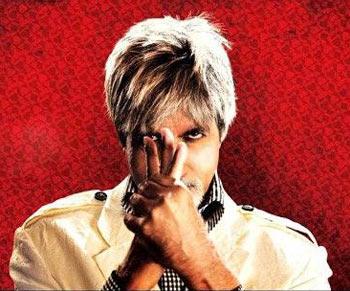 Listening to the plot, Teen Patti sounds like the film is similar to the Hollywood film 21.
No. 21 hadn't even released when Shiv and I wrote the script.
Is it true that you also approached Richard Gere and Pierce Brosnan for the film?
No. We wanted Ben Kingsley and we got him. That is all that matters. Everything else is just an rumour.
As a director, you had to give instructions to actors of various statures -- legends as well as newcomers and average experienced actors. How did you manage?
It was an absolute honour to work with legends like Mr Bachchan and Sir Ben Kingsley. And it was equally exciting to work with the debutantes. On the sets it was very challenging for me as I had multiple actors in every scene. It has been a huge education for me as I re-learnt or rediscovered the scene many times over while interacting with the actors.
'Teen Patti is a long film with lots of graphics'
Last updated on: January 6, 2010 12:10 IST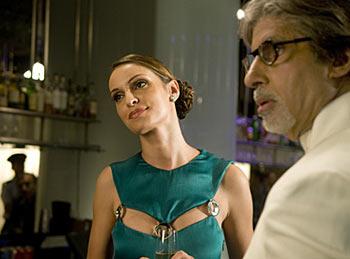 Did the jump from television to films bring about any change in you?
Television and film are mediums that I have learnt a lot from. My journey began in television and it taught me to work under stringent deadlines. I learnt a lot about working under pressure with minimum compromise. Then I made my first film, Shadb. I was faced with new challenges but I knew that what I create here will be seen in any part of the world and across a huge time span. That filled me with a great sense of responsibility for what I was creating.
What can we expect from Teen Patti? Do you think the baggage of Shabd will affect Teen Patti?
You can expect a very thrilling film in Teen Patti. I am confident that it will connect with all kinds of audiences. It has a universal theme. It has the backdrop of gambling. Ultimately, our choices and decisions in life are a gamble. Teen Patti is different from Shabd. I'm sure people will connect with the film.
Why haven't there been any promotions of the film as yet? It has been in the making for a while...
The promotions of the film will start very soon as we have just finalised the release date, February 26. Each film comes with it's own demands and challenges. Teen Patti was made in a time frame that the film demanded.