'I don't want to make depressing films for my fans'
Last updated on: January 8, 2010 14:11 IST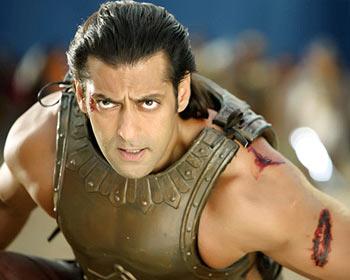 Salman Khan gave one of the biggest hits of 2009 with Wanted. It almost made us forget his next two duds -- Main Aurr Mrs Khanna and London Dreams.
Now with the new year comes new releases. January 22 will see Salman in Veer, a movie written by the actor himself. It is loosely based on Russian author Nikolai Gogol's novel, Taras Bulba.
Salman plays a warrior Veer of the Pindhari tribe, who rebels against the British rule.
He tells Syed Firdaus Ashraf what to expect from the film.
Veer looks like a dream project for you.
I will always praise my film till the time my fans criticise it. You never know what will work or what will not. Sometimes a film works and sometimes it doesn't. There is no formula. It is not that I have written this film so it has to work. I will only know after January 22.
'There is emotion, drama and comedy in Veer'
Last updated on: January 8, 2010 14:11 IST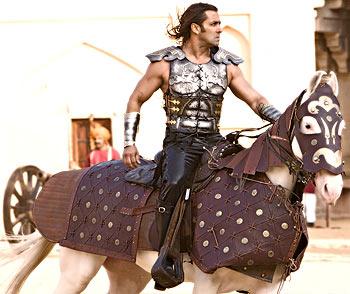 What research did you do?
Lots. But this is not a regular period film. There is emotion, drama and comedy in Veer, something which is missing in many period films. Usually, period films are bereft of laughter and romance. But we have tried to be different here. The language has completely changed. We have done a number of things to make the film more contemporary. 

Why did you choose a period drama?
I wanted to show how people in those days lived. How they honoured their commitments. When they are enemies with someone, it continued through the generations. The same with love. And when they give you their word, they will do anything to keep it, even if it meant that their children will have to fulfill them.
How close is the film to Taras Bulba?
The thought was there. Pindharis are like the Cossacks [Cossacks were among Russia's greatest military assets]. The Britishers called them [Pindharis] barbarians though all they wanted was freedom. I have given an Indian flavour to the story.
'There's no pressure on me for Veer to succeed'
Last updated on: January 8, 2010 14:11 IST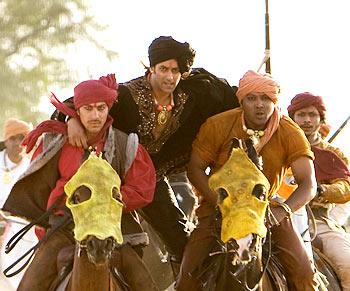 3 Idiots has become a massive hit. Is there pressure on you for Veer to succeed?
There's no pressure at all. If the film is good, it will work. If it is not, it will not.
Is it true that you fought with director Anil Sharma on the sets?
Yes, we fought a lot. We had a tough time. But these fights were not personal; they were more creative differences. He wanted his way while I wanted mine. Nevertheless, the end product is very good. The look of the film should impress the people. If it convinces the people then it will work from the first frame. We haven't compromised on the budget.
Your earlier period film Suryavanshi did not work...
There were a lot of compromises while making that film.
Who is Veer in today's time?
There are many Veers today. If you live in Mumbai, you are veer. You see whatever is happening. If you go to the Taj or the Oberoi then you are Veer [referring to the 26/11 attacks].
Wanted had hit dialogues like 'Main ek baar commitment kar leta hoon toh phir khud ki bhi nahi sunta.' Do you have such dialogues in Veer too?
Yes, there are lots. Sample this: 'Jahan se pakdta hoon, paanch saair gosht nikal deta hoon.'
'Had London Dreams been shorter, it would have been a great film'
Last updated on: January 8, 2010 14:11 IST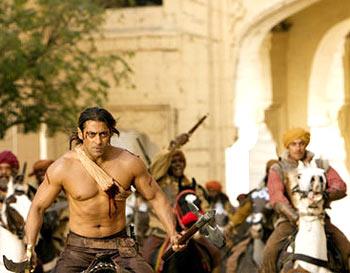 Do you feel your fans love you more in action films because Wanted worked?
Family films and comedies work too. I try to balance my work. I want to entertain my fans and audiences. I don't want to make depressing films for them.
But your other films Main Aurr Mrs Khanna and London Dreams flopped...
London Dreams was a good film but it was too long. I told Vipul Shah [director] to cut it but he did not listen to me. Just because some friends say, 'Saaru Che, Saaru Che' (it's fine, it's fine), he went ahead. After five days, he did cut 25 minutes but it was too late. Had London Dreams been shorter, it would have been a great film. If I am getting bored with my own film, you can't blame the audience if they get bored too.
Are you apprehensive of the box office fate of your films?
My die-hard fans will see my film on Friday, Saturday and Sunday. After that, the film speaks for itself.
'I don't see the resemblance between Katrina and Zarine'
Last updated on: January 8, 2010 14:11 IST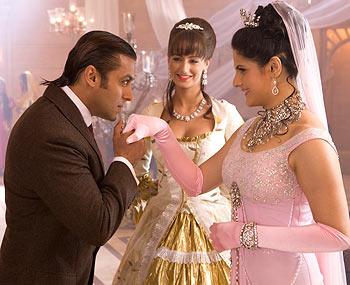 Why did you cast a newcomer like Zarine Khan in the film?
We needed a fresh look, therefore we decided on her. We needed someone with the yesteryear look.
She looks a lot like Katrina Kaif...
Did you feel that?
I think that is because Katrina and Zarine have the same skin tone.
I never felt that (they look similar). If anybody has to see a resemblance, then it has to be me, na? But I don't see the resemblance.
Moving on, it looks like you have become a fan of Mithun's. After all you did cast him in Lucky...
I will tell you an interesting story. I call Mithun, Mithunda, but his children call him Mithun. They called him Mithun in front of me. That is the same relationship that we share in the film. Moreover, I have known him for a long time. He was my father's friend.
You wrote Baaghi, came up with the idea for Chandramukhi and now Veer. Did you show your writer dad (Salim Khan) the script of Veer?
Yes. He said, 'accha hai (it's good).'