'We get poetic justice in our films'
Last updated on: January 19, 2010 13:36 IST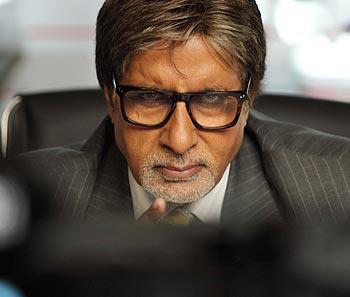 Amitabh Bachchan seems all set to enthrall audiences with his quirky hand-picked roles. We saw a hint of his brilliance in last year's Paa. This year, we might see it in two films --  Ram Gopal Varma's Rann and Leena Yadav's Teen Patti.
The actor tells us what to expect.
Your blog has shown your displeasure with the media quite a few times, and now you're doing a film, Rann, which takes on the media. Don't you think you make use of the same media to promote your films?
I have always maintained that if any news is wrong, then it is. It has never been an effort to show the media in a bad light. Nor am I trying to teach them their responsibilities.
I believe that we get poetic justice in three hours in our Hindi films. In the movies, we make sure we show both the sides and let people decide what they want to take from it.
There is a dialogue in Rann: 'The media is only a business and not the conscience of the society.' Do you believe in this?
Media is the conscience of the society. It is a mirror of the people. It takes a lot of courage to bring out the truth. But does the media compromise on its business? That is what we need to know. And that is what we have shown in this film.
The characters in Rann are fictional. How people react in a given situation is what you will see in the film.
'Every film should have poetic justice in the end or else it will not succeed'
Last updated on: January 19, 2010 13:36 IST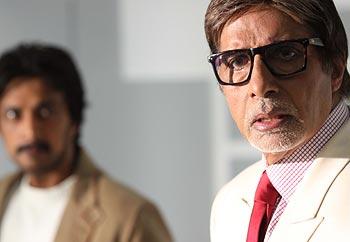 Tell us about your character in Rann.
I play Vijay Harshvardhan Malik, the owner of a news channel. He has a powerful voice, a voice of truth and integrity. When he talks in front of the camera, people believe he speaks only the truth.
Vijay is tricked into lying about some news. What happens next and its consequences make the rest of the film.
Do you believe that news is often planted?
It depends on what context you say it. There are many instances where the media questions people but does not practice it themselves.
For instance, a man was dying on the road in Andhra Pradesh, and a minister's car stopped next to it but left without helping the man. All this was captured on camera by the electronic media and showed repeatedly on television. Some sections are asking why the cameraman, who captured the incident, help the dying man since he was witness to what happened.
(Editor-in-chief, CNN-IBN) Rajdeep Sardesai wrote a column in Hindustan Times, expressing his grief that news is bought these days. I called him up and said it was a brave of him to write something like that. It is the media's job to put up news. There is no problem if you are being paid to do so. But you should make a disclosure.
While making a film, we cannot show only one side of it. We have to show all the perspectives or else there won't be poetic justice. Every film should have poetic justice in the end or else it will not succeed.
'Working with Ramu is always a pleasure'
Last updated on: January 19, 2010 13:36 IST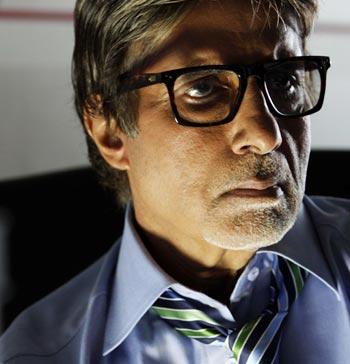 An old adage says 'Truth is bitter.' If the media tells the truth, to what extent do you think you can tolerate it?
I think we have all been tolerating it. I have tolerated it for 40 years (laughs). Jokes apart, we respect and listen to the media. If we disagree with it, we try to correct it through meetings or mediums like blogs.
But I believe that celebrities will always be on the receiving end because we are the ones who answer. You are the ones who question.
How satisfied were you with your character, Vijay Harshvardhan Malik?
I have a lot of sympathy for him, for what he does in the end of the film. I cannot reveal anything but I am sure the media will be proud of what he does in the film's climax.
What was it like working with Ram Gopal Varma again?
Working with Ramu is always a pleasure. He not only gives you challenging roles but also gives you the opportunity to portray characters that force you to think deep. He makes an artist evolve and give his best. He continuously puts you in situations that will make you give your best.
'Teen Patti is about a Mathematics professor, played by me'
Last updated on: January 19, 2010 13:36 IST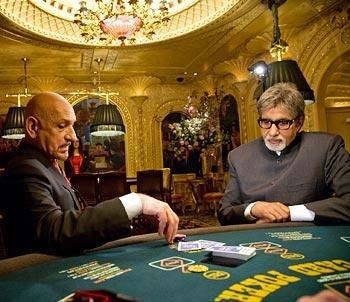 Your character in Teen Patti seems just as interesting.
Teen Patti is about a Mathematics professor called Venkat Subramanium, played by me. I am writing a thesis on the theory of Probability. Due to various reasons, my seniors don't agree with my theory. So he plays a game of cards and realises that his theory is right. He shares it with his junior professor Shantanu (played by R Madhavan).
In order to verify the theory, we -- Maddy, four students and I -- go to a casino and try our hand at the game. We play the game and win it. Then we get greedy and other emotions follow, which get us into trouble. What happens next makes up for the film.
'I am not a gambler'
Last updated on: January 19, 2010 13:36 IST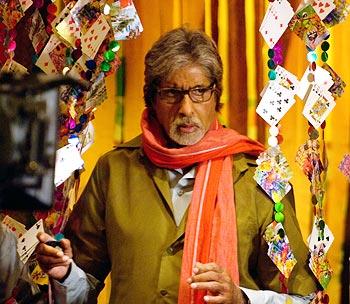 Did you have to learn the game for the film?
Yes, all of us did. Well, we usually play it during Diwali as shagun. But I am not a gambler.
Since you play a Mathematics professor, how much did you like the subject in school and college?
Not even a bit! I passed out of school in 1958. I fared exceptionally well in Science and Maths in school, and so was under the impression that I had it in me to become a scientist.
I did a college degree in Bachelors in Science. But on the very first day of college, in the very first 45-minute lecture, I realised I wasn't made for this. I am very bad in Mathematics. I am sure there are many out there, who are weak in Maths.